Our food slicers at a glance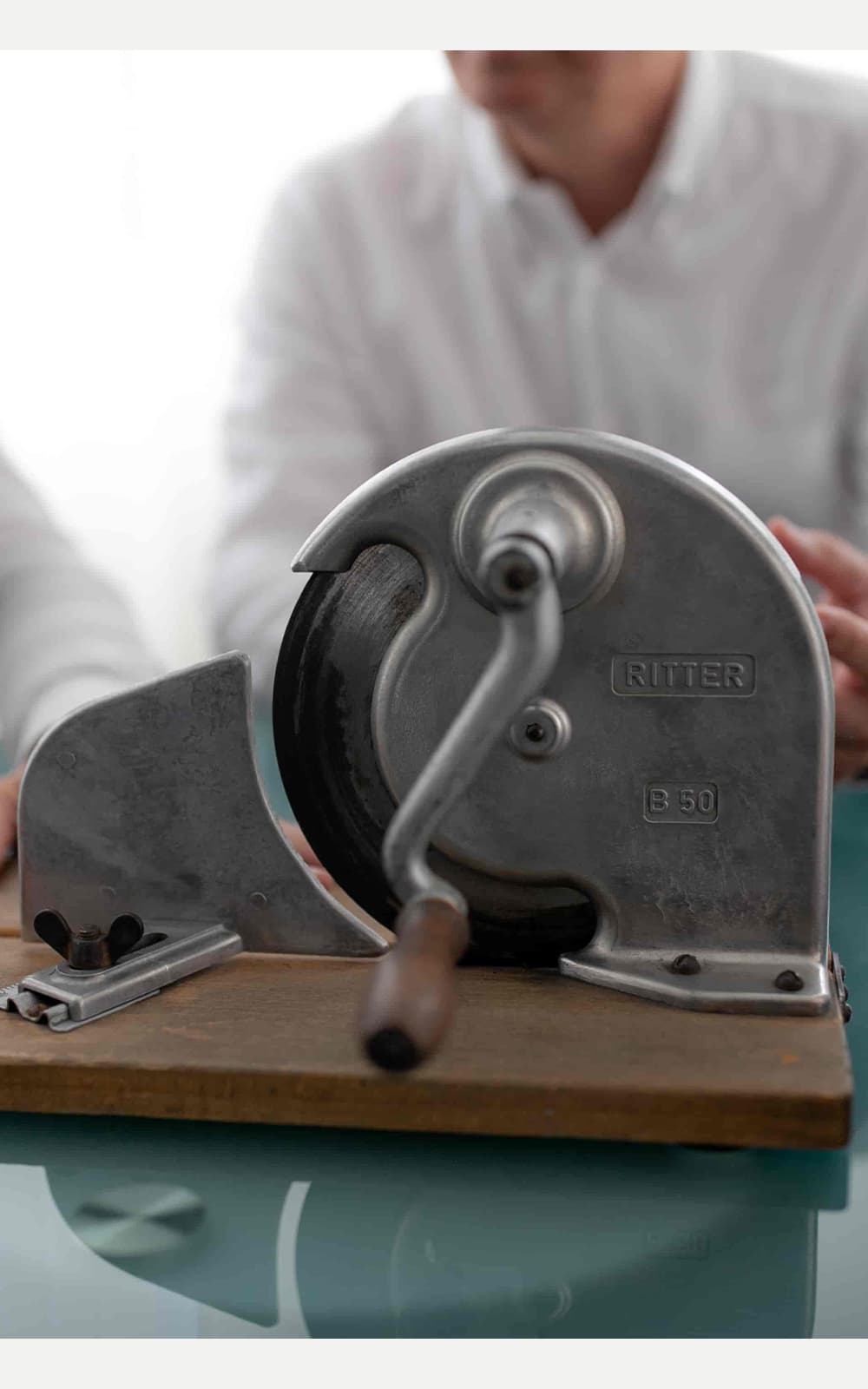 How it all began
The beginnings: From knife cleaning to food slicer. Franz Ritter founded ritterwerk in 1905 in what is now the Pasing district of Munich and initially produced knife cleaning machines. After the introduction of stainless steel, he developed one of the first domestic bread slicers in the world, the "B 50", about 30 years later. In 1968, the first electric multi-slicer followed from ritter. In the years to come, ritterwerk advanced to become a specialist for "multi slicers". From perfect slices of freshly baked buns and bread to wafer-thinly sliced ham: Food slicers have been the core product of the traditional German manufacturer for more than half a century. Within the categories "premium", "comfort", and "economy", ritterwerk offers a wide range of these practical kitchen aids, and in various price ranges. ritter mainly focuses on high quality workmanship and functionality, a high degree of slicing performance and, of course, timeless design. And with great success, as this combination does not only seem to captivate customers: Numerous food slicers by ritter have already been awarded for their conception and performance.
Designs of our food slicers
Which food slicer, and for whom? Whether it is bread or ham, student or family, or you're right- or left-handed: Those who want to buy a food slicer are spoilt for choice. The offering is huge, and can sometimes be confusing. It is worth thinking in advance about what the food slicer is likely to be used for and how often, however. And that is exactly why we are taking this opportunity to explain the different designs of food slicer we offer.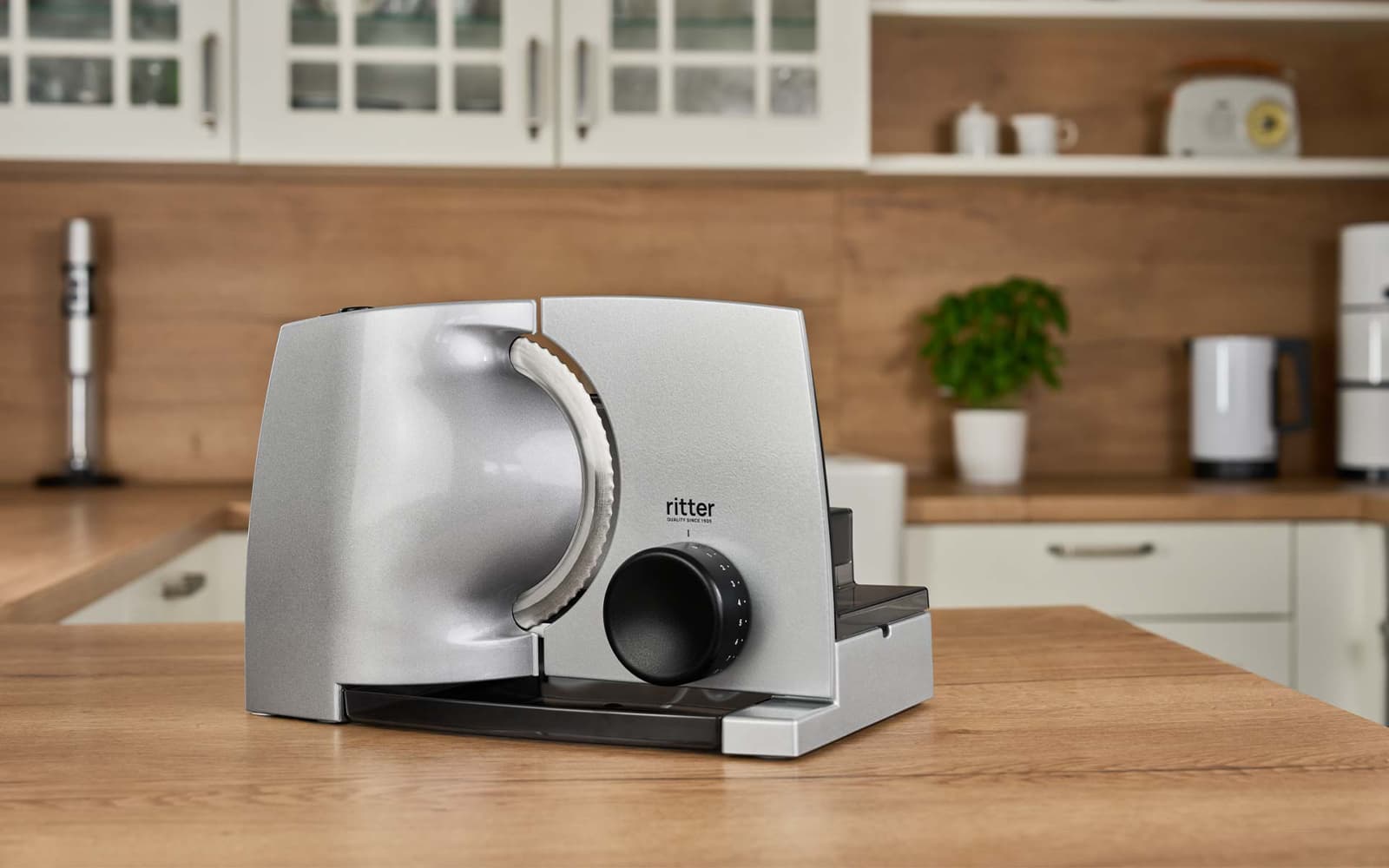 Classical (straight holding plate) food slicer
Electrical food slicers with a straight and/or flat contact surface often save a couple of centimetres of space when the kitchen isn't so big. It is also a matter of personal preference as to whether you want to push the food for slicing towards the blade on a straight or an inclined contact surface.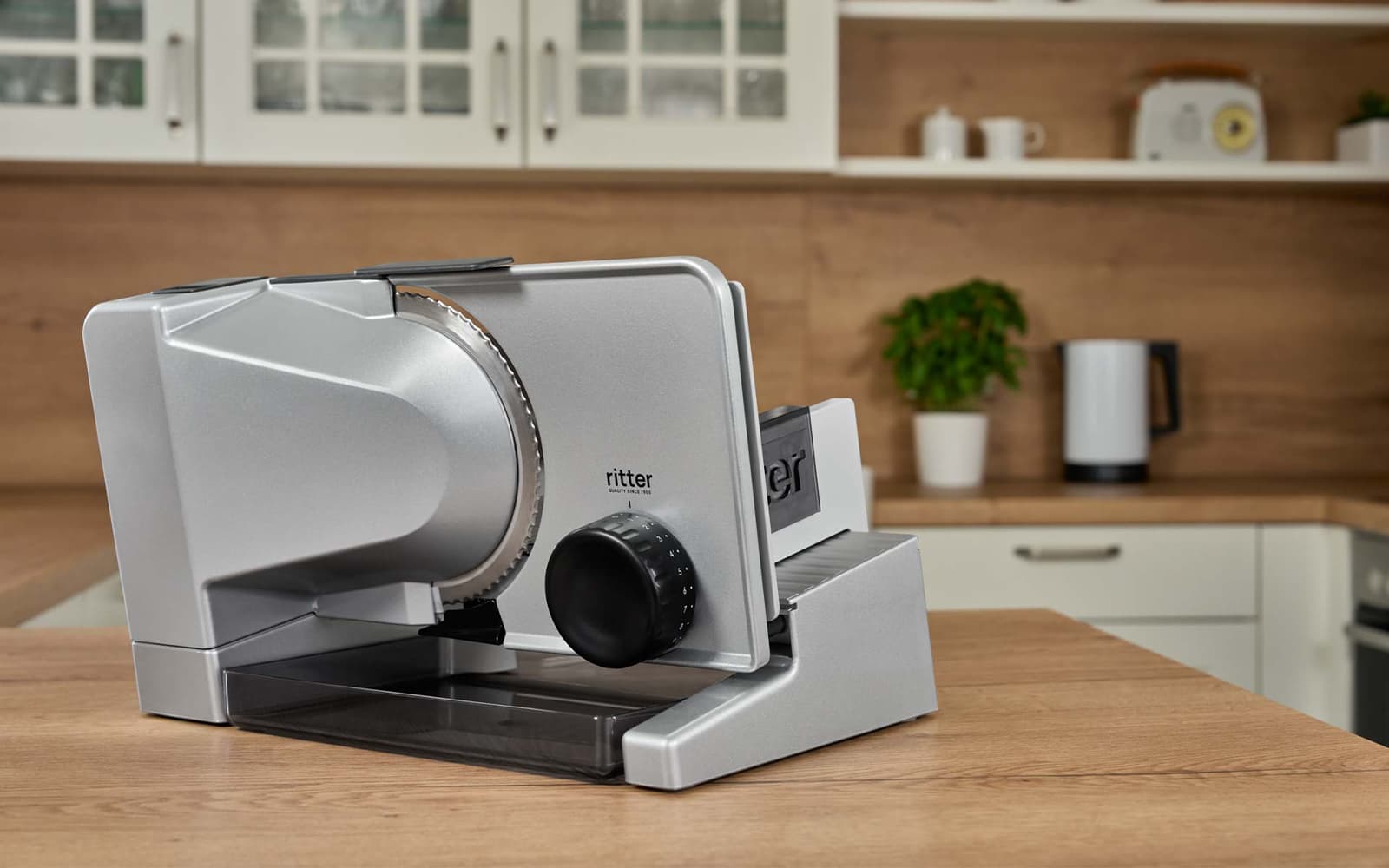 Inclined food slicer
Due to the inclined position, the product slides continuously and independently without having to be pushed to the circular blade. Thus allows a perfect slicing position, making slicing possible without any major effort.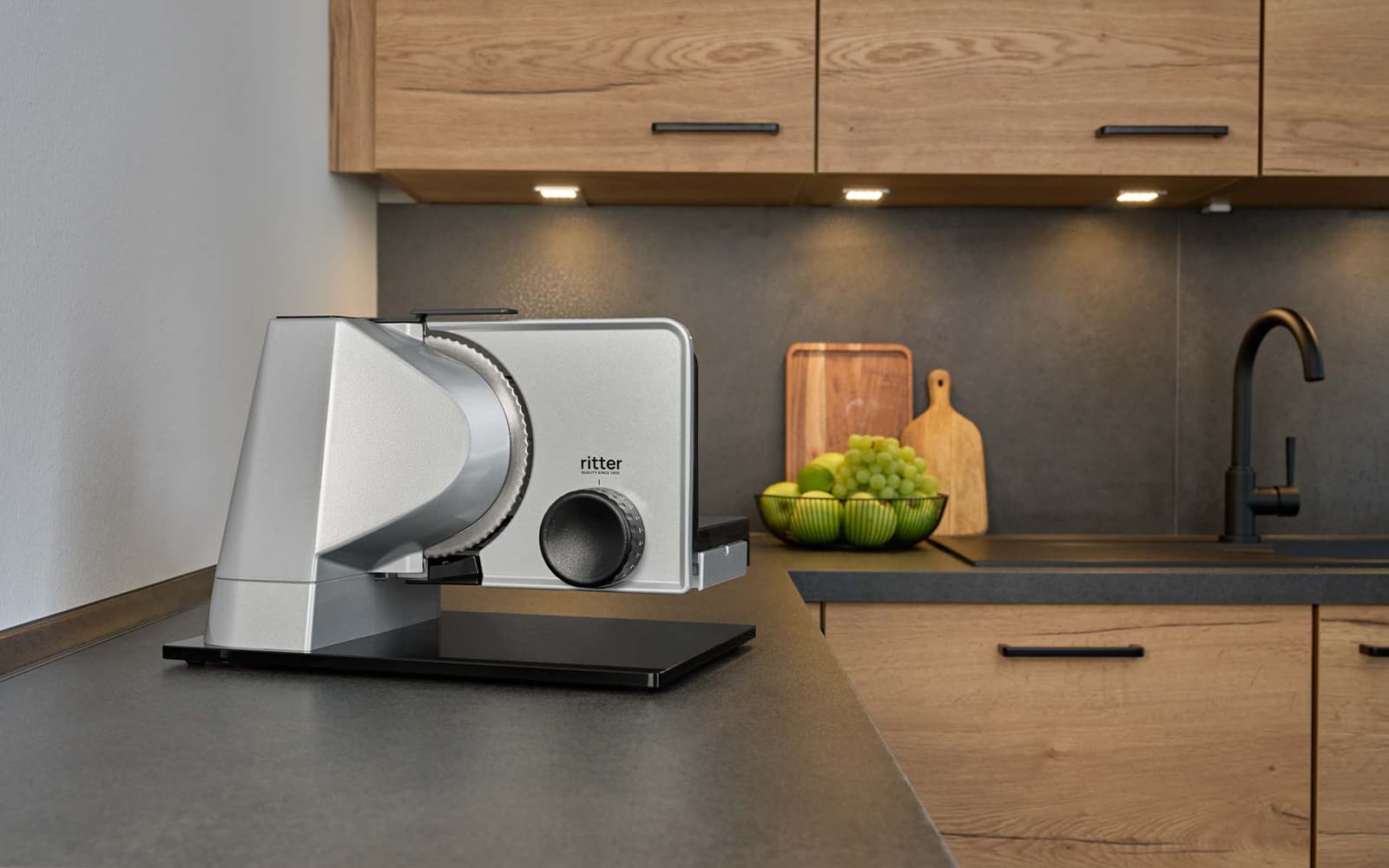 Suspended food slicer
On the one hand, a food slicer with a freestanding design allows ready-to-eat slicing on a serving dish or a dinner plate, and it is convenient and easy to clean on the other.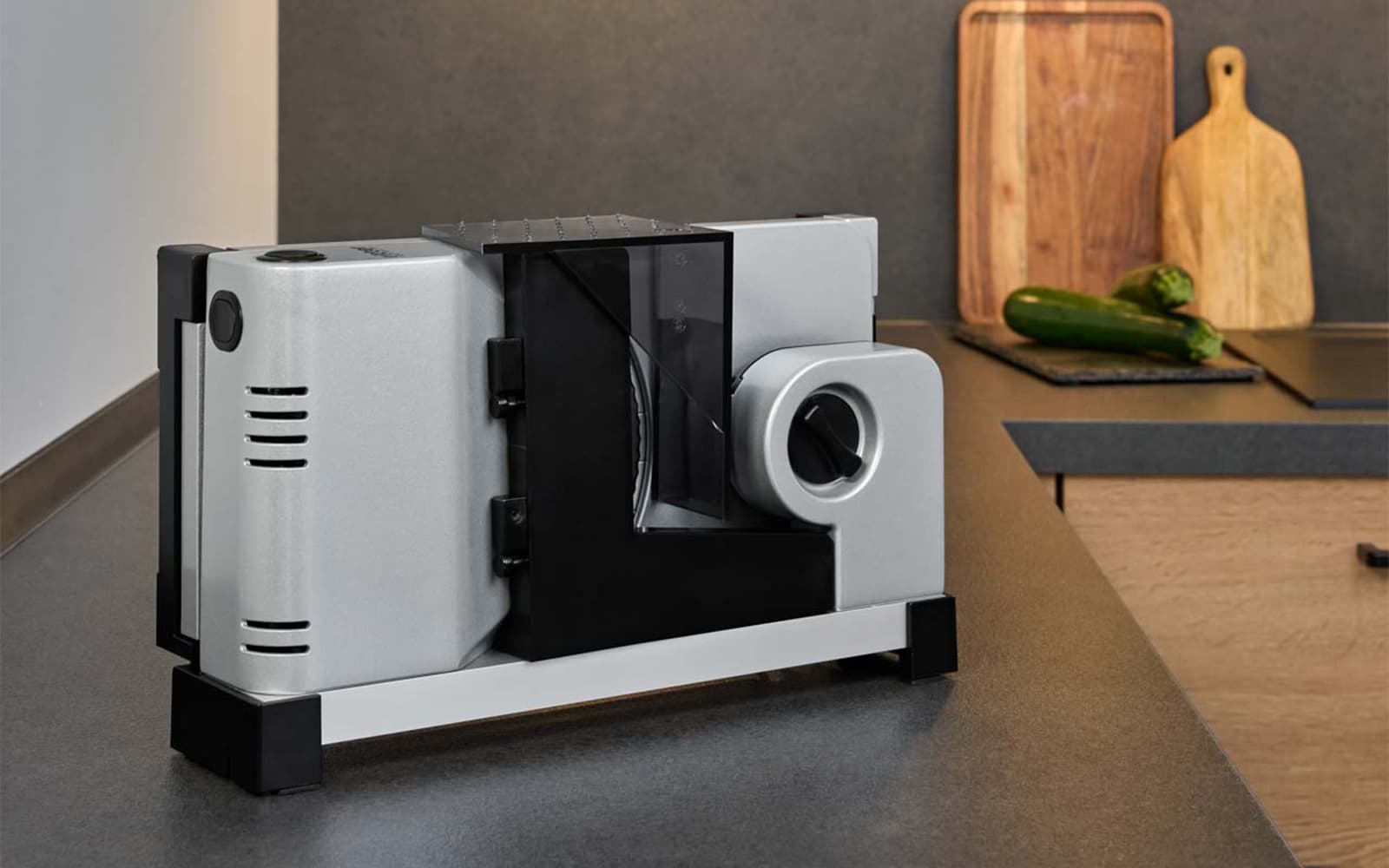 Foldable food slicer
With foldable food slicers, the focus is clearly on functionality since the device can be folded up to save space after use. Folded, the food slicers are max. 10,5 cm wide and can be stored in the cupboard – practical and space-saving. Foldable devices are thus the perfect food slicers when there's not much space available in the kitchen. The patented, divisible carriage makes sure that the food slicers are always complete, even when folded.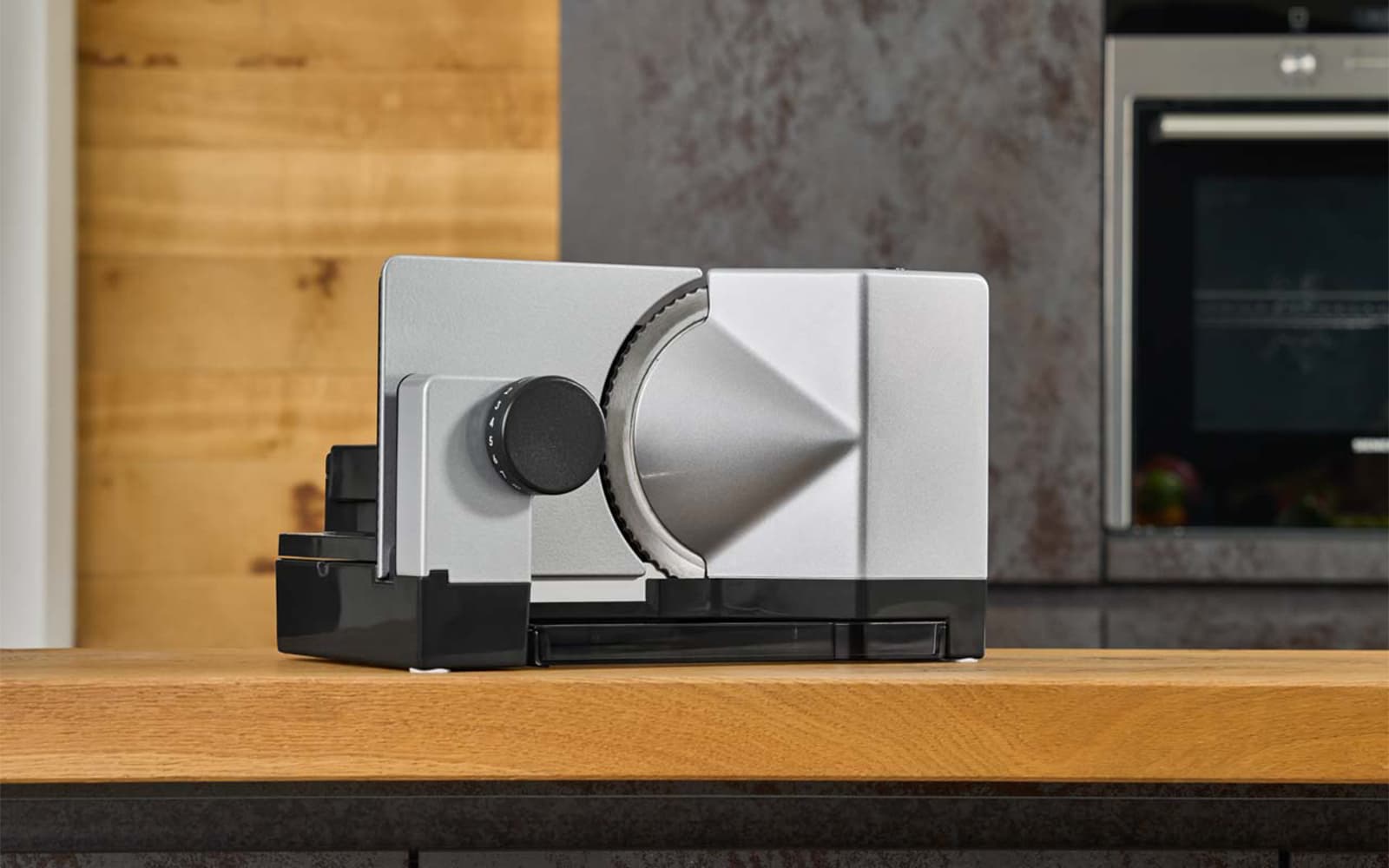 Left-sided slicing guidance
In contrast to food slicers with a right-handed slicing guidance, food slicers with a left-handed slicing guidance use the left hand to guide the food. This is an advantage not only - but especially for left-handers. Nevertheless, food slicers with left-handed slicing guidance are not only food slicers for left-handers. Although it is practical for them to retain their usual hand grips, these food slicers are of course also suitable for right-handers.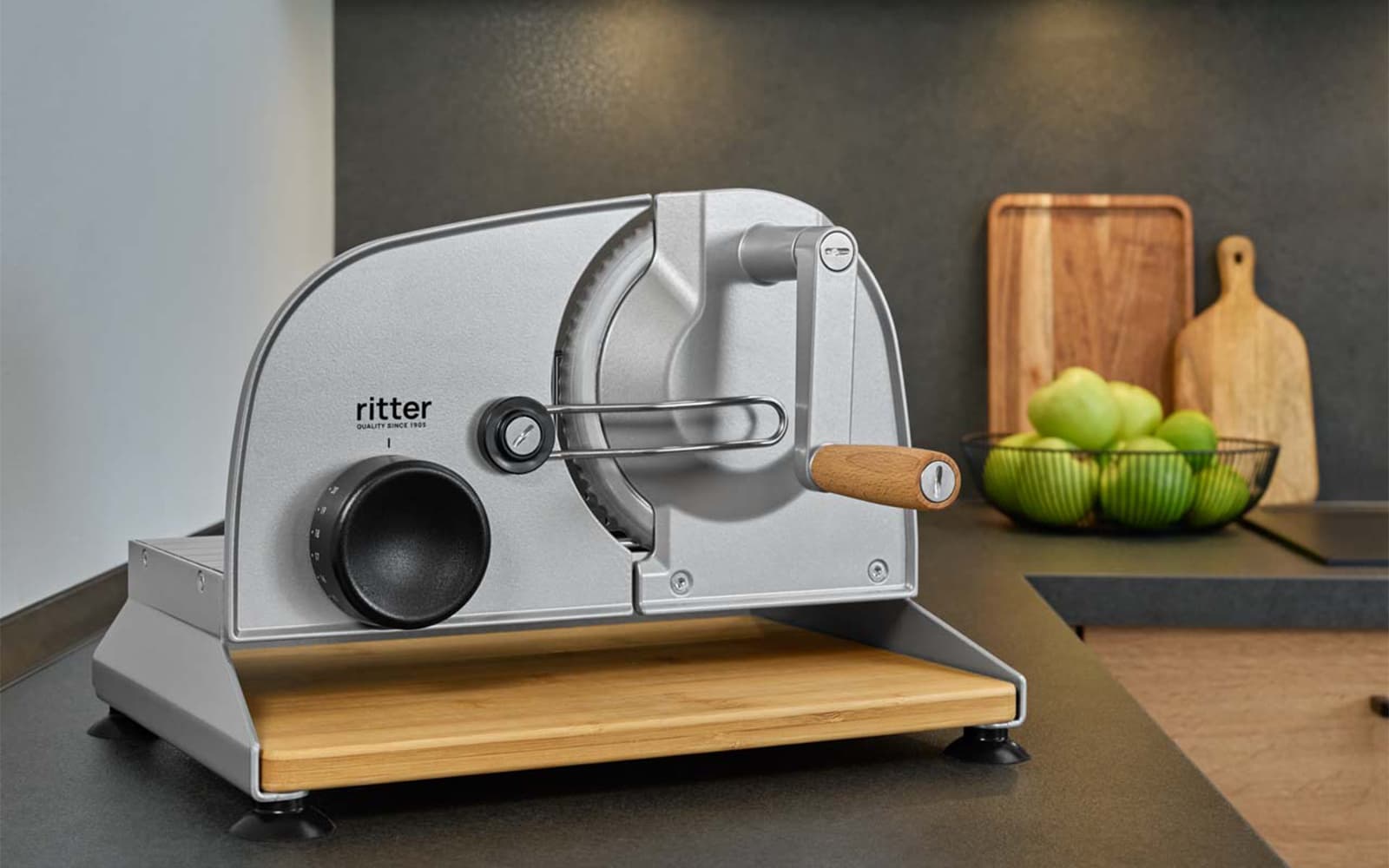 Hand-operated food slicer
The hand-operated food slicers are operated manually by a smooth-running crank and therefore do not require any electricity at all. The hand-operated food slicers brings low-maintenance, economical cutting experiences into the kitchen.

How may we support you?
Get in touch with us quickly and easily. One of our trained and experienced employees will be happy to assist you.
Your benefits with a food slicer from ritter
Quality product made in Germany
Quick and easy removable circular blades
Powerful eco motor
High quality materials and workmanship
Long service life
Functional desig
Reparability
Different circular blades for our food slicers
The slicing result highly depends on the polish, the shaping and the quality of the circular blade. Therefore, ritter offers a variety of circular blades with different slicing features for perfect slicing.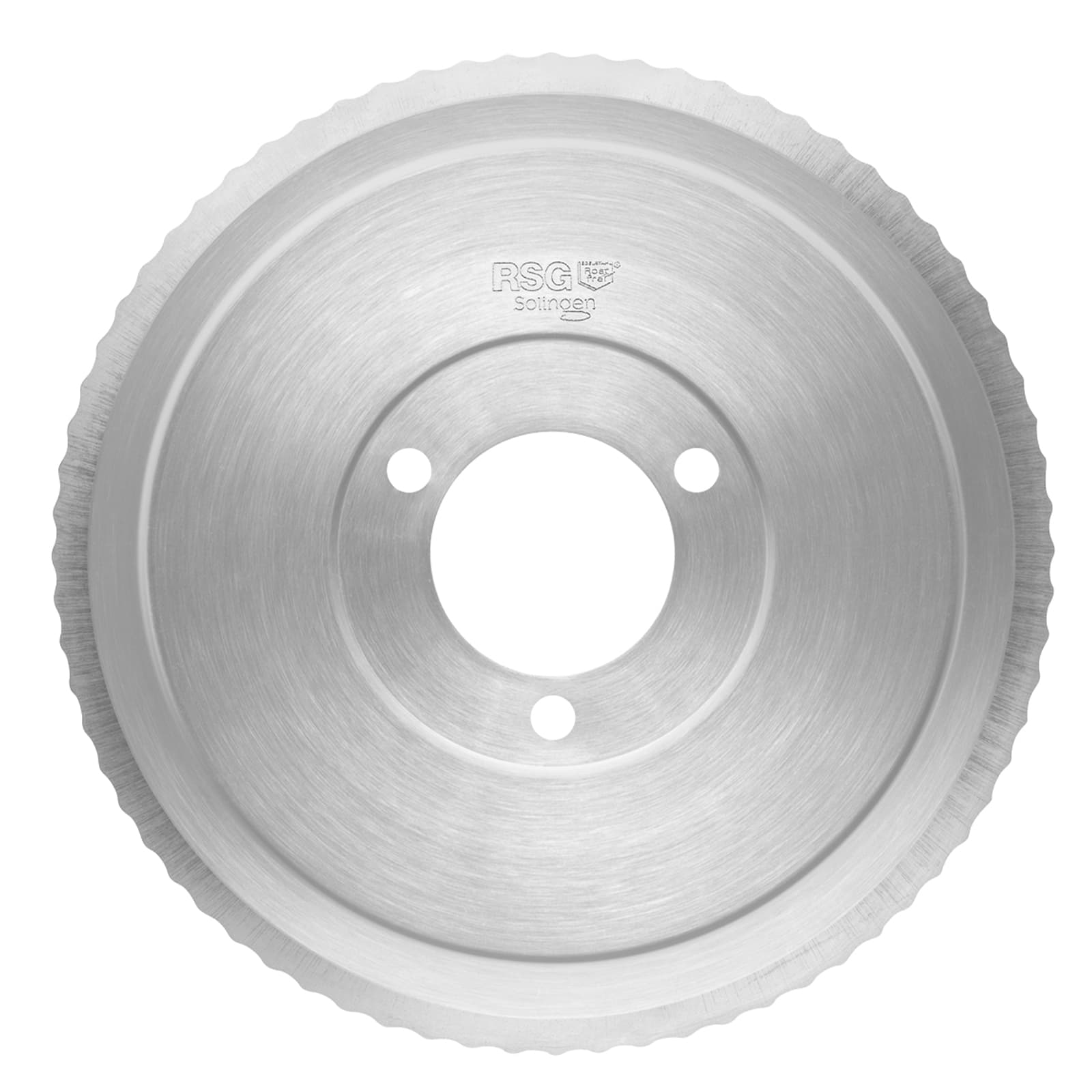 Standard serrated circular blade
The regular standard circular blade made of stainless steel is suited for every-day use. The serrated circular blade is well suited for all kinds of slicing of hard and soft food.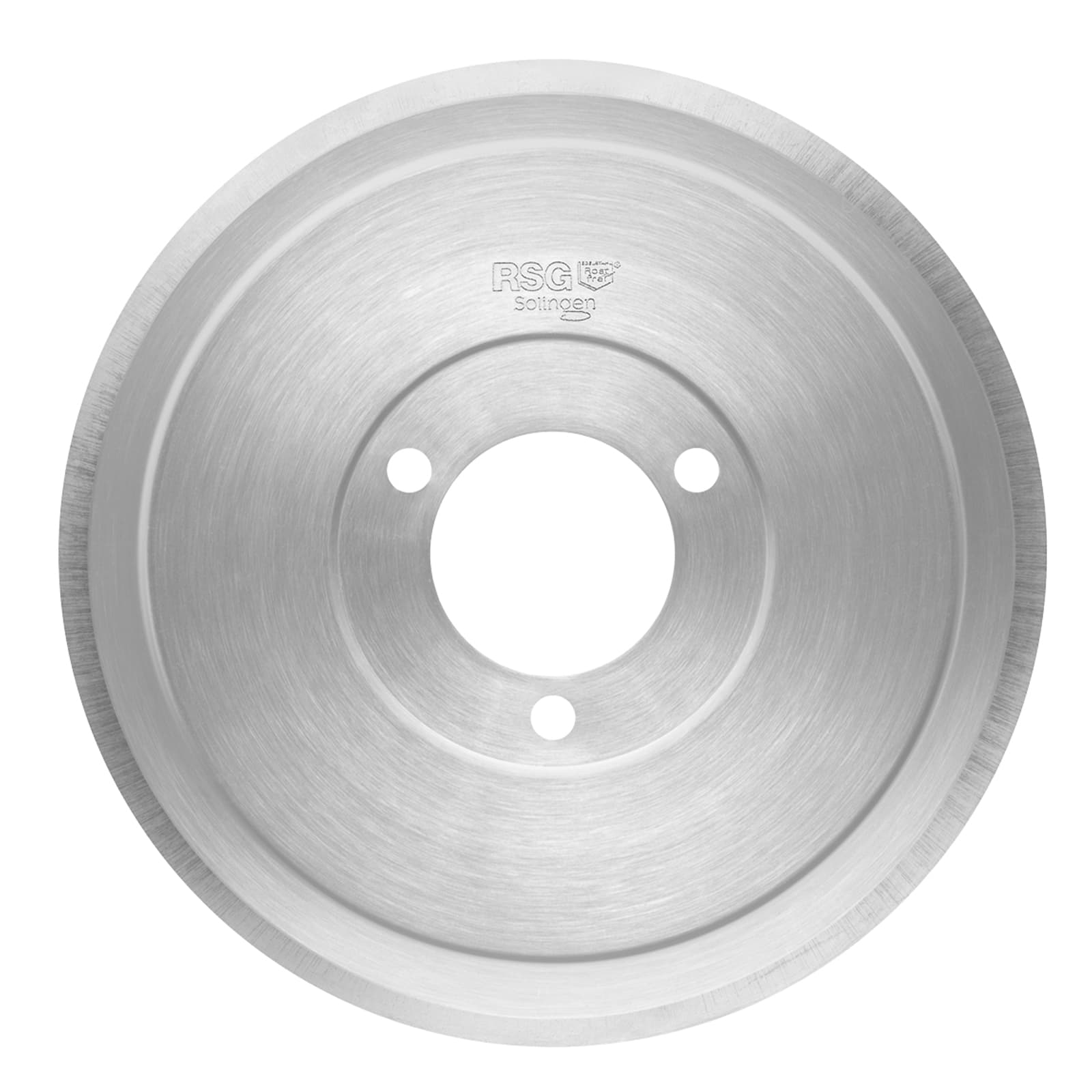 Standard ham- and sausage circular blade
The regular standard circular blade made of stainless steel is suited for every-day use. This smooth ham- and sausage circular blade does evenly cut off thin slices from soft food in particular.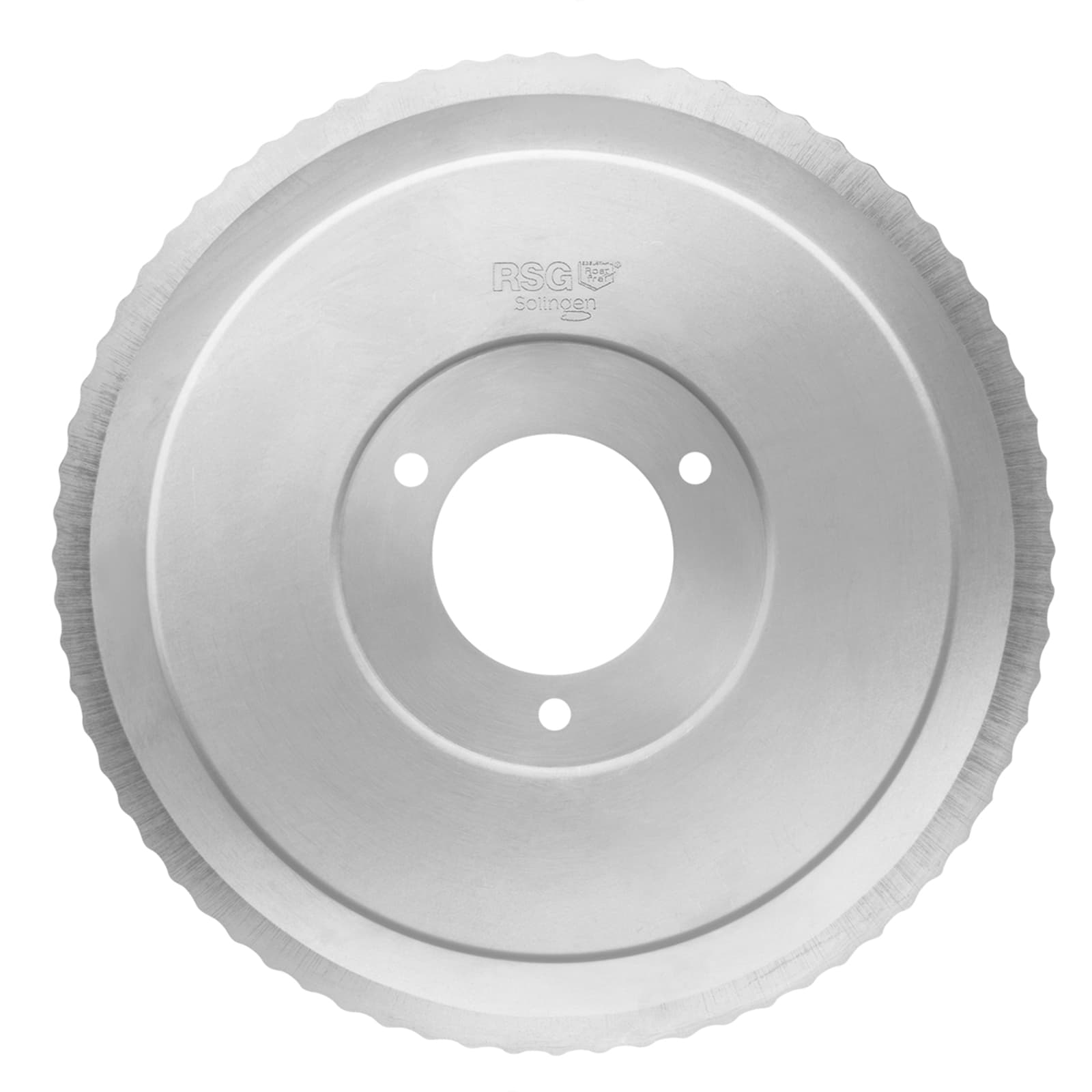 Serrated circular blade with electropolished surface
The serrated circular blade made of stainless steel has been polished electrolytically by a special procedure, resulting in an extremely smooth surface and even slicing edge.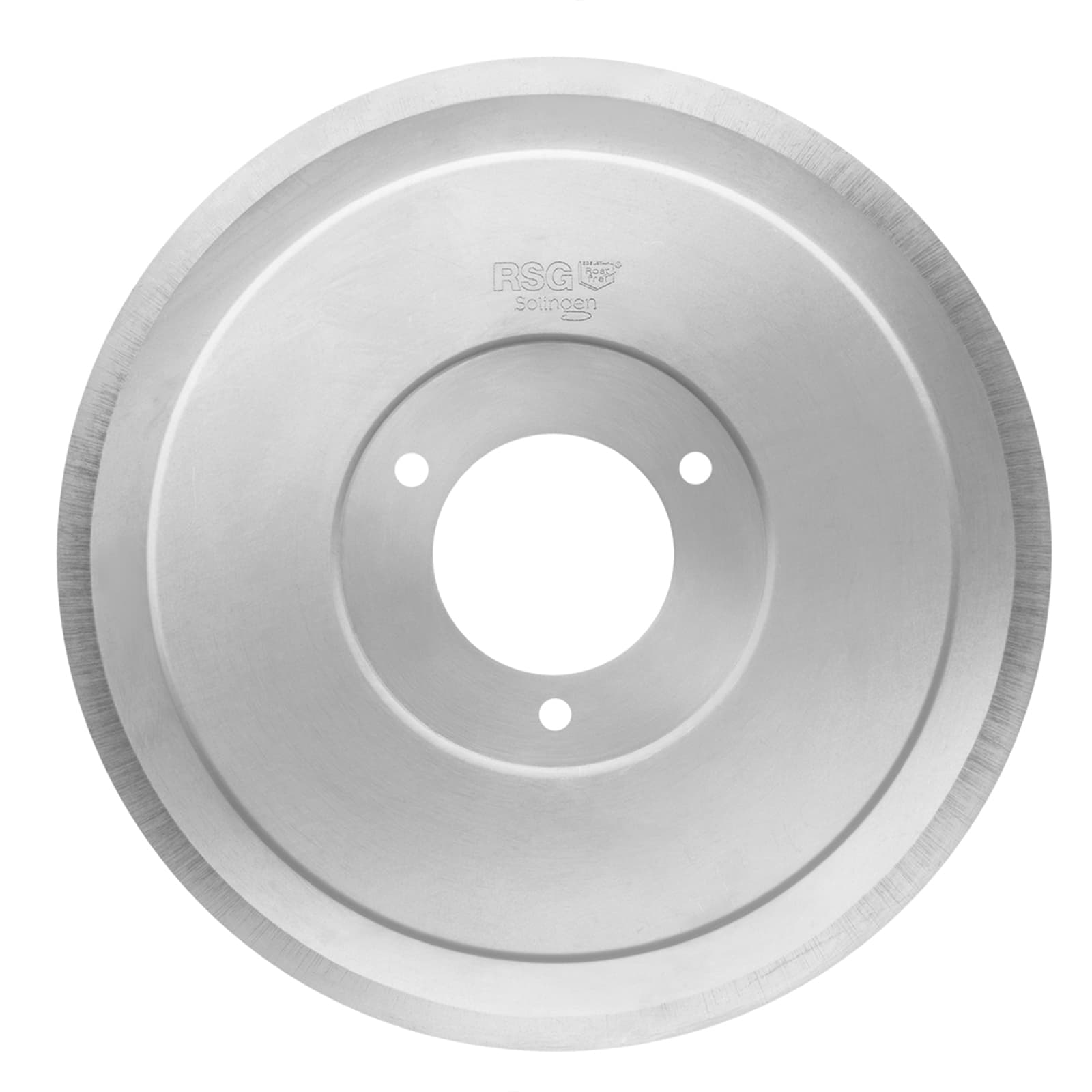 Ham- and sausage circular blade with electropolished surface
The smooth ham- and sausage circular blade made of stainless steel has been polished electrolytically by a special procedure, resulting in an extremely smooth surface and even slicing edge.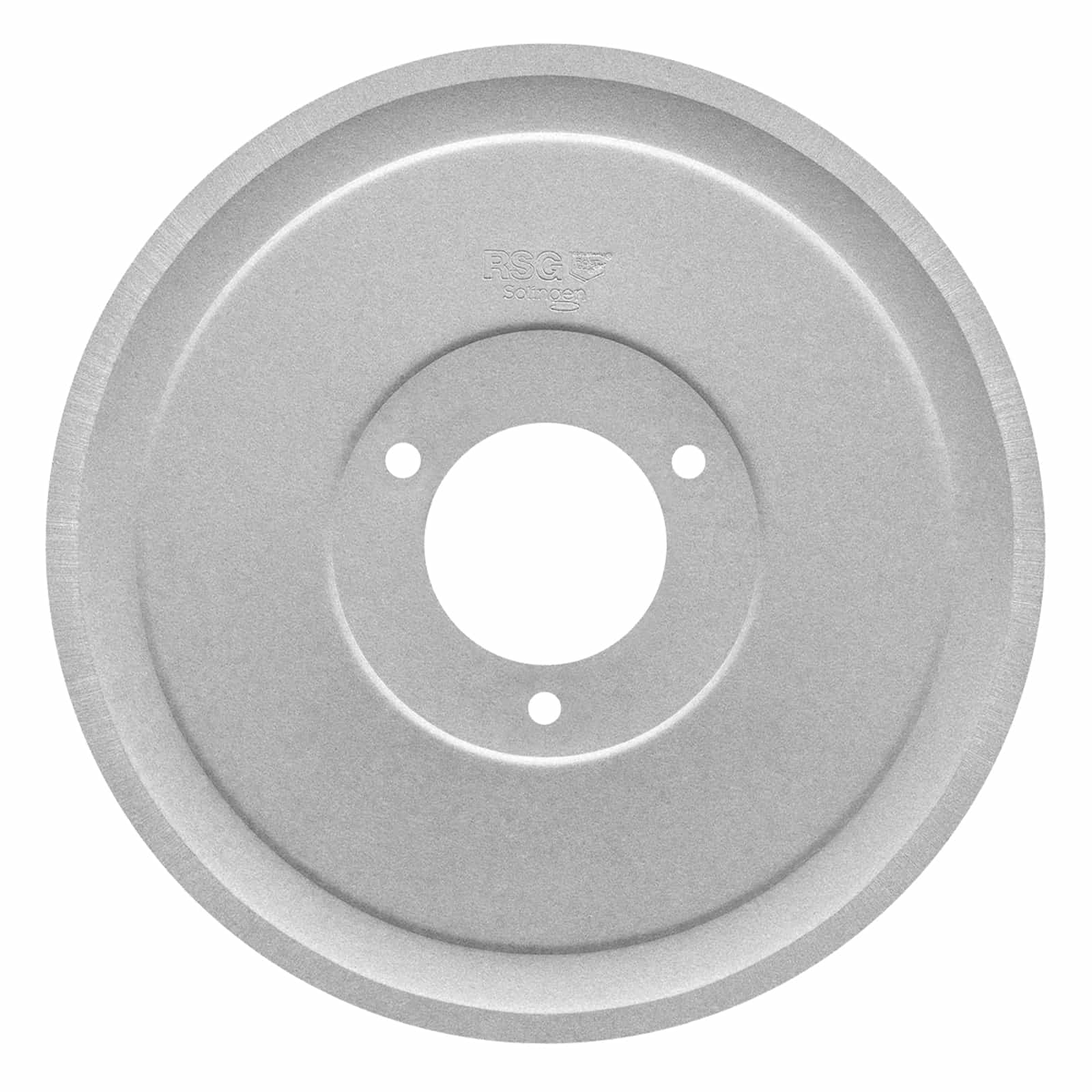 Ham- and sausage circular blade with non-sticking coating
The blade made of stainless steel has been refined with a non-sticking coating. The sticking of soft food, such as cheese, is being reduced by the non-stick method of the coating.
iF DESIGN AWARD 2021 - Hand-operated food slicer
The hand-operated food slicer has received the iF Design Award 2021 on the basis of the points it has scored in the categories of idea, form, function, unique selling proposition and relevance. The hand-operated food slicer was able to prevail and is thus one of the deserving prize winners - because only the most innovative and best are admitted to the international ranks of iF prize winners.
reddot 2021 - Hand-operated food slicer
The Red Dot Design Award stands for high design quality and is considered a seal of quality. In 2021, the hand-operated food slicer won out over products from around 60 other countries.
if DESIGN AWARD 2015 - Electrical food slicer
For over 60 years, the iF DESIGN AWARD has been recognized the world over as a label of design excellence. With its superior design the full metal foldable slicer has won the iF DESIGN AWARD 2015.
reddot 2015 - Electrical food slicer
The electrical food slicer has received the coveted reddot award for product design. Criteria such as functionality, quality and durability are decisive for the award.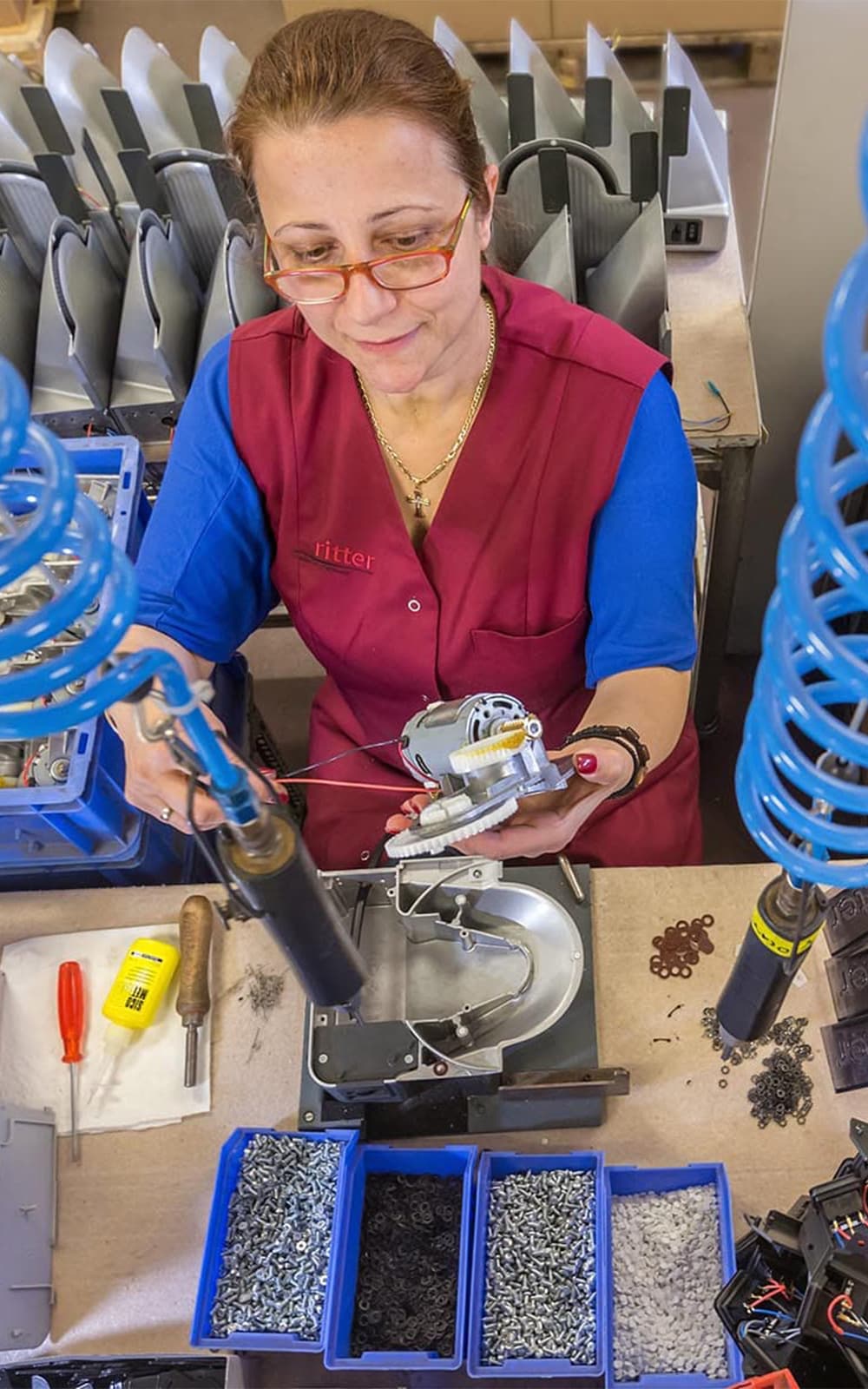 MANUFACTURE
Made in Germany - since 1905
We stand out in particular because all of our household appliances - whether food slicers or peelers, our high-quality breakfast line consisting of toasters, kettles and coffee machines, our cordless hand blender or our built-in appliances - continue to be produced exclusively in Germany. "made in Germany" is firmly anchored in our business philosophy. The production of household appliances here at our facility in Gröbenzell near Munich means far more to us than just preserving and creating jobs. High quality standards, the right materials for form and use, and functional design are at the core of our business and the associated tradition of the Bauhaus movement of the 1920s.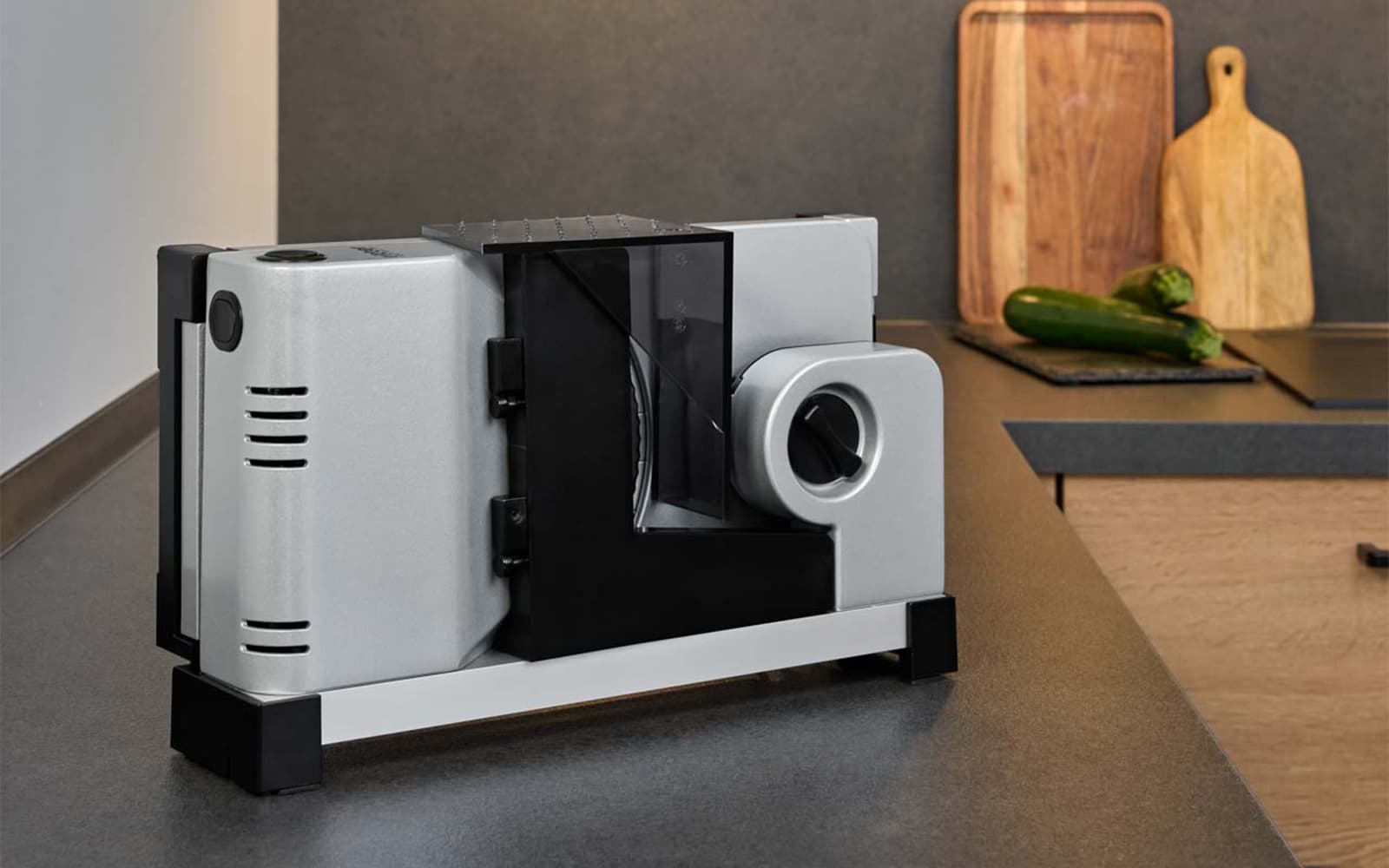 Frequently asked questions about our food slicers
Do you have any questions about our food slicers? Here are some frequently asked questions and the corresponding answers. If your question has not been included or still isn't sufficiently clarified, we will be pleased to assist you.
A food slicer can be used for much more than a simple bread machine, which was mainly used for slicing bread. With a food slicer, you can cut various foods from bread and sausage to cheese, fruit and vegetables into equally appetizing slices.
A food slicer is used to cut food. In order to do this, guide the food to be sliced against the circular blade while the appliance is running, but only with a slight advance and without much effort. Please refer to the operating manuals enclosed with the appliance for proper use.
A food slicer can be used wherever the aim is to cut continuous and even slices. Depending on the appliance, you will need an appropriate power supply. Use the food slicer only for your private household purposes and not commercially.
Every food slicer has its own features and attributes. It all depends on what you require from a food slicer.
Clean the food slicer regularly to prevent the accumulation of food residue. The circular blade must also be cleaned regularly as described below to prevent its surface from rusting. Wipe down the housing and all removed parts, including the circular blade, with a damp cloth. Give all removed parts, including the circular blade, a thorough wash in warm soapy water. Grease the circular blade's gear wheel with a little ritter maintenance grease alternatively with a little Vaseline.
Our appliances are not designed to cut frozen foods. Therefore, we strongly advise you not to cut frozen foods with one of our food slicers.
Depending on the model you have chosen, our food slicers consist of different parts that are made of steel, stainless steel, aluminium, high-quality plastic and moulded rubber parts. For detailed information on the materials, please refer to the product descriptions for the appliances.
The speed of our electrical food slicers without electronic rpm adjustment amounts to approx. 70-90 rounds/minute. In the case of appliances with electronic rpm adjustment, the speed can be reduced and/or set individually.
No, regrinding and/or sharpening the blades is not possible. The surfaces of the blades are hardened, which means regrinding and/or sharpening them wears down the hardened surface, and the blade becomes blunt more quickly.
Yes, all the blades of our food slicers can be detached and replaced. Depending on the model, our appliances have different circular blade locks. Bayonet quick-acting lock: Fold the blade catch upwards, turn it clockwise, and remove it. Take hold of the circular blade at its rotational centre and remove it. Bayonet lock: Open the blade catch, by turning it in a clockwise direction. Remove the blade catch. Screw cap: The screw cap is opened with a key located behind the blade cover. Coin-operated closure: Put a coin (2-, 1- or 0.50 Euro coin) on the circular blade lock and turn it in the clockwise direction. When buying a (new) blade, you should make sure you choose the right colour of plastic gear wheel so that you don't accidently decide on a blade which doesn't match your food slicer.
Every blade can be detached for easier and thorough cleaning. To find out how to open which lock, refer to "Is it possible to replace the blade of the food slicer?"
With some of our food slicers, it is necessary for you to add or insert a couple of components, such as the slicing carriage or the food collecting tray.
Every ritter appliance comes with a two-year manufacturer's warranty, starting with the date of purchase and in accordance with the EU warranty directives. During the period of warranty, we will rectify all faults which are proven to be attributable to manufacturing or material defects free of charge. It is up to us as to whether we replace the whole of the appliance or only improve parts of it.
Yes, with the food slicer, you can slice both bacon as well as cheese, sausage, vegetables and bread. Find out more about our different blades here.
A smooth ham- and sausage circular blade is available for every ritter food slicer.
We advise against putting any parts of your food slicer in the dishwasher. We recommend that you clean your food slicer as follows: After each case of slicing: Wipe the housing down and all of the detachable parts, including the rotary blade, with a damp cloth. From time to time: Clean all the detachable parts thoroughly, including the rotary blade, in warm washing up water. Clean the housing behind the blade with a dry cloth/brush. Please note: Do not use any abrasive cleaning products, sponges with rough surfaces or hard brushes.
Our appliances are only non-slip as standard on smooth surfaces. Our appliances also equipped with rubber feet on their underside. To ensure a secure grip, the rubber feet have to be free from grease and crumbs. We therefore recommend cleaning the rubber feet regularly.
The standard diameter of 17 cm has proven to be effective for household use. If the diameter of the blade is bigger, it is necessary to comply with additional safety guidelines.
The shape of the old blade and the colour of the gear wheel have to match with the shape and colour of the new blade.
The length of time for which a blade remains sharp always depends on the respective food - whether it is mostly hard or mostly soft. The way in which the appliance is used to slice the food also effects the sharpness of the blade. Our blades are inductively hardened in the cutting area, and their service life is considerably higher in comparison with unhardened blades. The blades cannot be sharpened!
The prices vary according to the category of product. You can choose between the categories of premium, comfort, economy and manual household appliances.
We are unable to answer this question for certain, BUT the higher the power rating of the appliance (as shown on its type plate) and the longer it is used, the higher the power consumption. For a number of years, most of our electrical food slicers have been fitted with eco-motors, which are 20% more economical than the previous motors. Read more about this under "eco-motor".
Our food slicers are only designed for food products such as bread, sausage, cheese, or fruit and vegetables. Exceptions: The food slicer must not be used to slice frozen food, bones, food with large cores, meat in netting or packaged food.
This appliance can be folded up and put away easily after use. The food slicer also takes up little space on the worktop when in use. This means that a foldable food slicer is the perfect choice in kitchens that offer a limited amount of space.
We take "Eco" to mean a high performance with a low rate of power consumption. Step-by-step, our food slicers shall be equipped with a new, ball-bearing ECO motor. This energy-saving motor does, compared to the previous model, offer higher energy efficiency due to 20 % less power consumption at 50 % more slicing performance.
There are two operating modes available: Depending on the model, for short operation either the switch is pressed to position "II" or the slide button is pushed forward until it reaches the resistor. The circular blade runs as long as the switch/push button remains pressed in this position. For continuous operation, either press the switch to position "I" or push the slide button beyond the resistor until it engages. The circular blade runs in this operating mode without the switch/sliding button being held down until the switch/sliding button is moved back to the "0" position.
As different as the possible uses and purposes of a food slicer are, as much do the prices differ. The price at which a food slicer is sold depends largely on the material, quality of workmanship, additional features, equipment and last but not least on the location of production. In general, there are several points to consider before buying. Knives, cutting material slides and left-over holder should be removable for easy and thorough cleaning. A criterion can also be the setting for cutting thickness and the material used for the appliance. Food slicers offer differences when it comes to minimum and maximum cutting thicknesses. Anyone who wants to cut more than bread in the kitchen must be able to vary the cutting thickness accordingly and should use a full metal appliance. In addition to magazine test results, a look at the scope of delivery and additional accessories is also helpful. If different blades can be mounted, the food slicer becomes a true all-rounder.
All ritter food slicers meet the necessary safety regulations for small electrical appliances and EU standards for cutting machines in the household sector. The VDE confirms this with its VDE/GS mark. For proper and safe use, please pay particular attention to the safety instructions in the user manual.
What speaks in favour of an food slicer from ritterwerk is the high level of material fairness, which ensures a pleasant and problem-free slicing experience. The name ritterwerk stands for repairability and sustainability, as worn or defective parts can be replaced by the in-house customer service workshop, often decades after purchase. In addition, all devices are "made in Germany" and are manufactured from development to completion at the site in Gröbenzell near Munich.

How may we support you?
Get in touch with us quickly and easily. One of our trained and experienced employees will be happy to assist you.