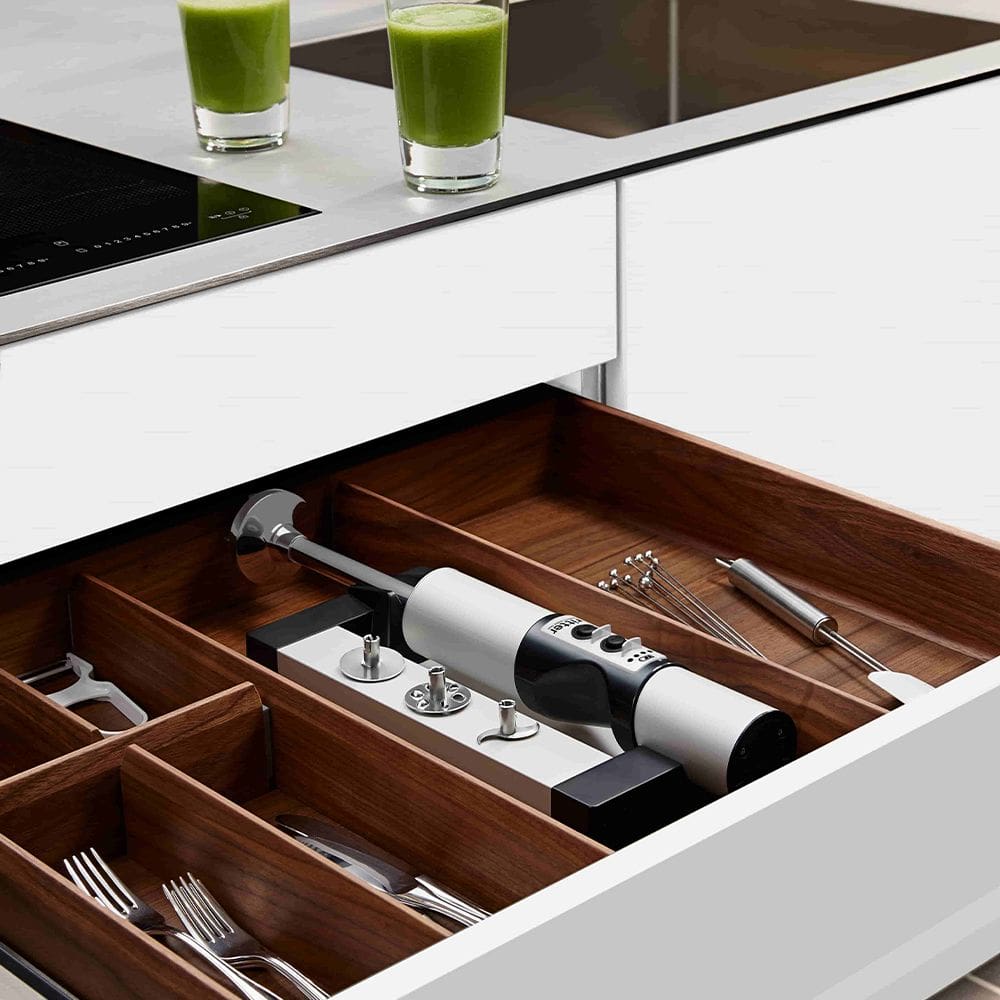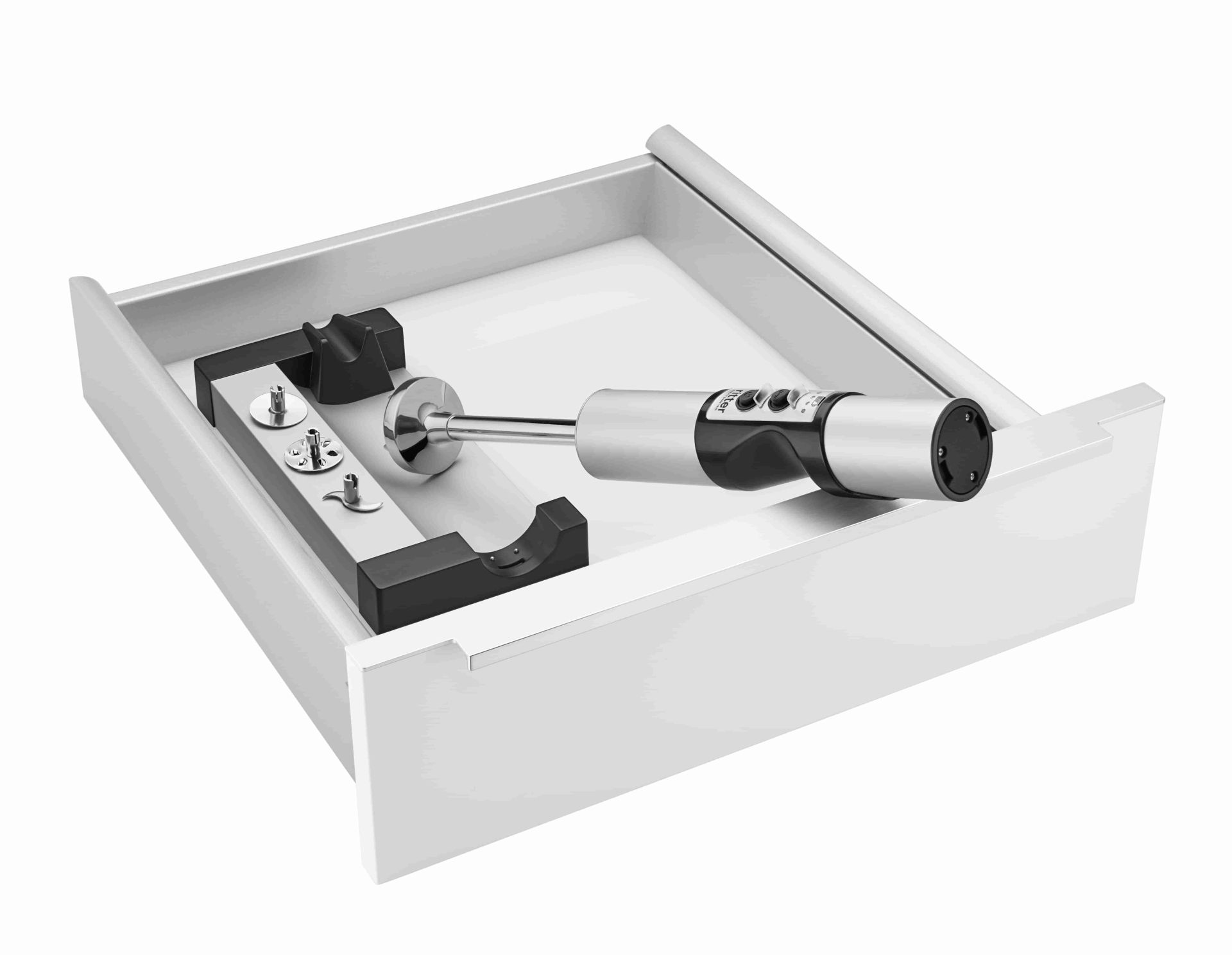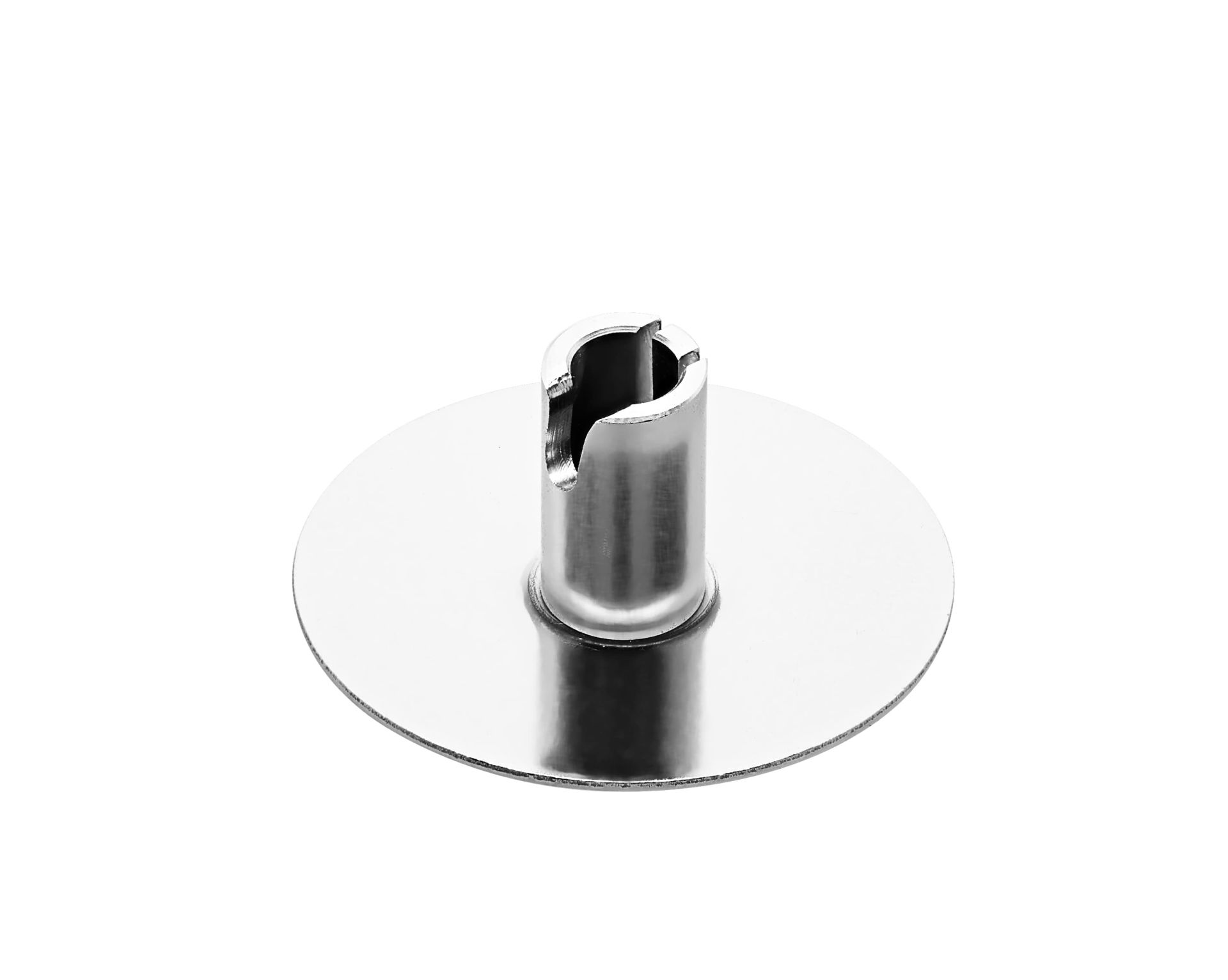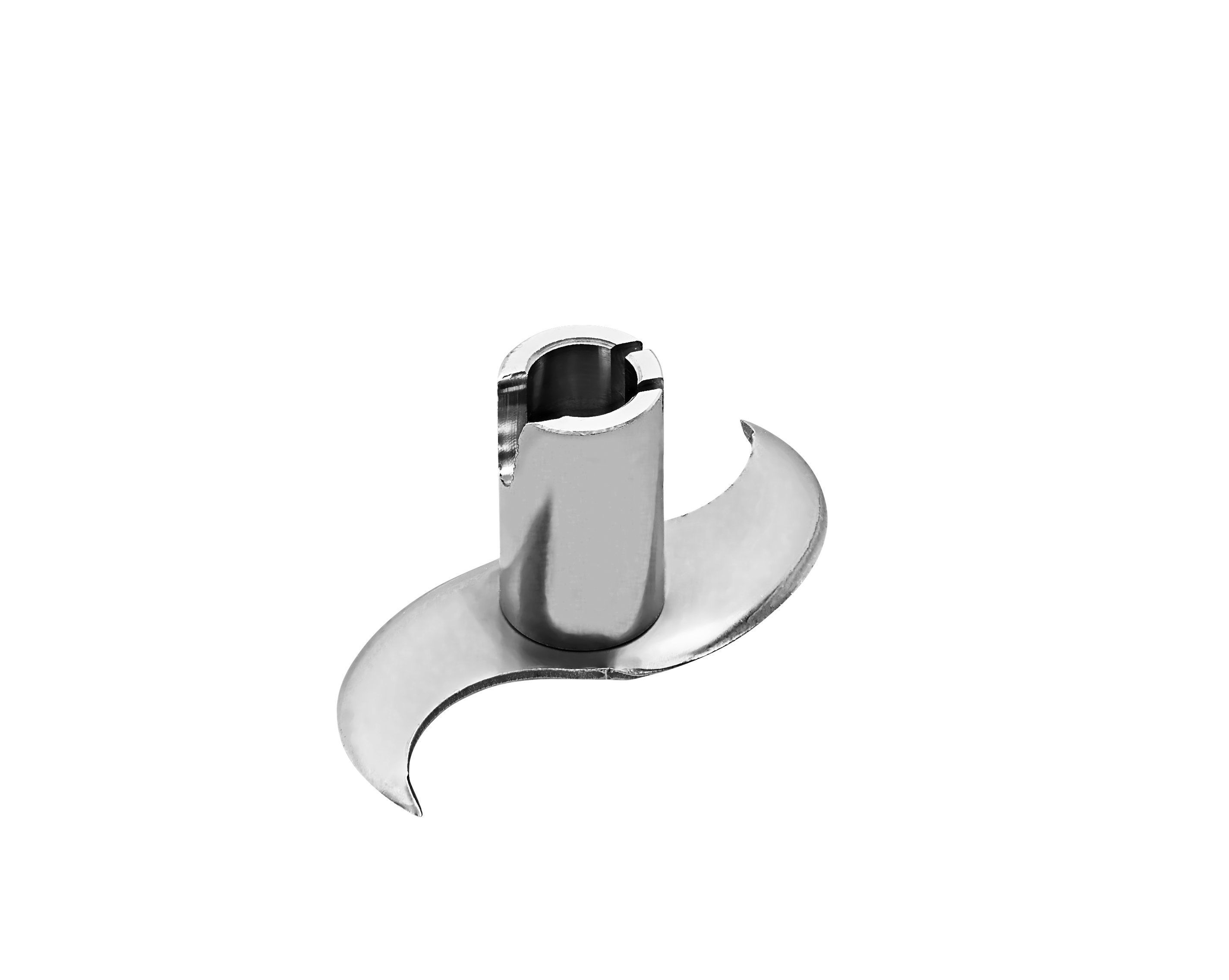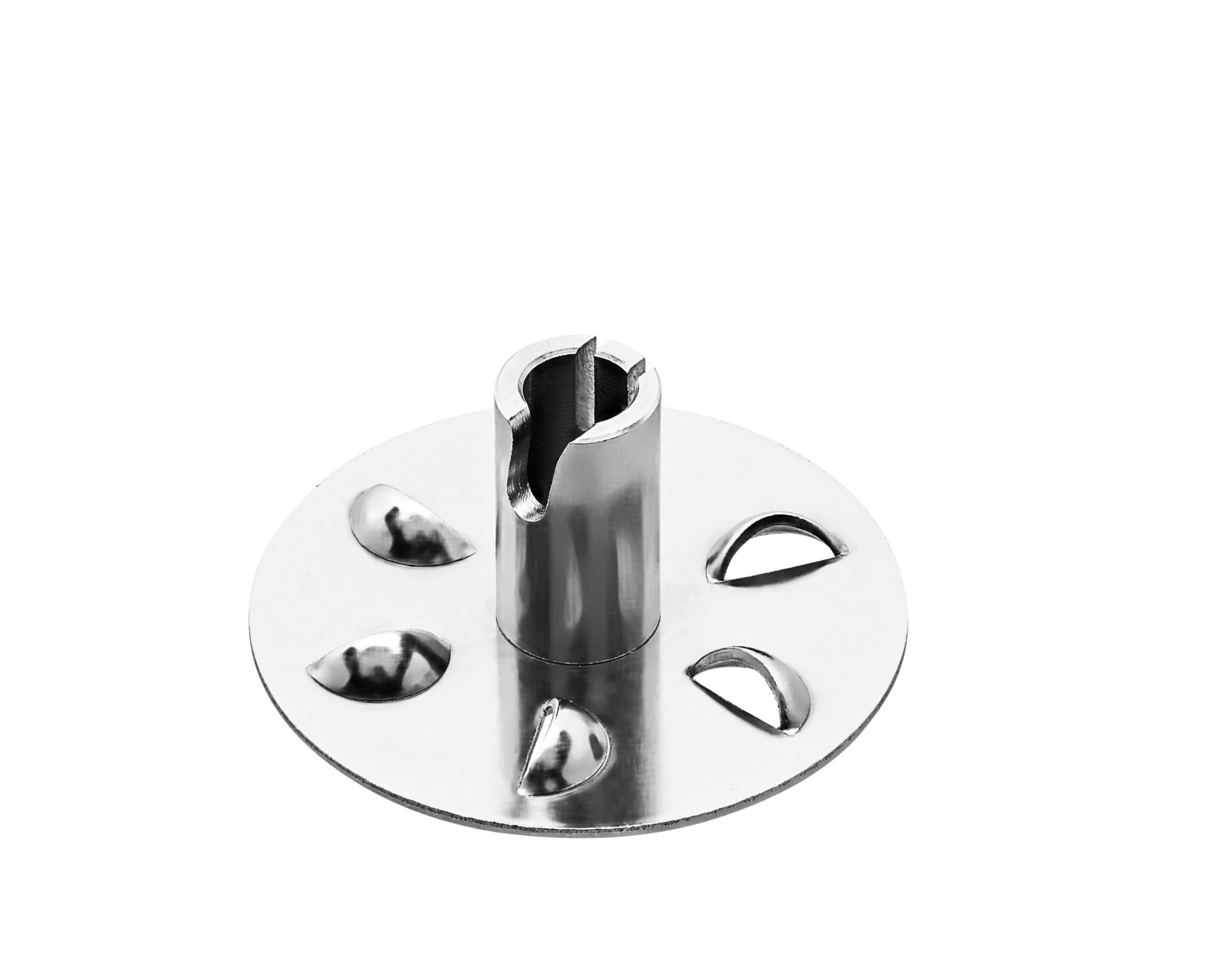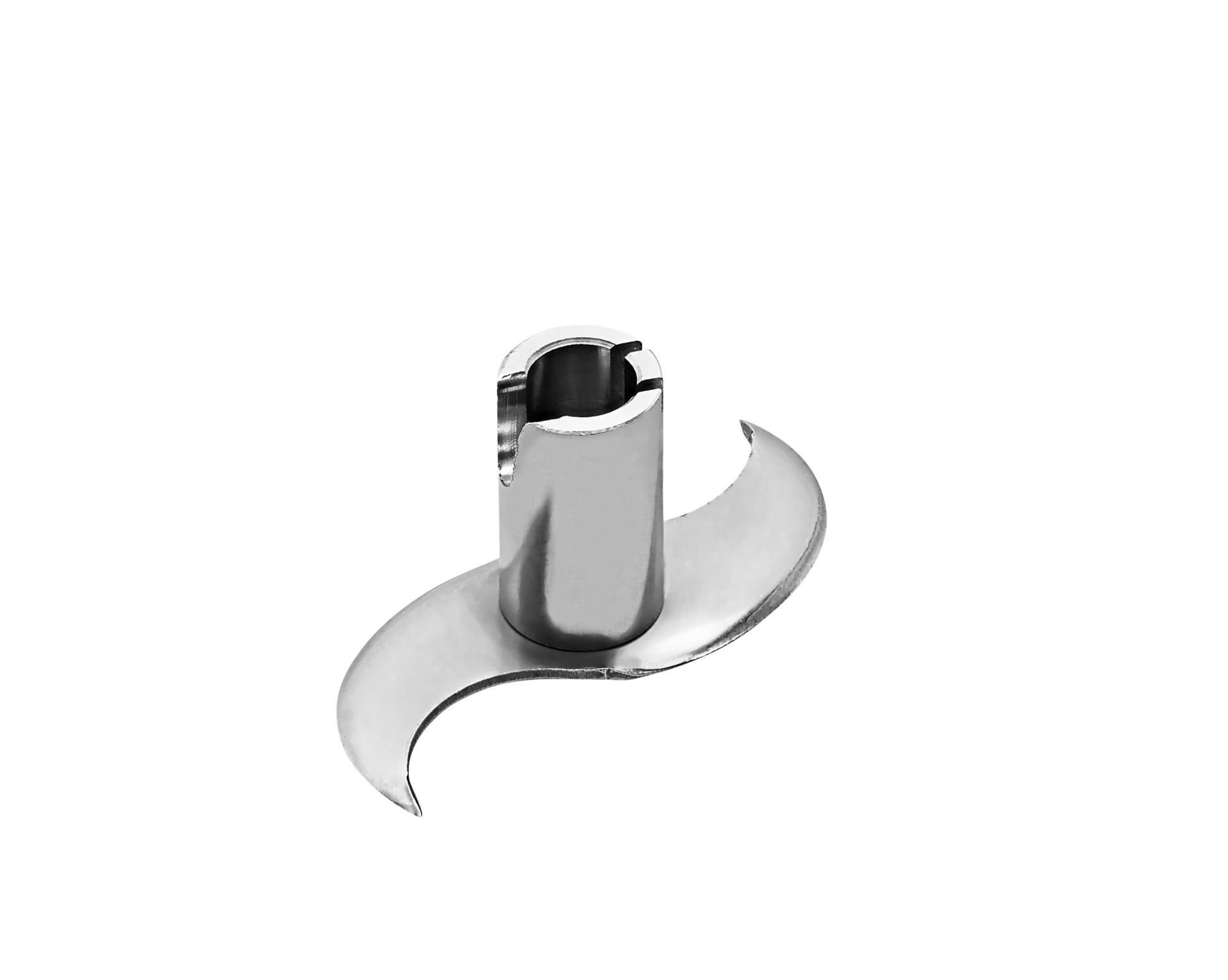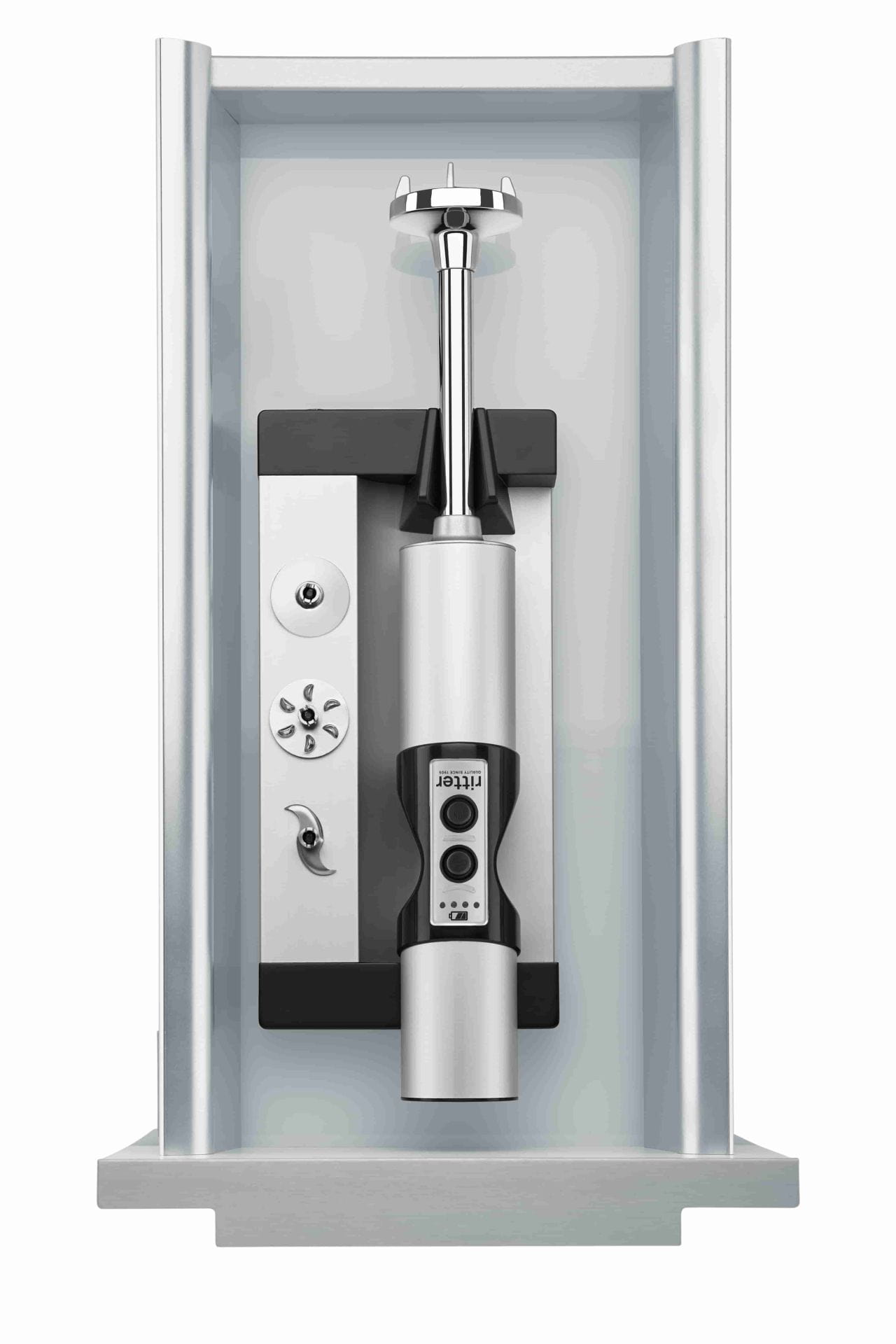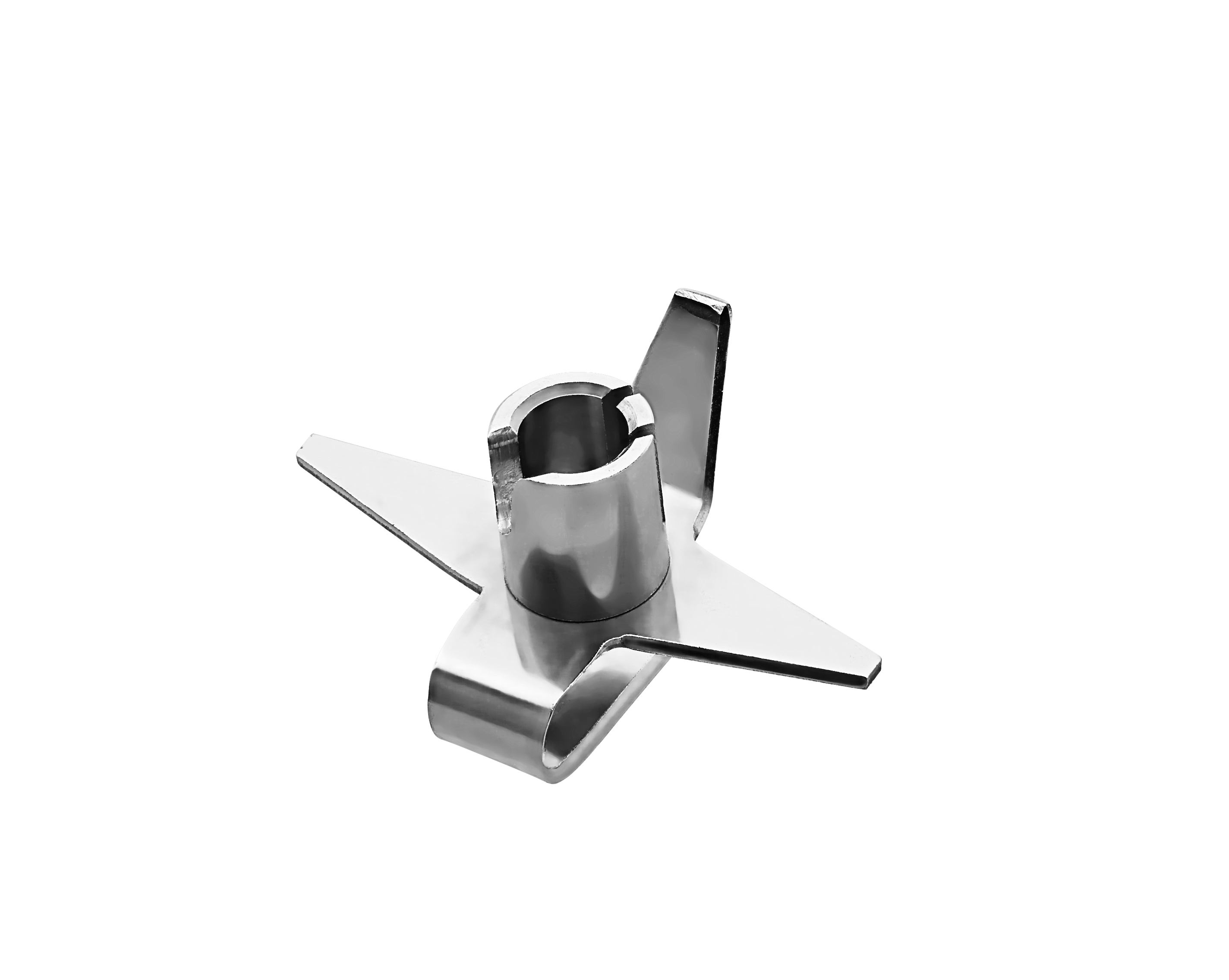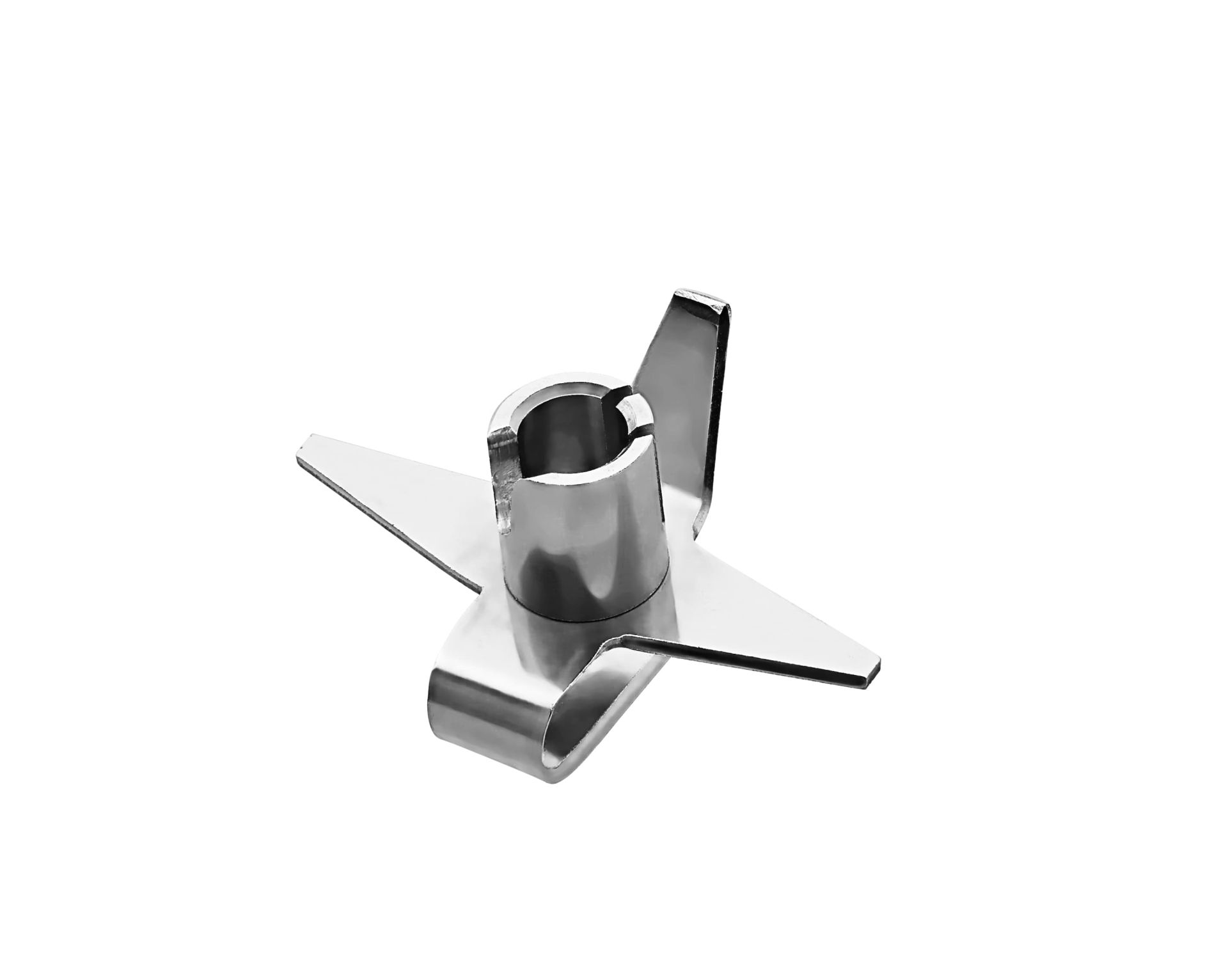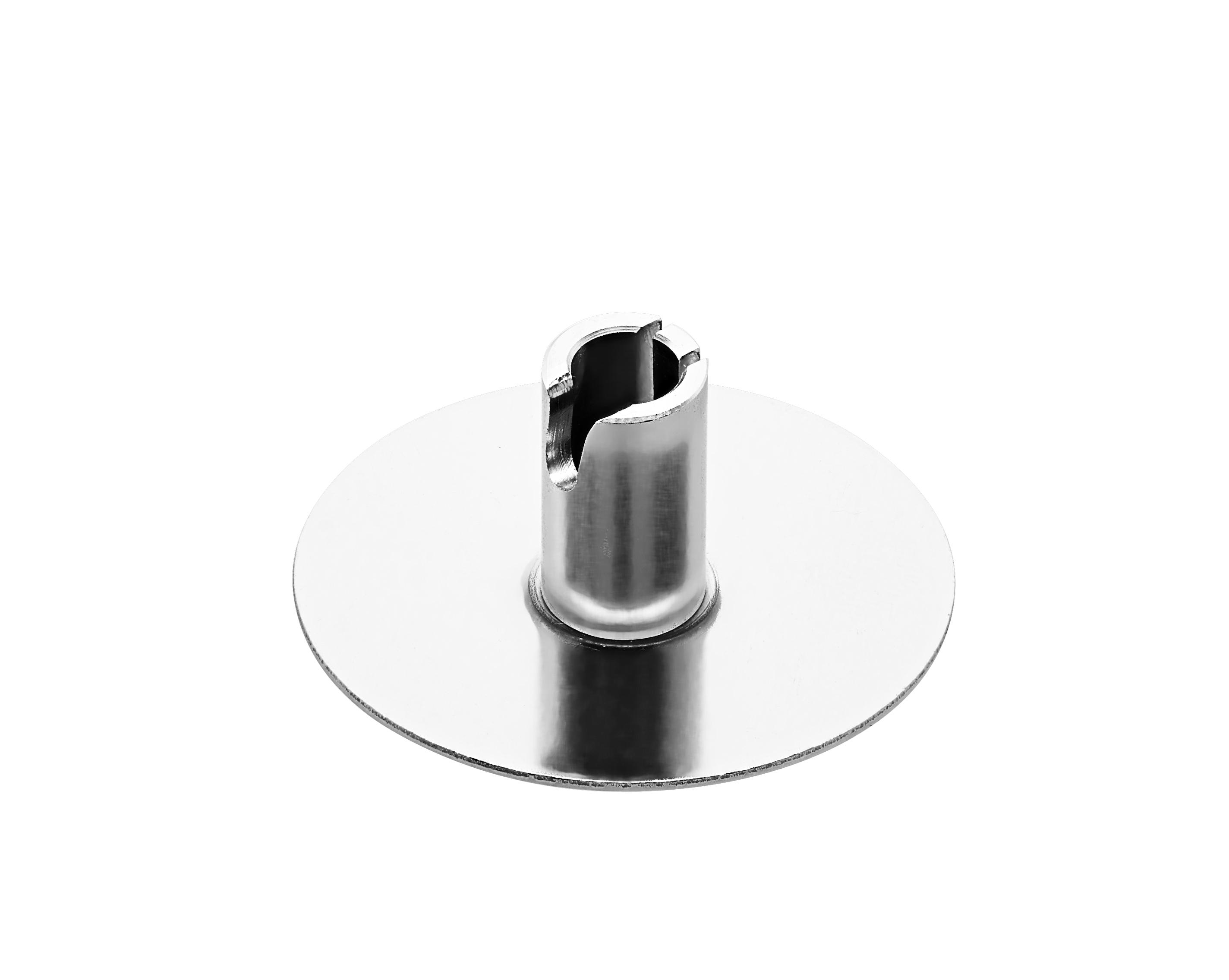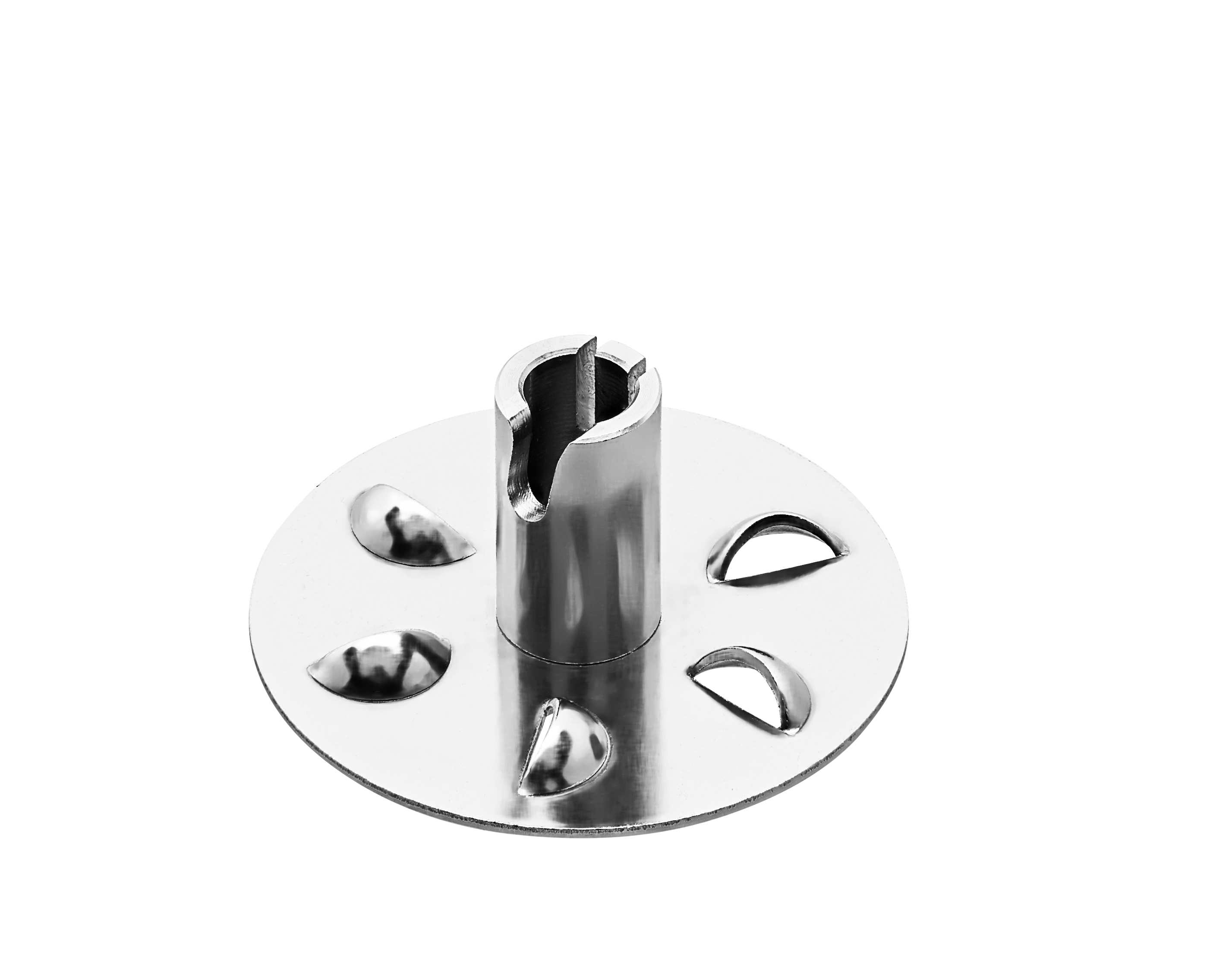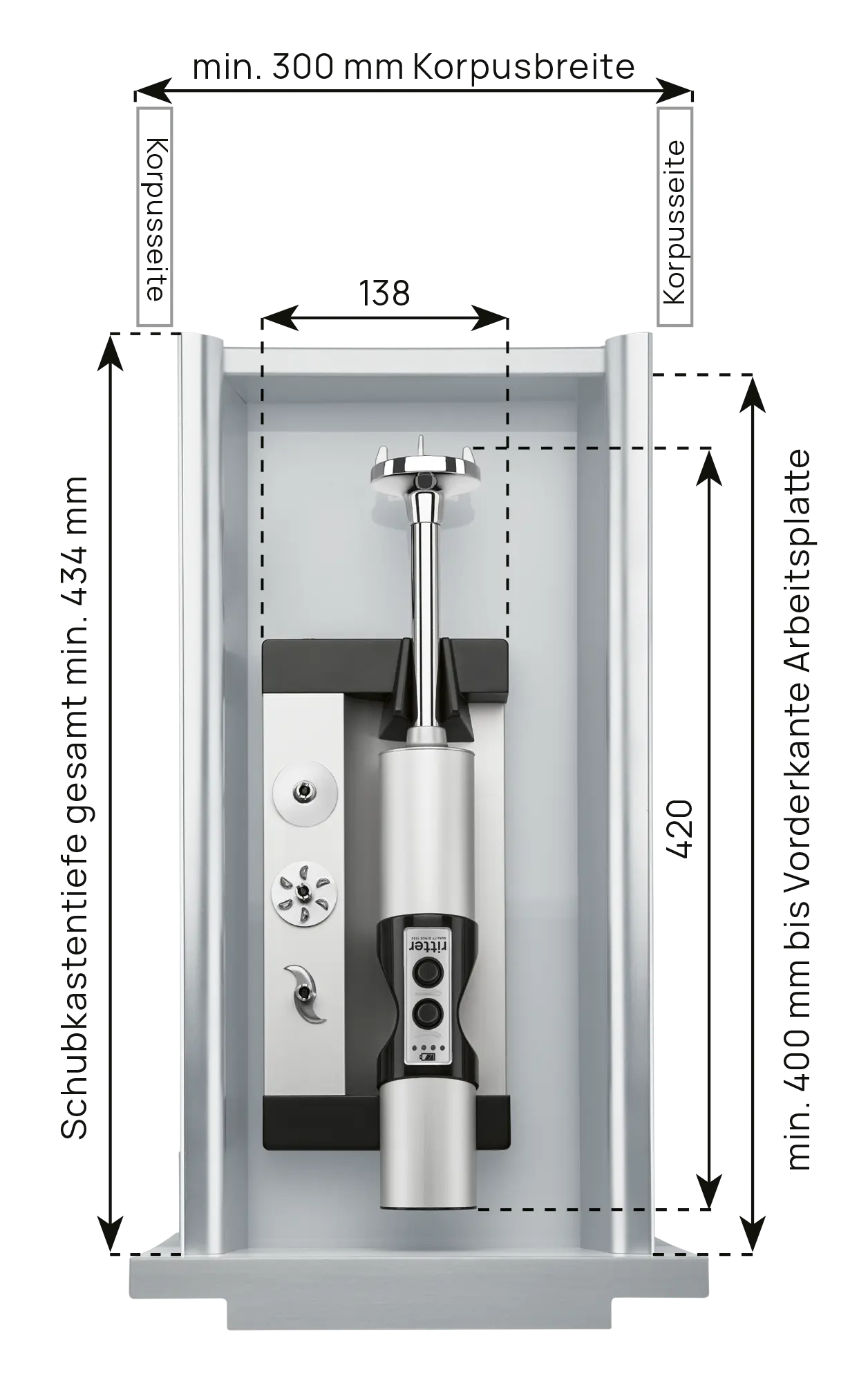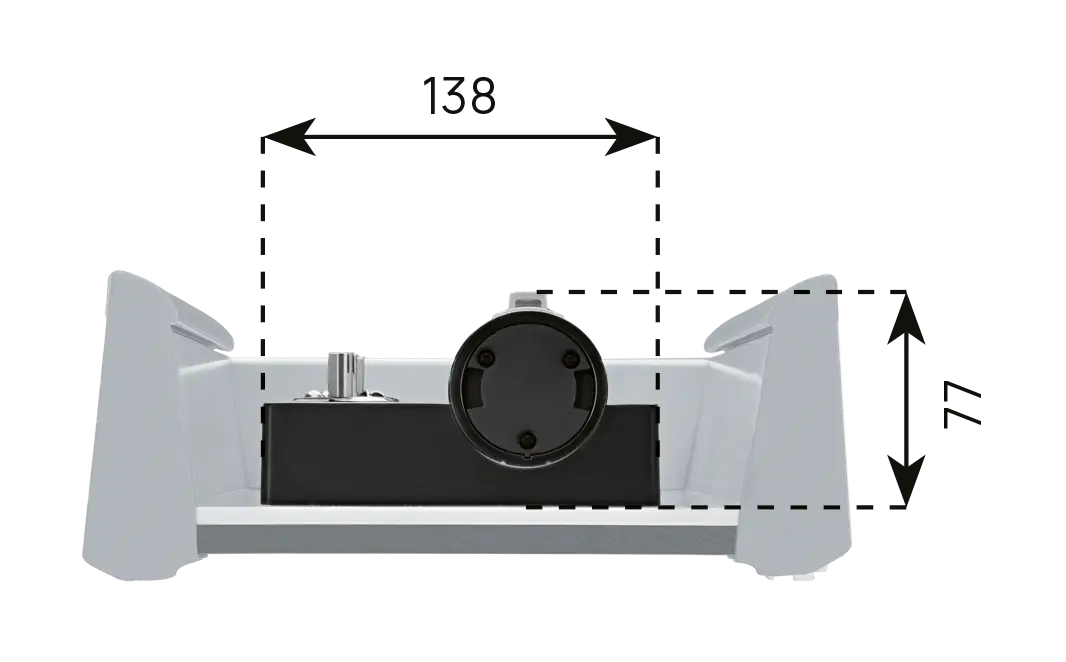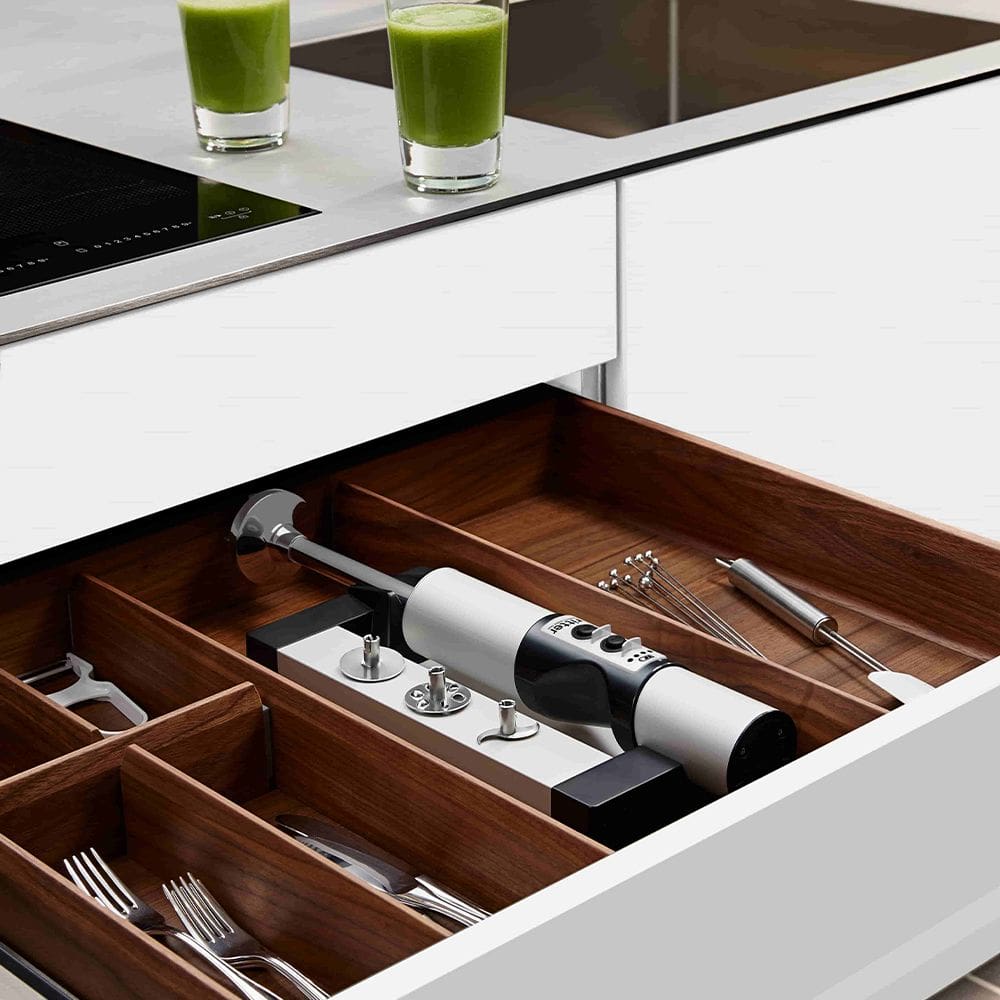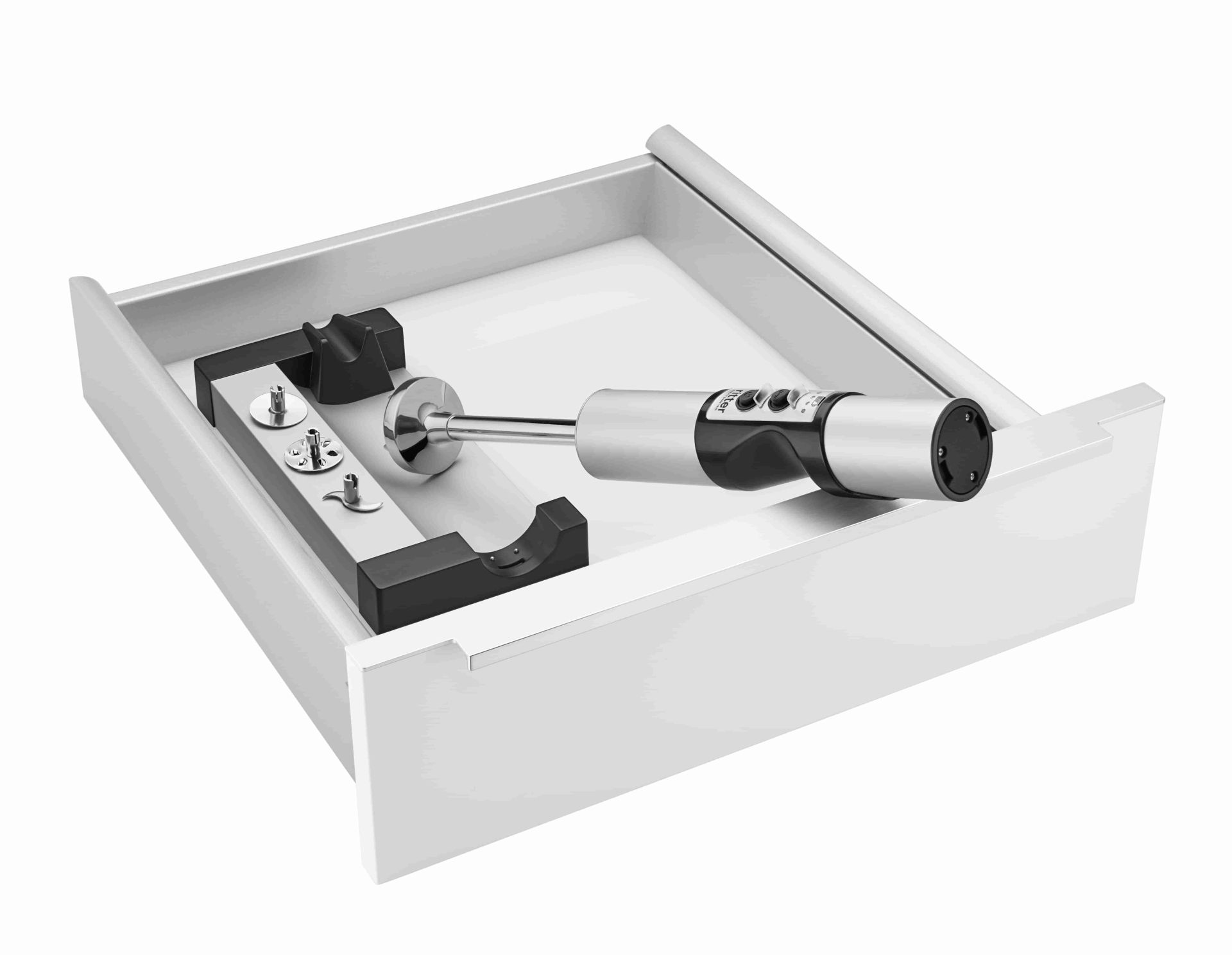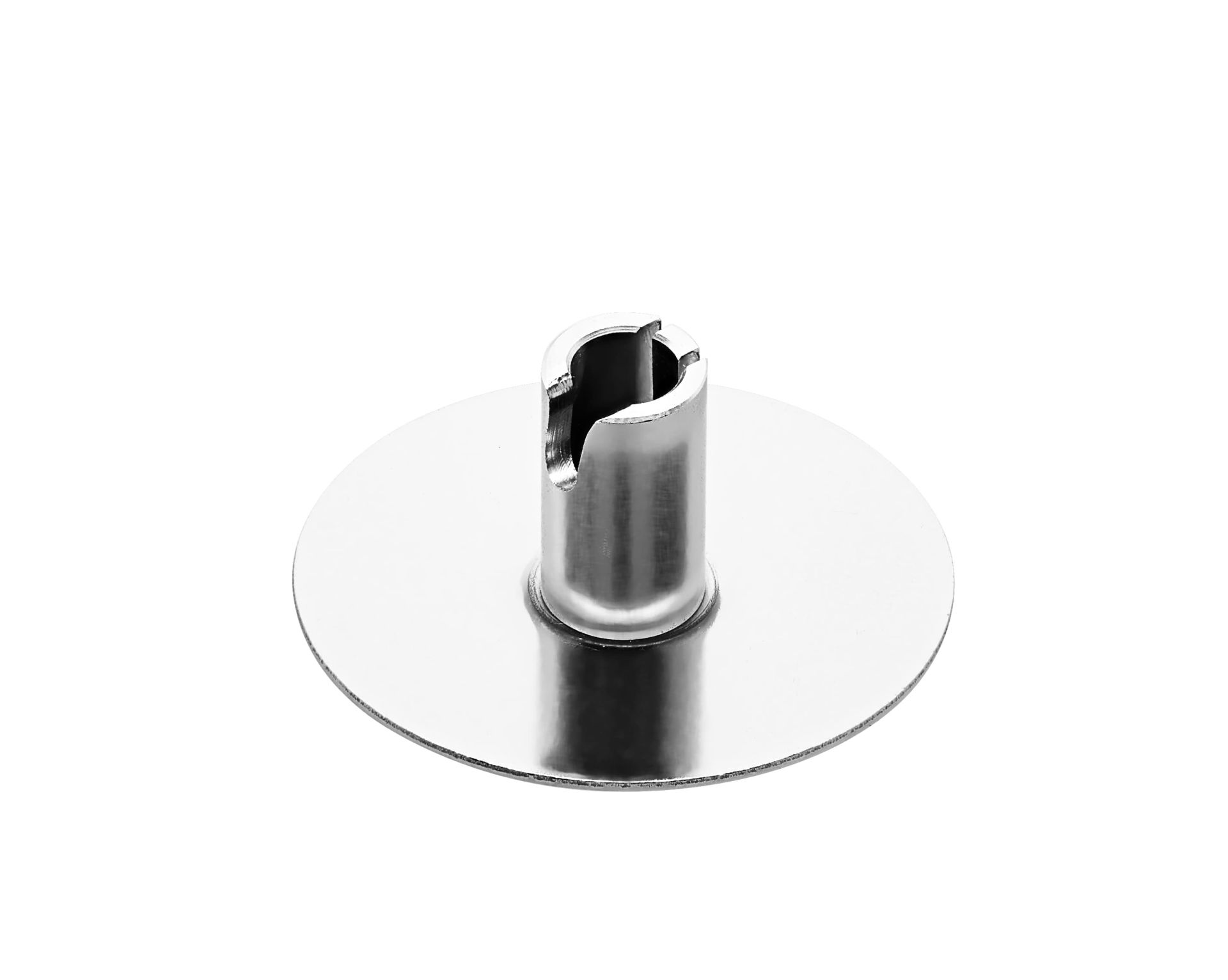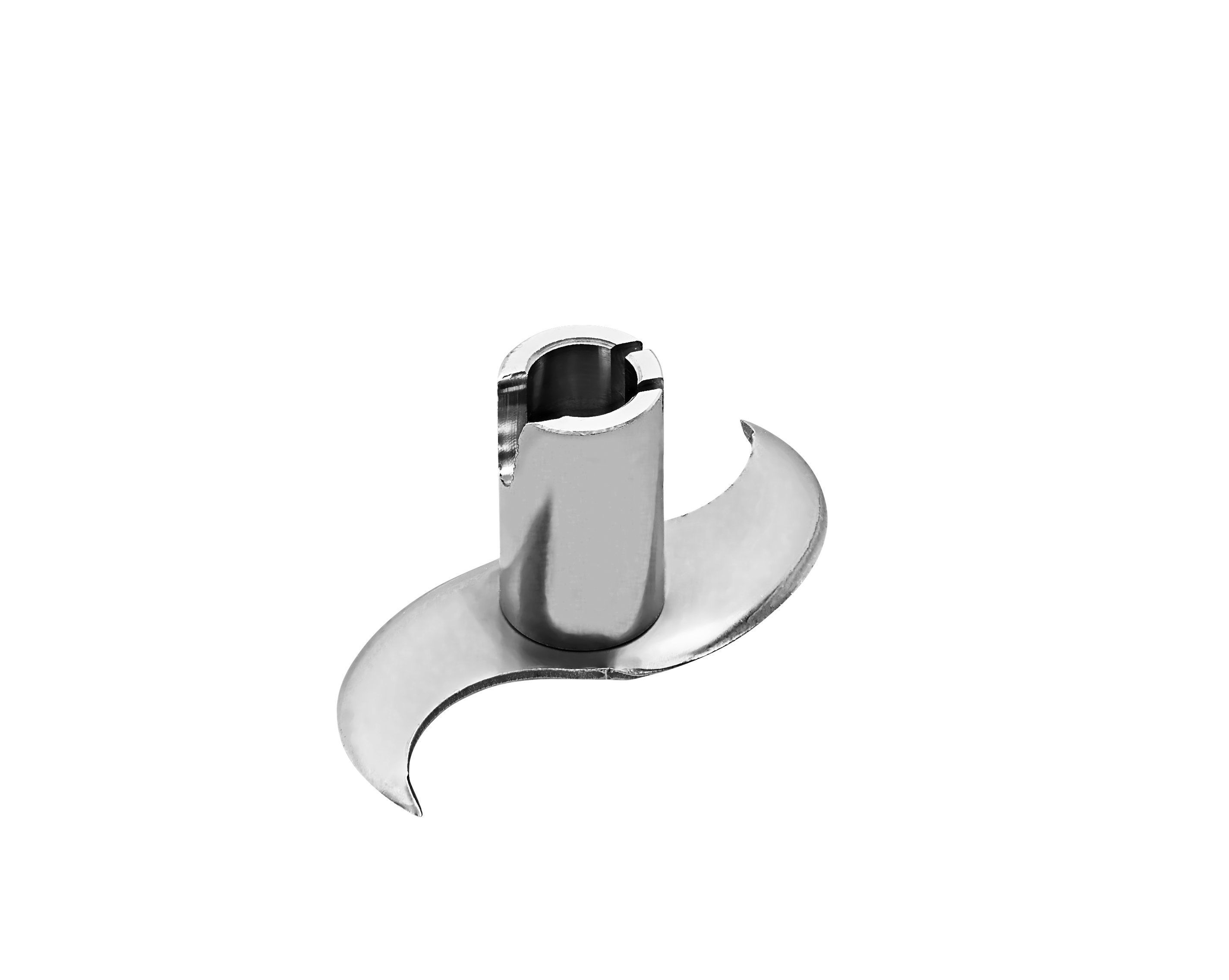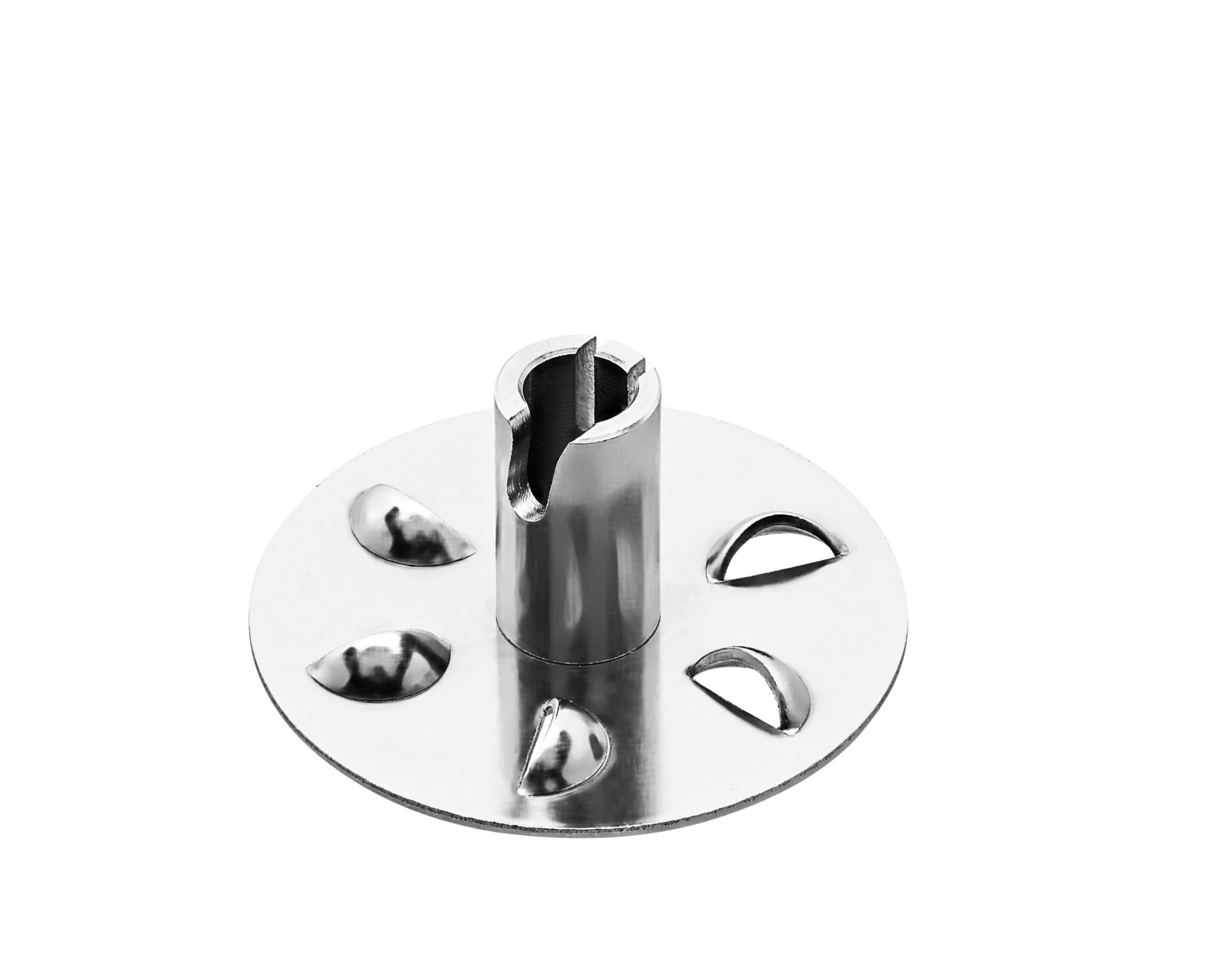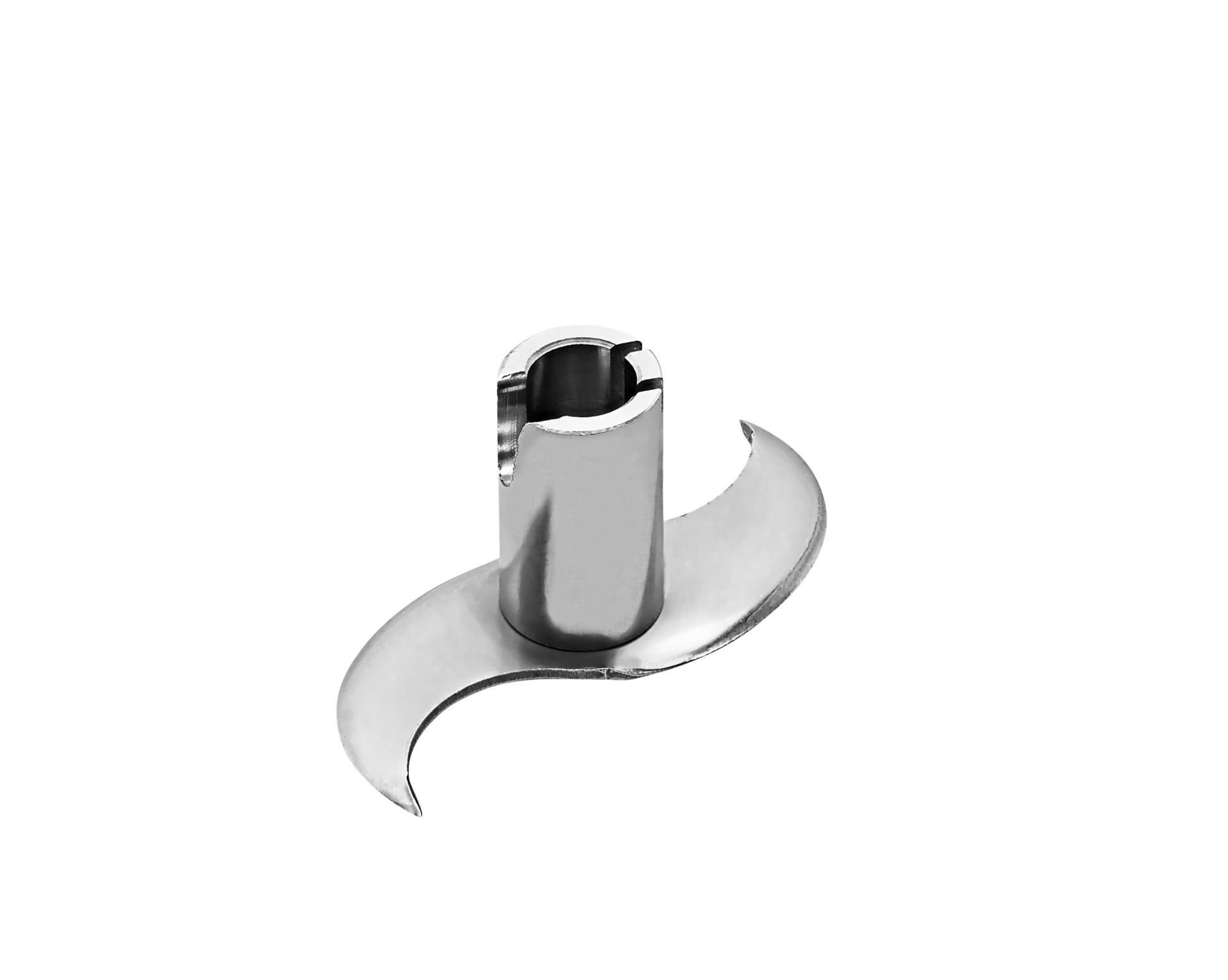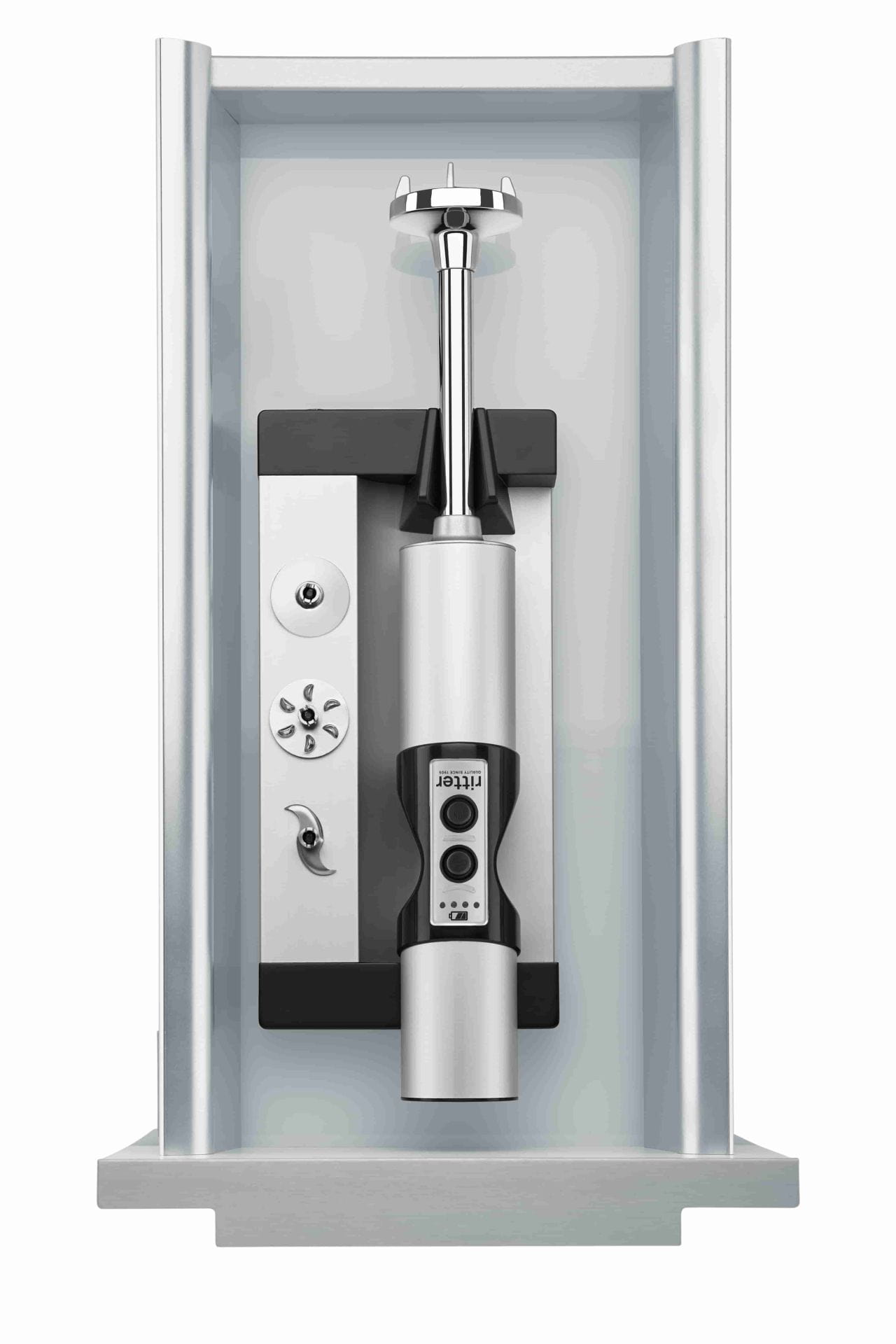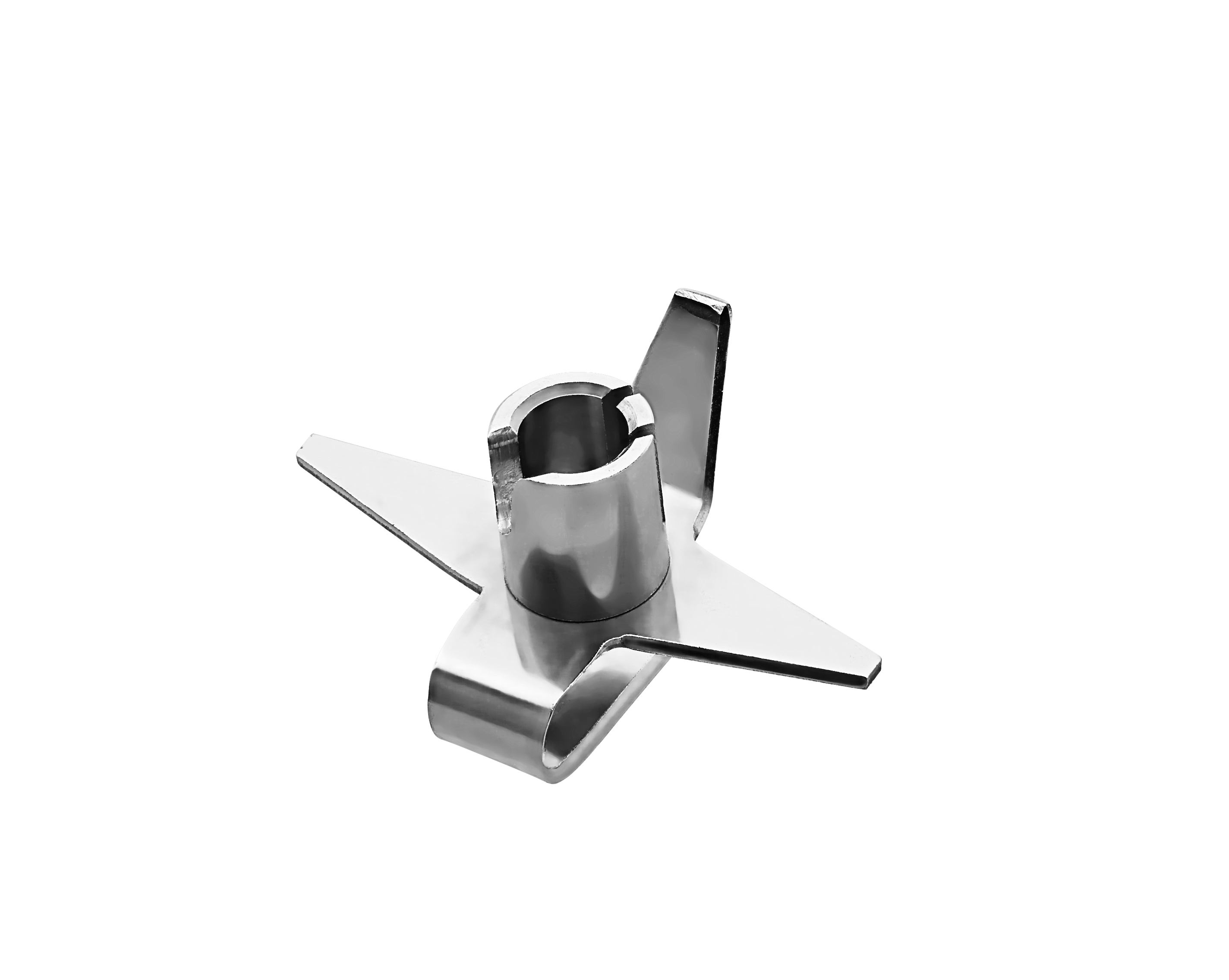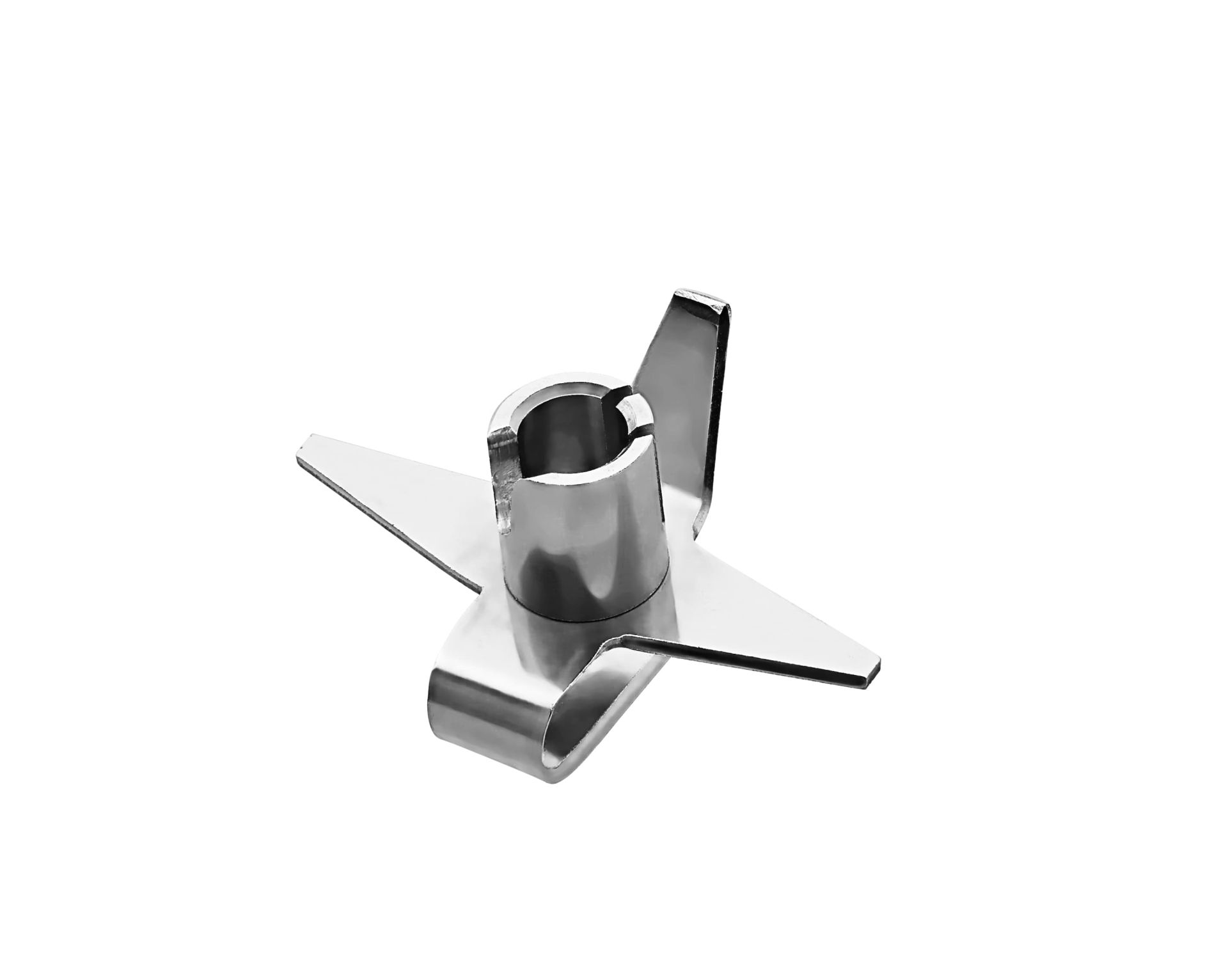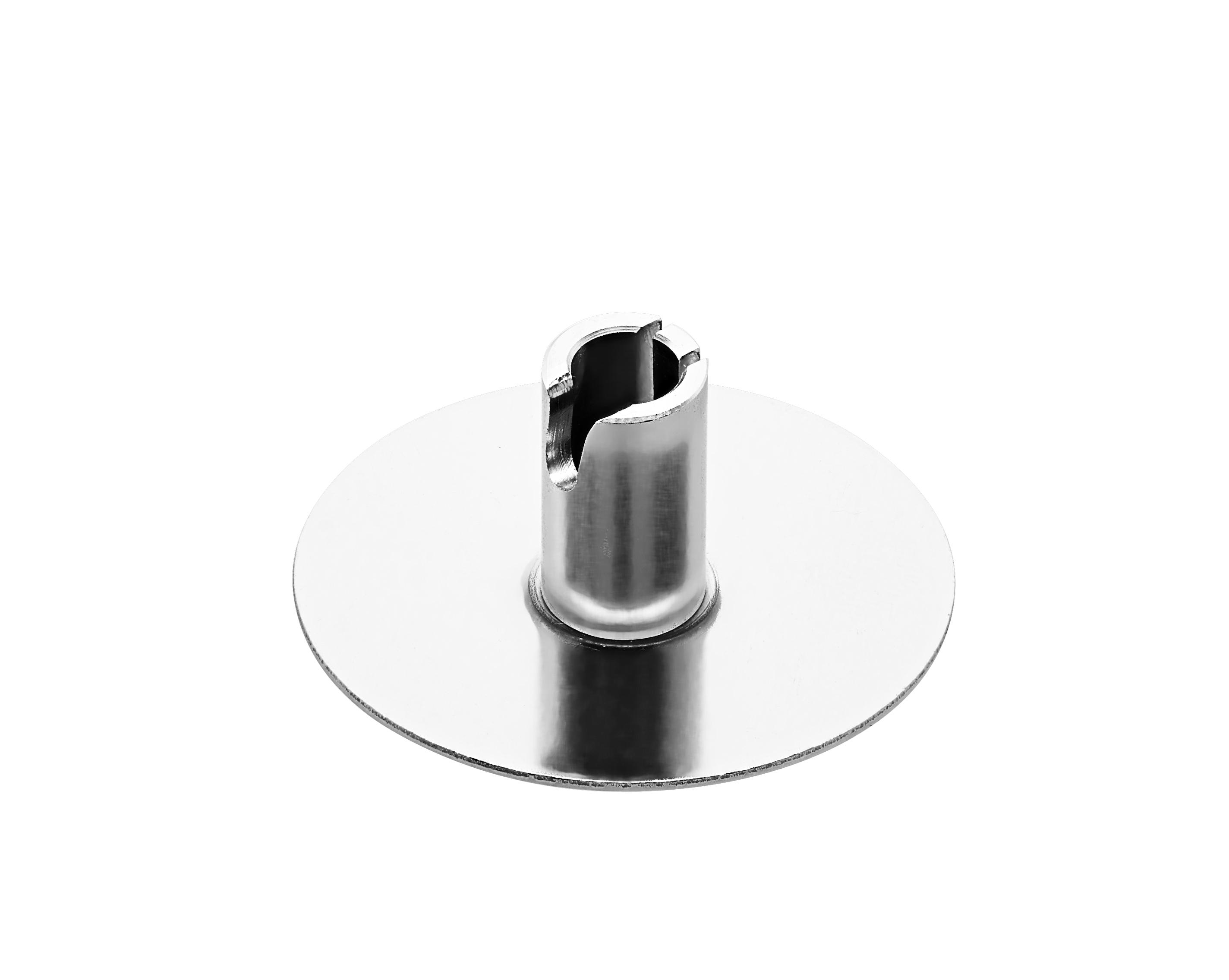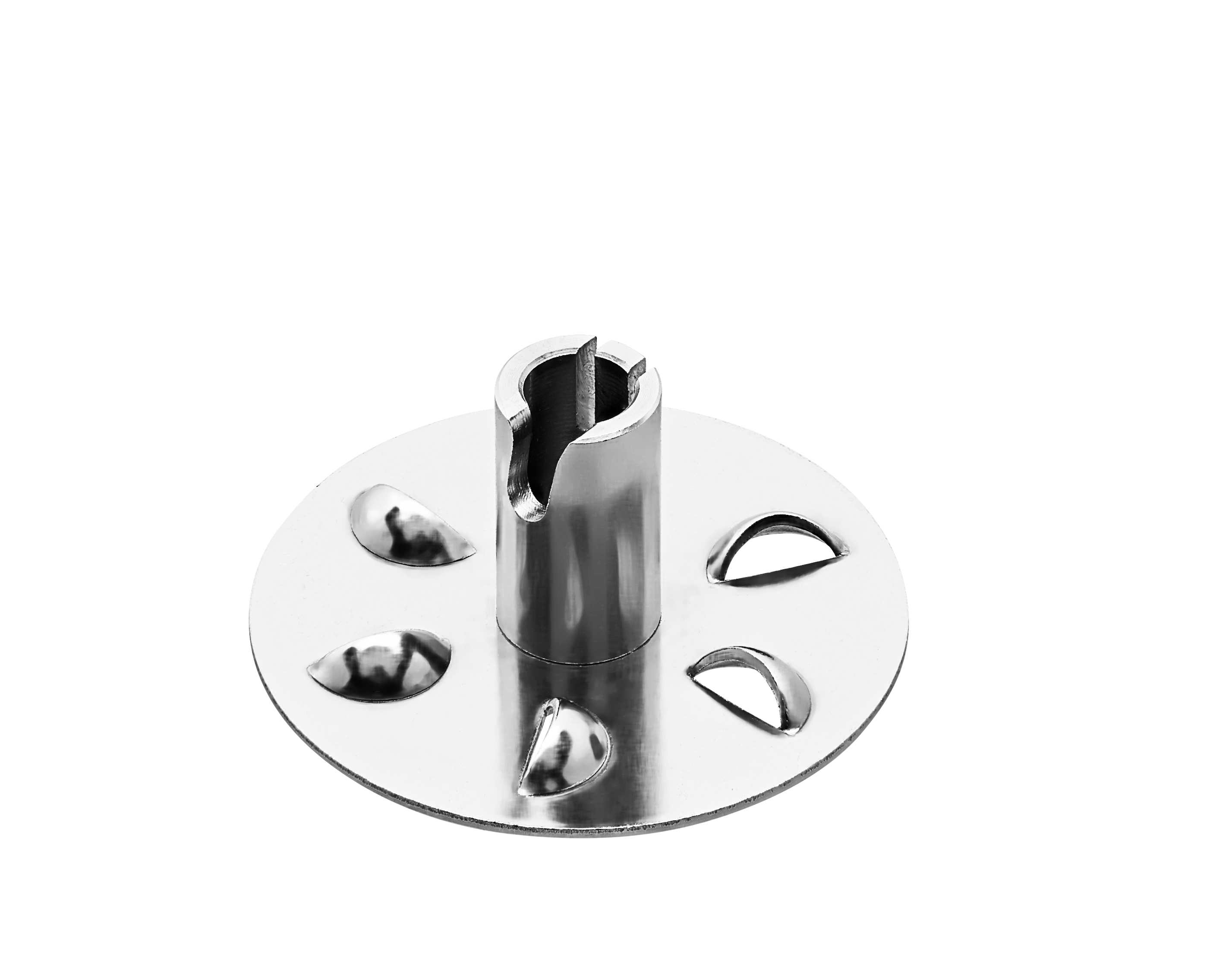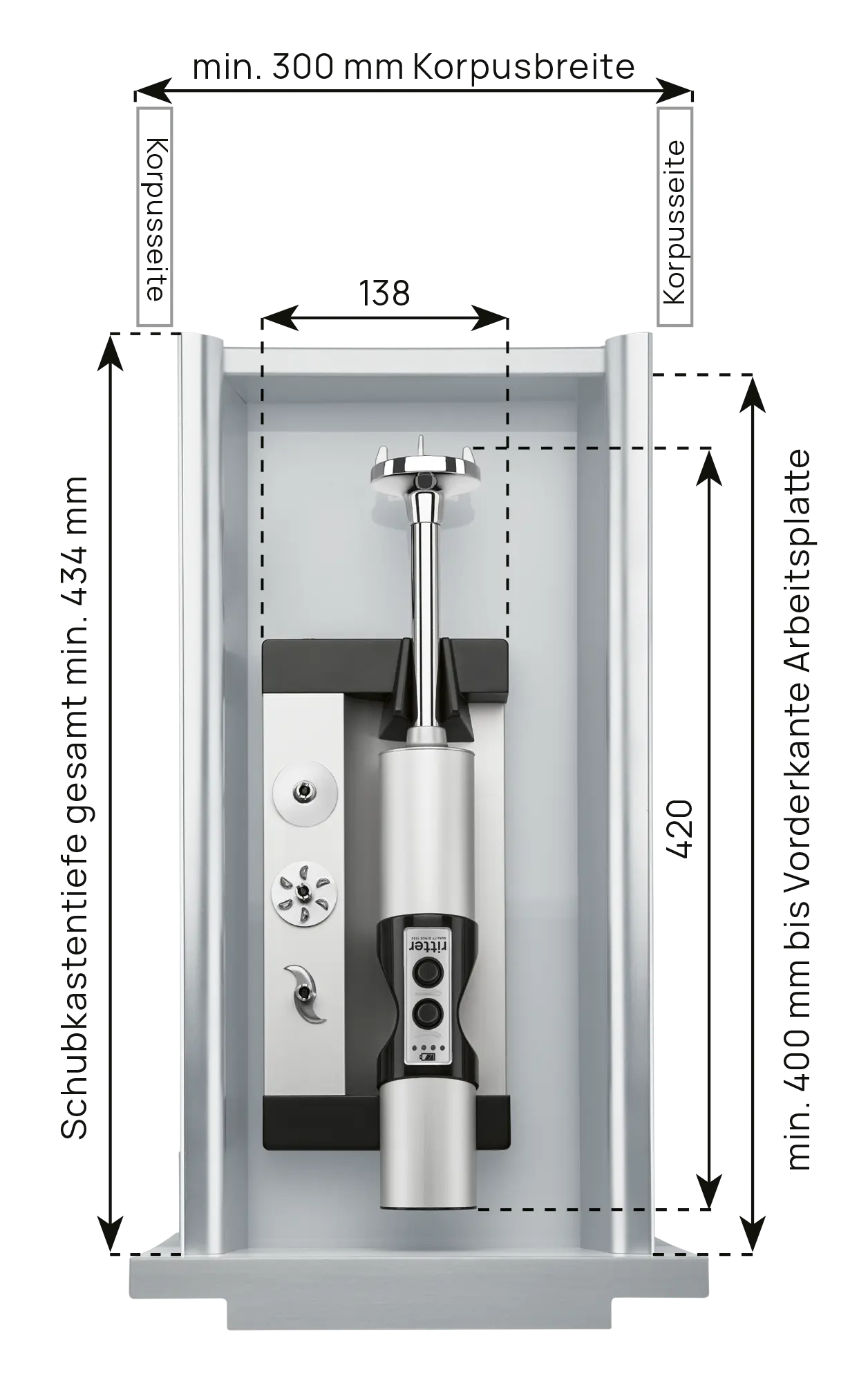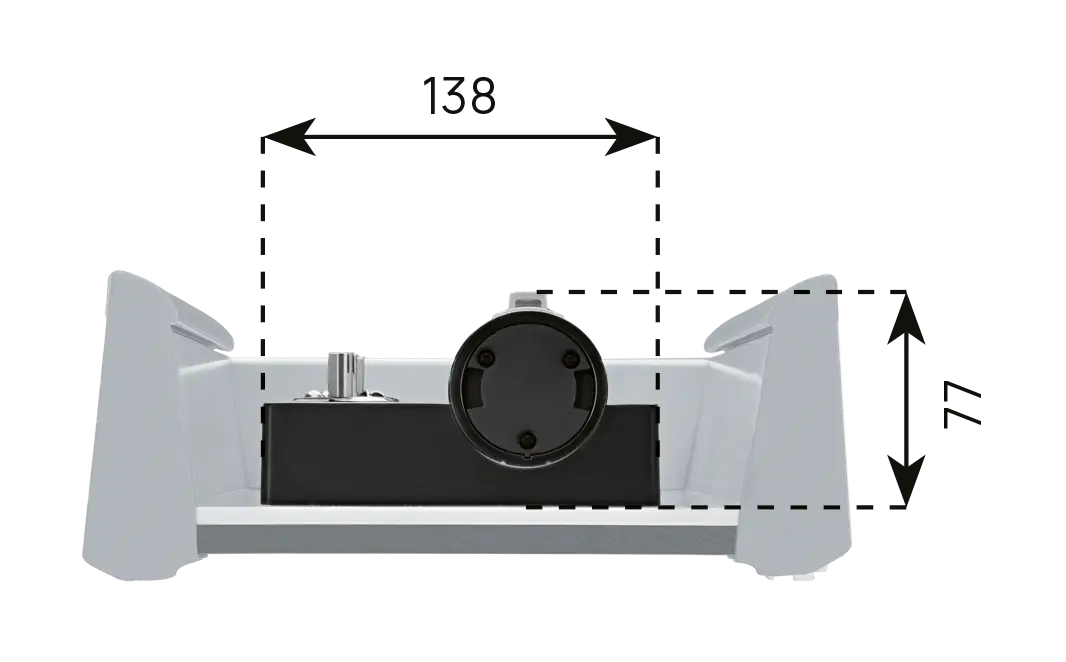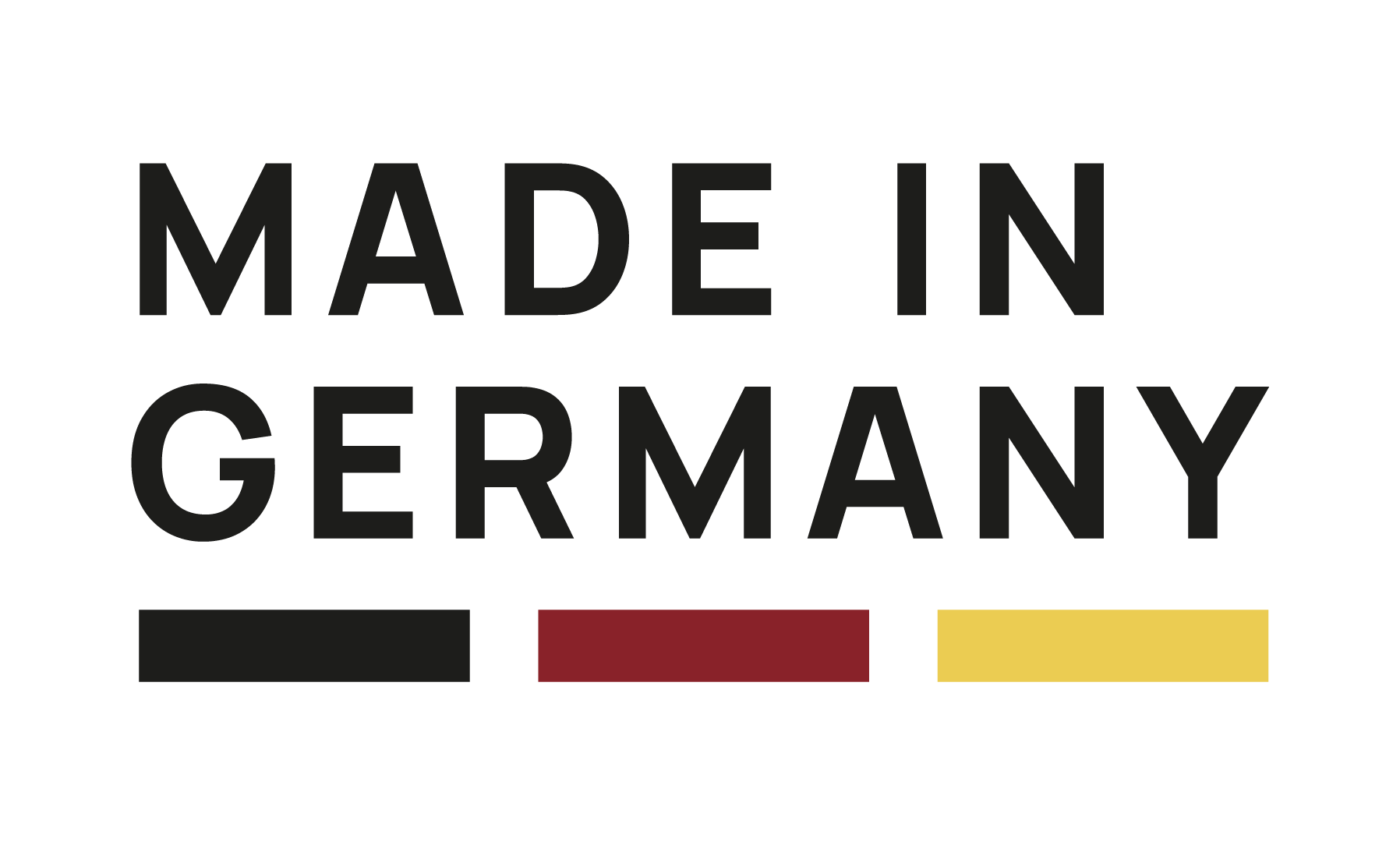 Built-in hand blender ESM 50
The cordless built-in hand blender ESM 50 is not only quick and easy to use, but also guarantees the greatest possible freedom while cooking.
With its four different attachments, it offers a variety of preparation options.
For the purchase of a built-in system such as this one, it is best to contact a specialist kitchen retailer in your area.
In case you're unsure which model is well suited for installation in your drawer, please refer to our installation guide.
Product information "Built-in hand blender ESM 50"
Built-in hand blender ESM 50
For installation in standard drawers with a cabinet width of at least 30 cm
prerequisite: clear width drawer > 145 mm
Charging station is firmly mounted in the drawer and can be removed toolless
The hand blender is always ready to hand and its battery always charged because of the intelligent charging technology
Cordless for greatest possible free movement when cooking
Three speed settings
Various options for food preparation because of four different attachments
cordless, battery-operated hand blender
charging station is firmly mounted in the drawer, can be removed
toolless for cleaning
LED battery level indicator
four attachments made of stainless steel

universal cutter: standard attachment to blend most food items
whipping disk: to whip foods
stirring disk: to stir thick and creamy foods
cutting knife: to cut meat as well as fibrous fruits and vegetables

three speed settings
aluminum housing, ergonomic plastic handle
two-finger switch-on safety system
automatic safety shut-off in case of overload or overheating
TÜV-Rheinland/GS, CE
plug-in power supply unit for charging station: input voltage 100-240 volt
battery: 7.2 volt, lithium-ion-battery; 2.1 Ah
Power/wattage: 120 watts
weight: 1.4 kg (incl. charging station), 1.0 kg (hand blender)
height: 77 mm width: 138 mm depth: 420 mm (incl. charging station)
height: 67 mm width: 60 mm length: 420 mm (hand blender)
The built-in devices from ritterwerk are, even if they may not look like it, a more complex matter than just unpacking them, placing them in the counter and using them. There are many things to consider, such as the requirements for the installation, the dimensions and the correct mounting of the device. The sale/distribution of the built-in appliances is therefore exclusively carried out via the kitchen furniture industry or kitchen retailers. The installation of built-in appliances should be carried out by qualified personnel (kitchen manufacturers, carpenters, etc.).
We will show you exactly which built-in food slicer is best suited for the respective planning situation in our installation notes. There, you will also find further information on installation and assembly.
Special features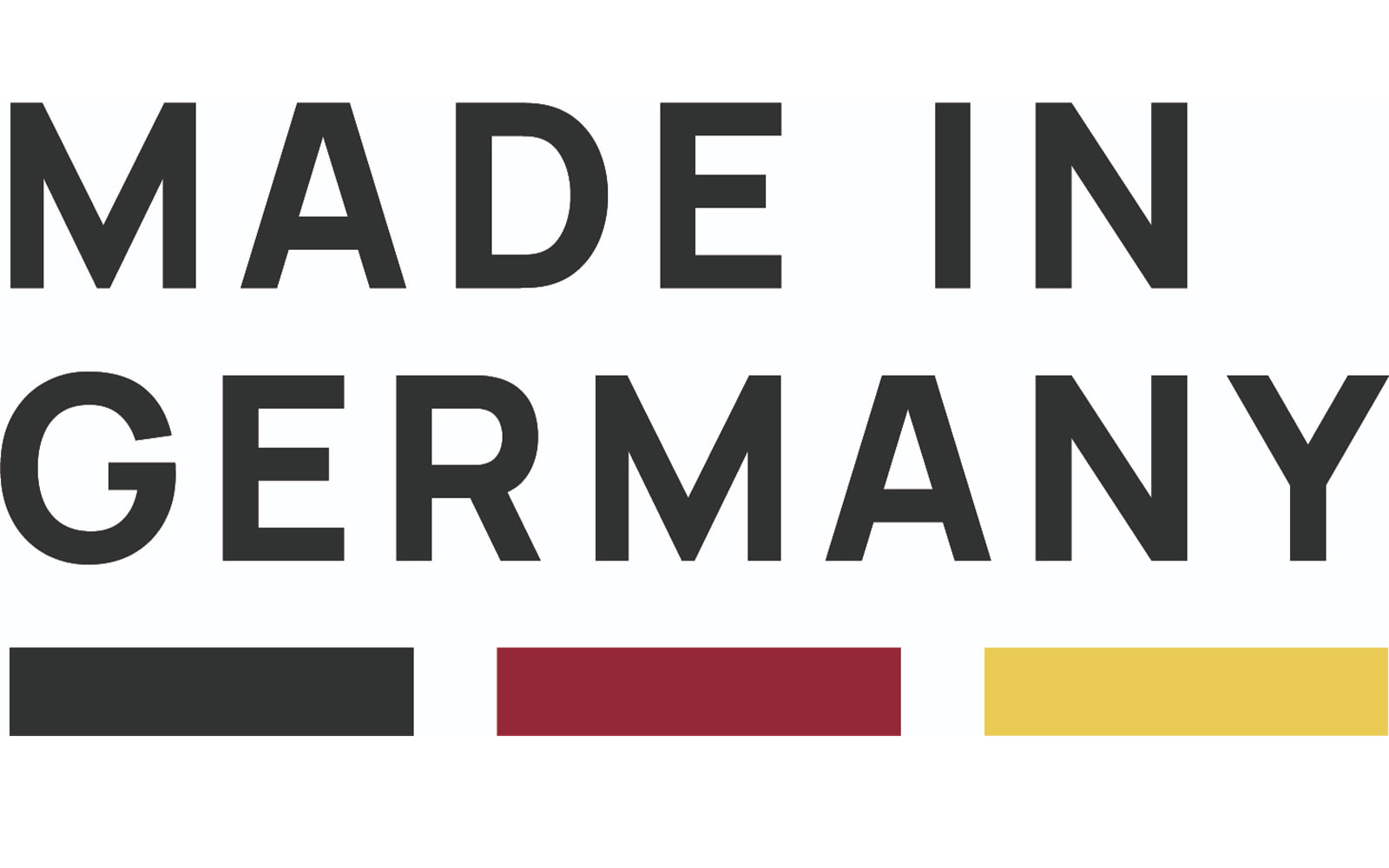 Made in Germany
The ritter built-in hand blenders ESM 50 also take our longstanding traditions into account as well as our "made in Germany" quality aspirations. The blenders are largely made of high-quality, sturdy metal and are therefore of high quality.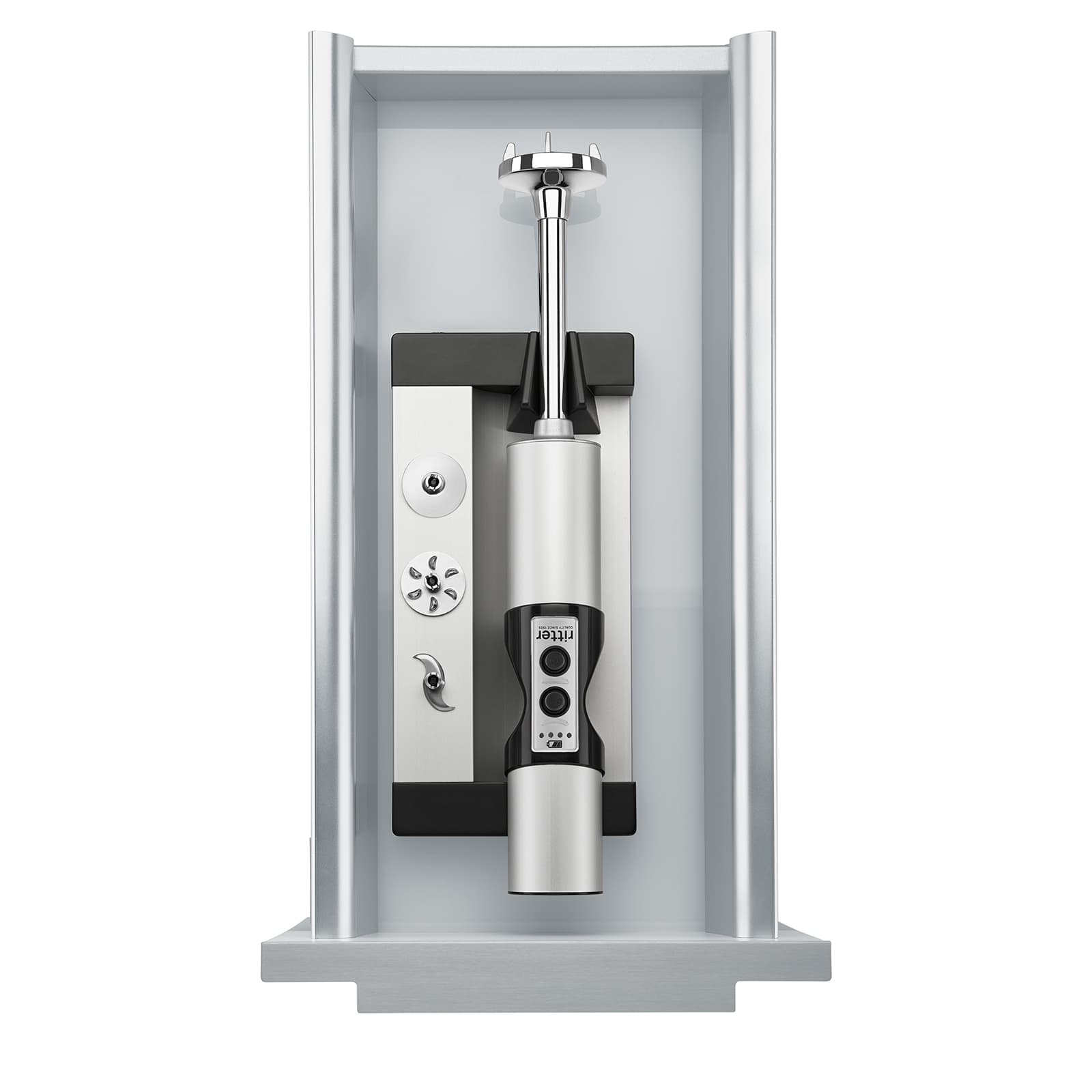 Clever use of storage space
As the charging station is mounted in the drawer, the existing storage space is put to efficient use and the worktop is available at all times. The charging station can also be removed at any time without the need for tools.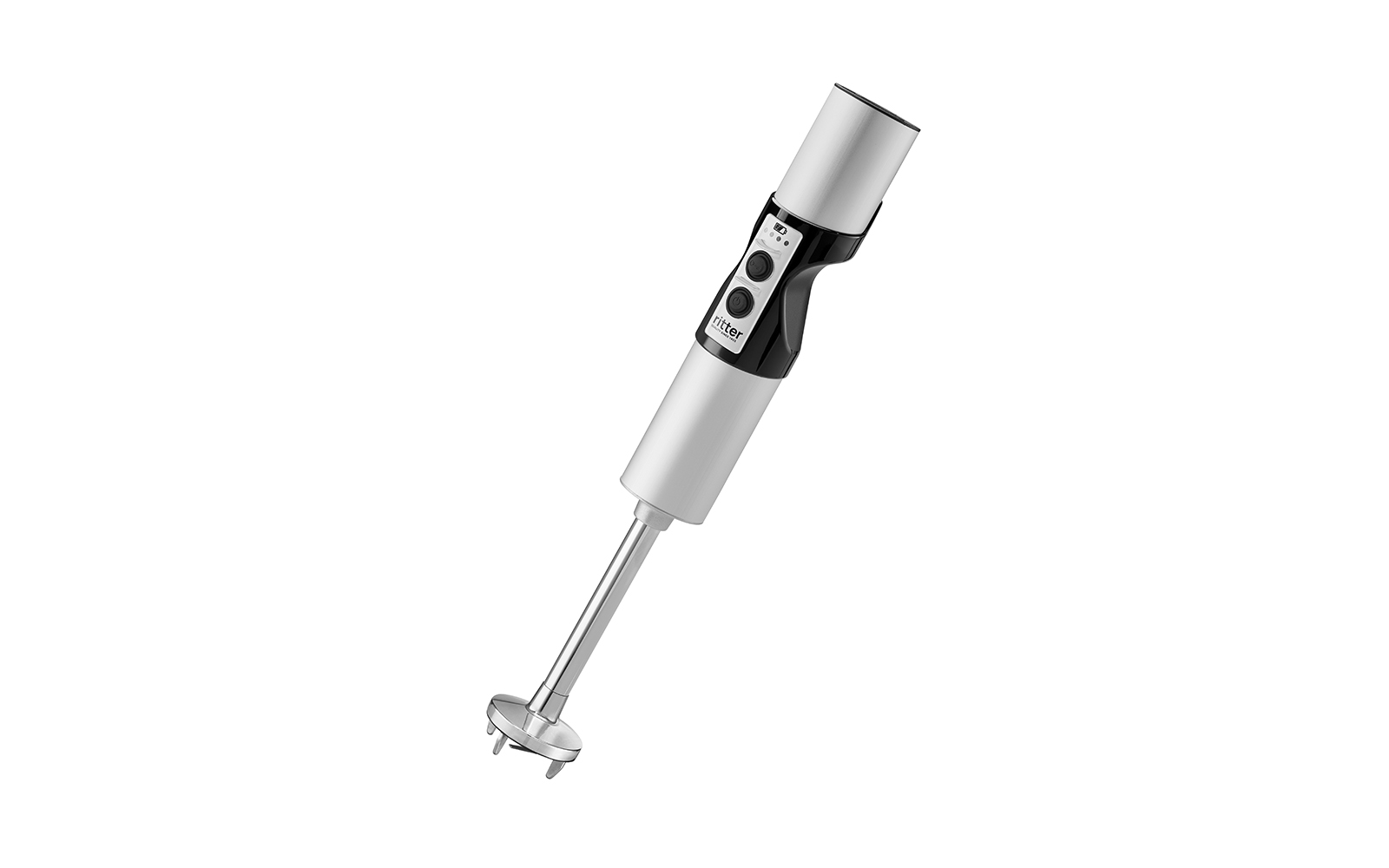 No annoying power cord
Since the built-in blender ESM 50 is powered by a lithium-ion battery, it can be used anywhere without the user being tied to a power socket. This guarantees the greatest degree of freedom when cooking. As it is stored with the charging station, it is also charged at all times.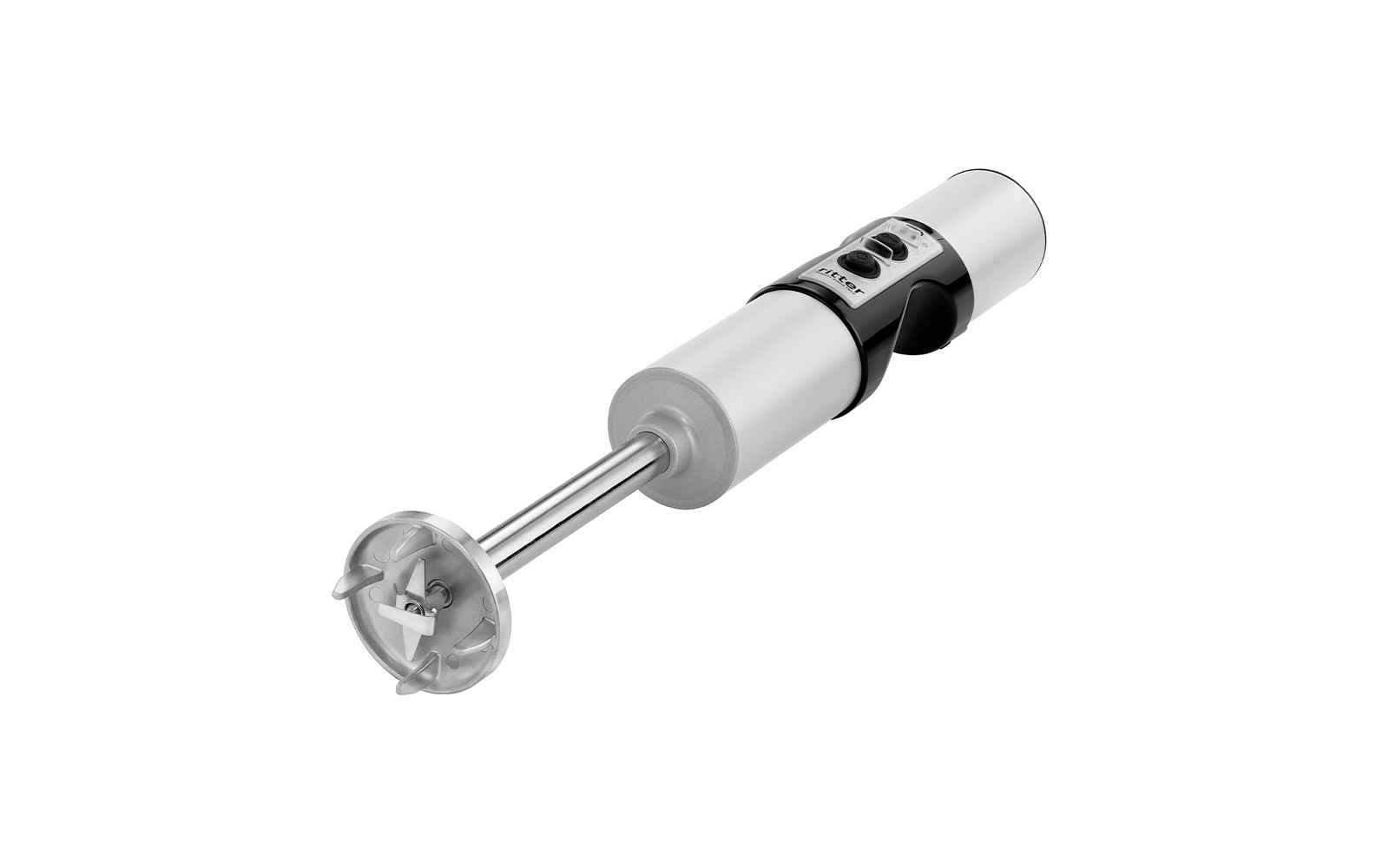 Different speed settings
The built-in hand blender ESM 50 has three different speed levels and always starts at the highest speed level. By pressing the power button, you can switch between the different speed levels.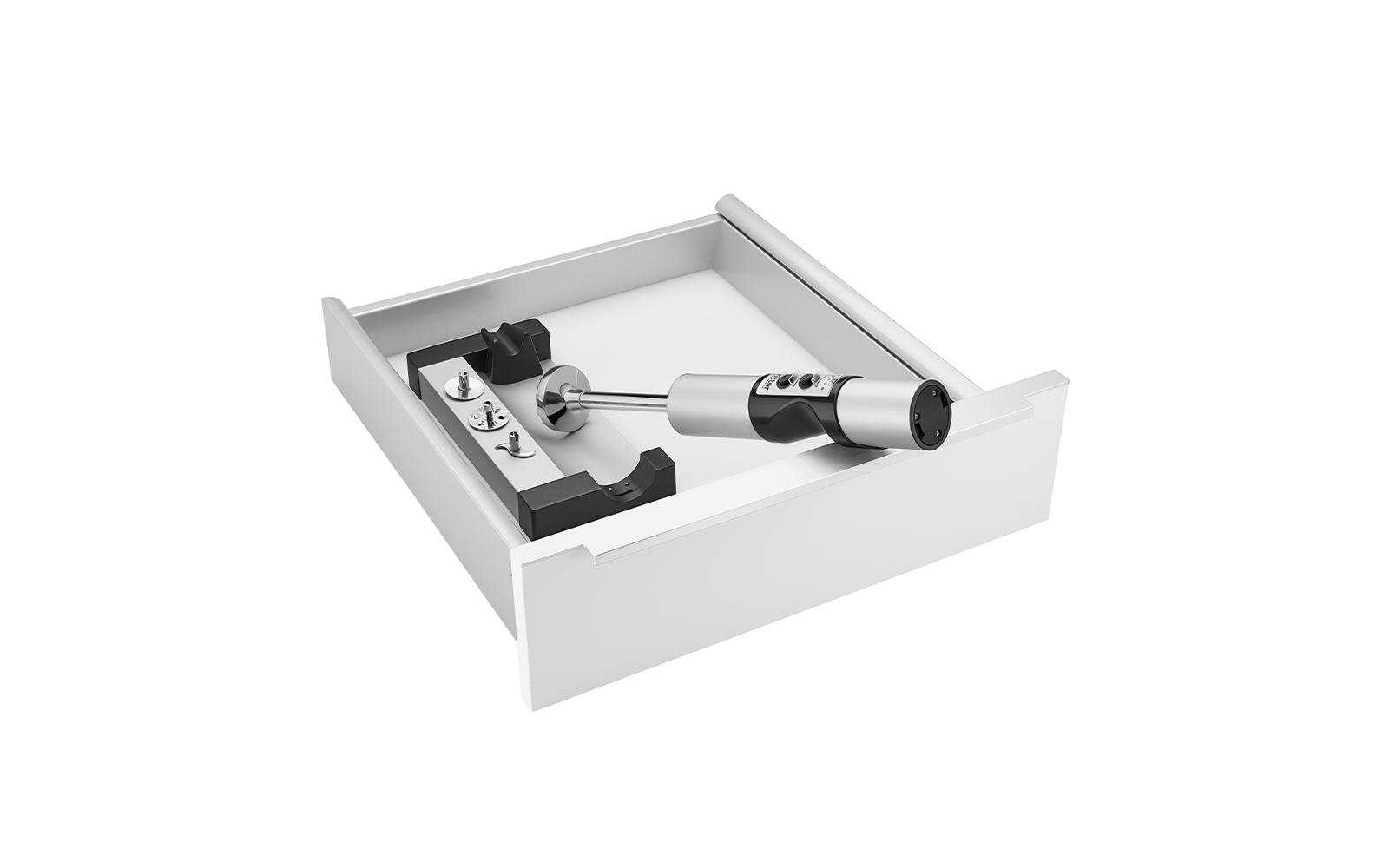 Four different attachments
When preparing and/or processing food, just one universal attachment isn't always sufficient. We therefore offer four different attachments for our cordless built-in hand blender. The attachment can therefore be chosen according to the food which is to be mixed.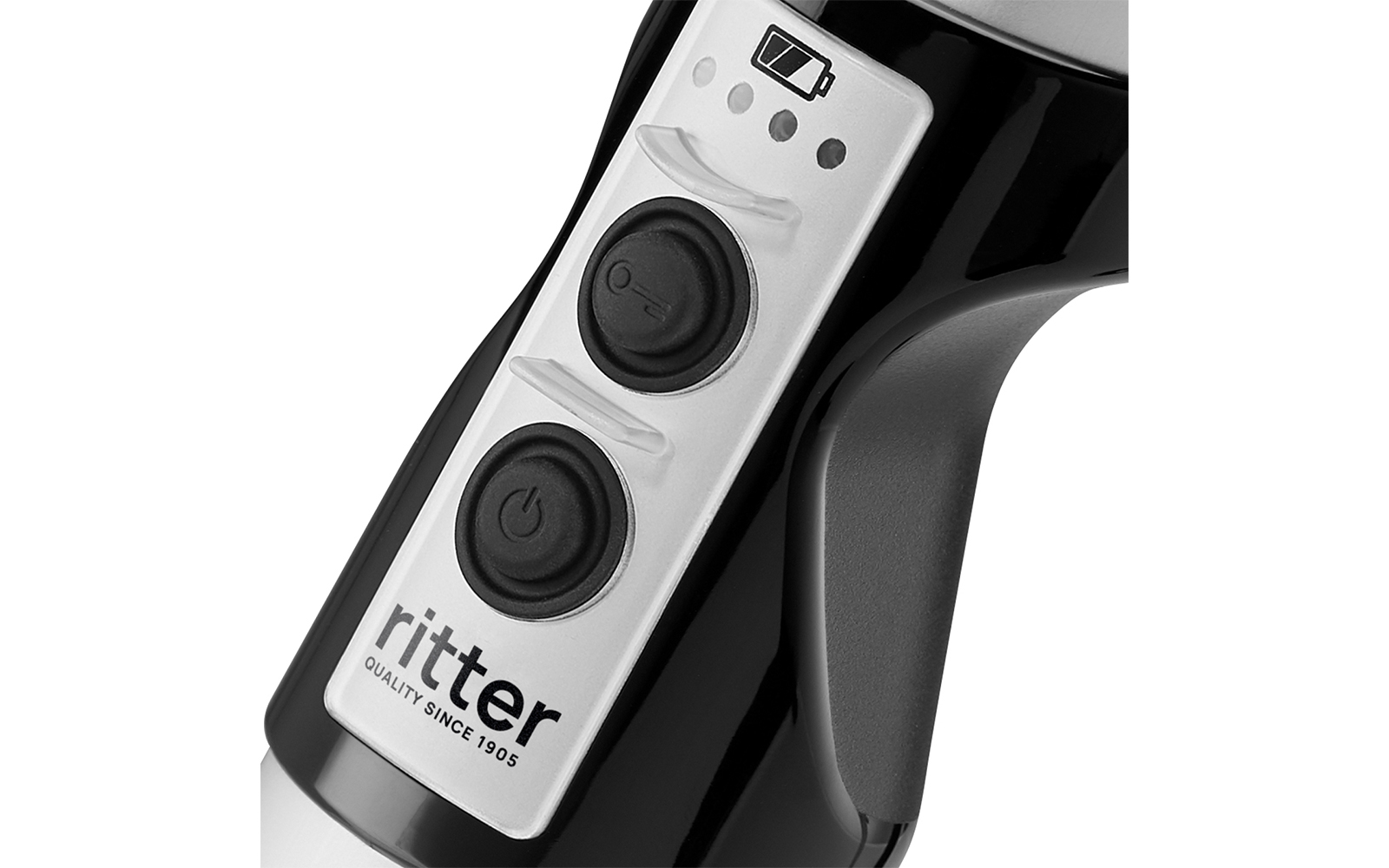 Two-finger switch-on safety system
The two-finger switch-on safety system ensures absolute safety for the user. An unlock button, which must be pressed simultaneously with the power button, prevents accidental activation.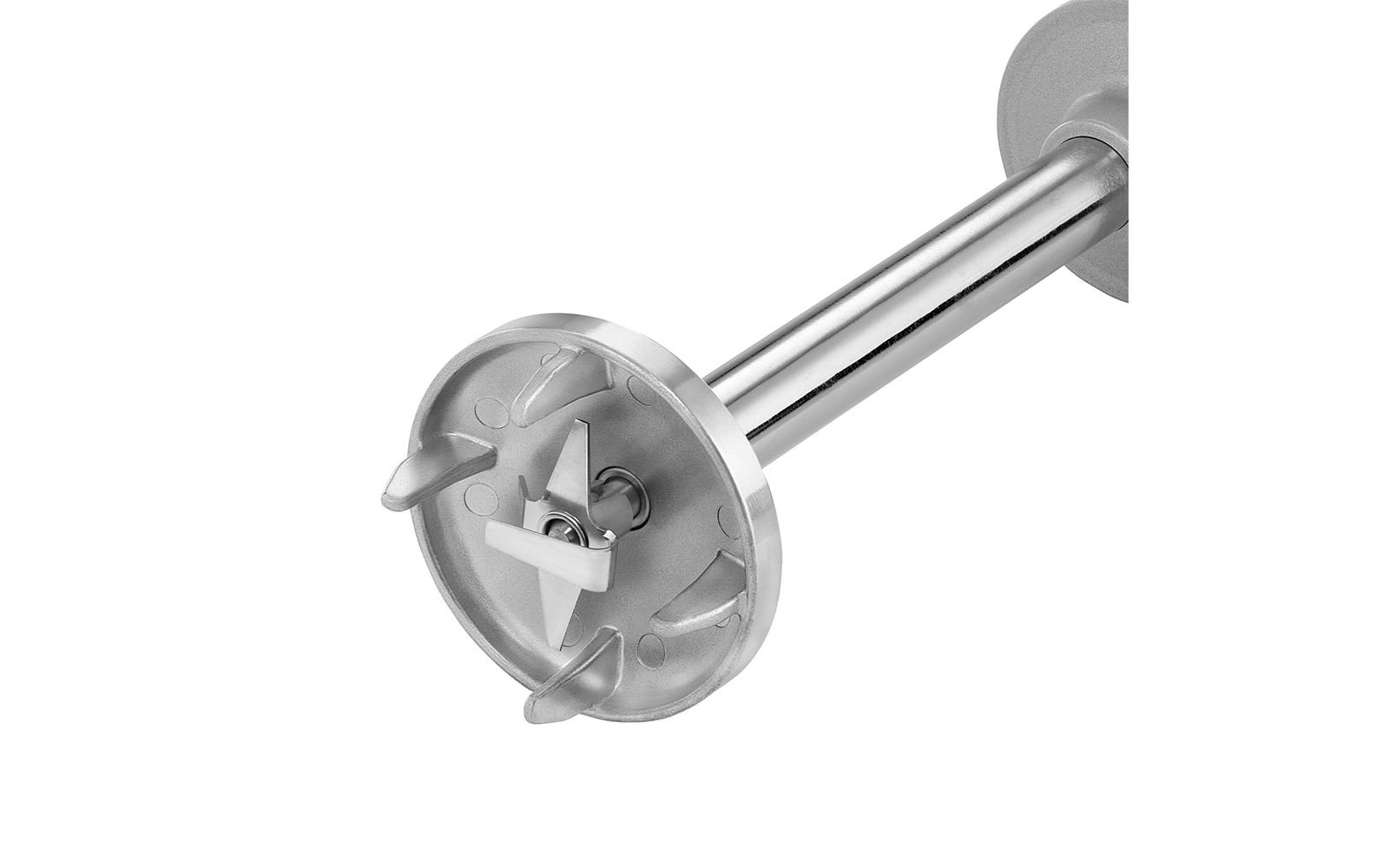 Blending unit
To be able to process the food optimally, the blender unit of the built-in hand blender ESM 50 has studs that hold the food in place during its processing. The open design of the blending unit prevents clogging from occurring when processing hard food.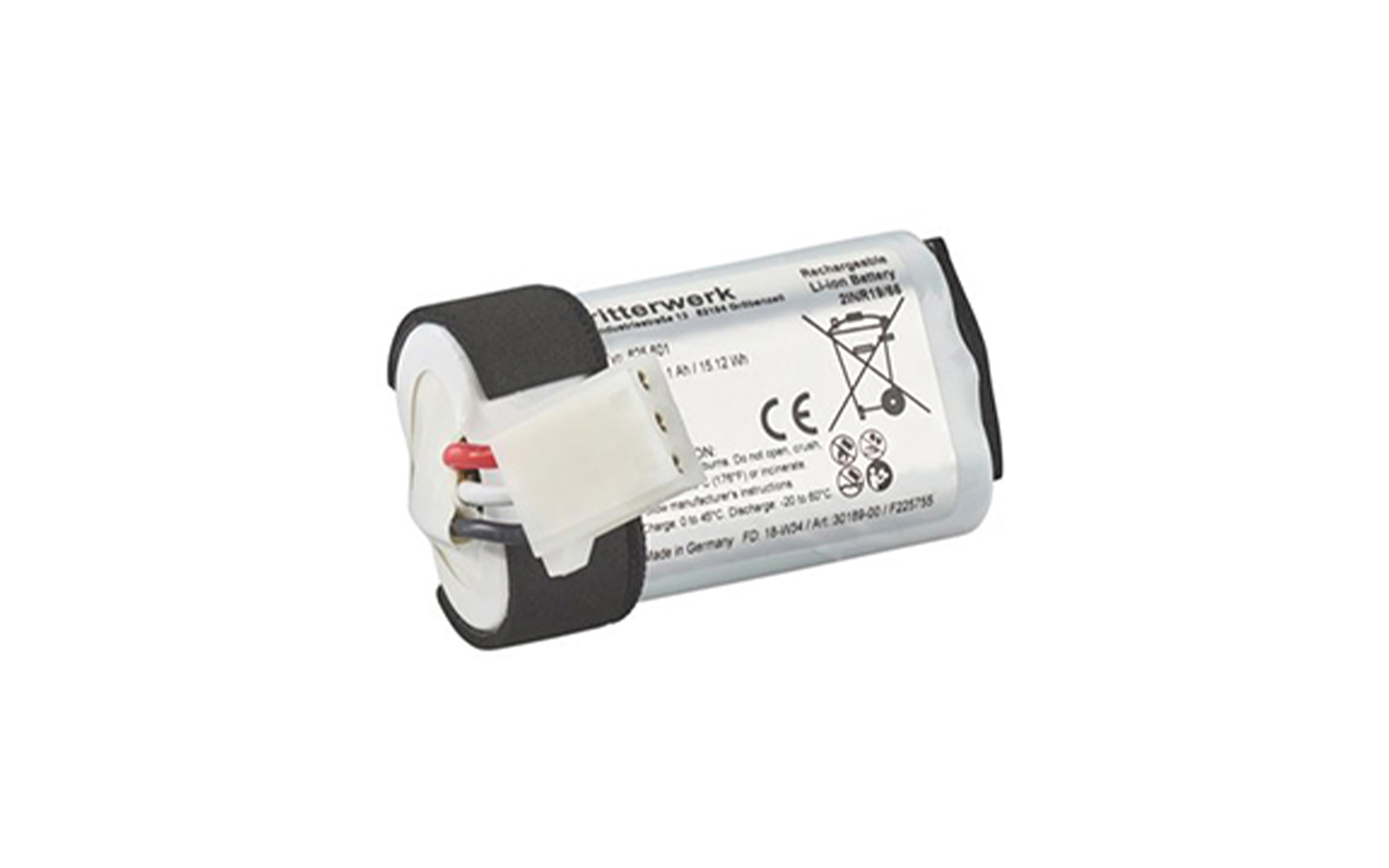 Replaceable battery
You can replace the lithium-ion battery of the built-in hand blender quickly and easily in a few simple steps, should a defect occur. In the spirit of sustainability, replacement batteries are available to order in our online shop.
You might also be interested in
Available accessories/spare parts
How may we support you?
Get in touch with us quickly and easily. One of our trained and experienced employees will be happy to assist you.