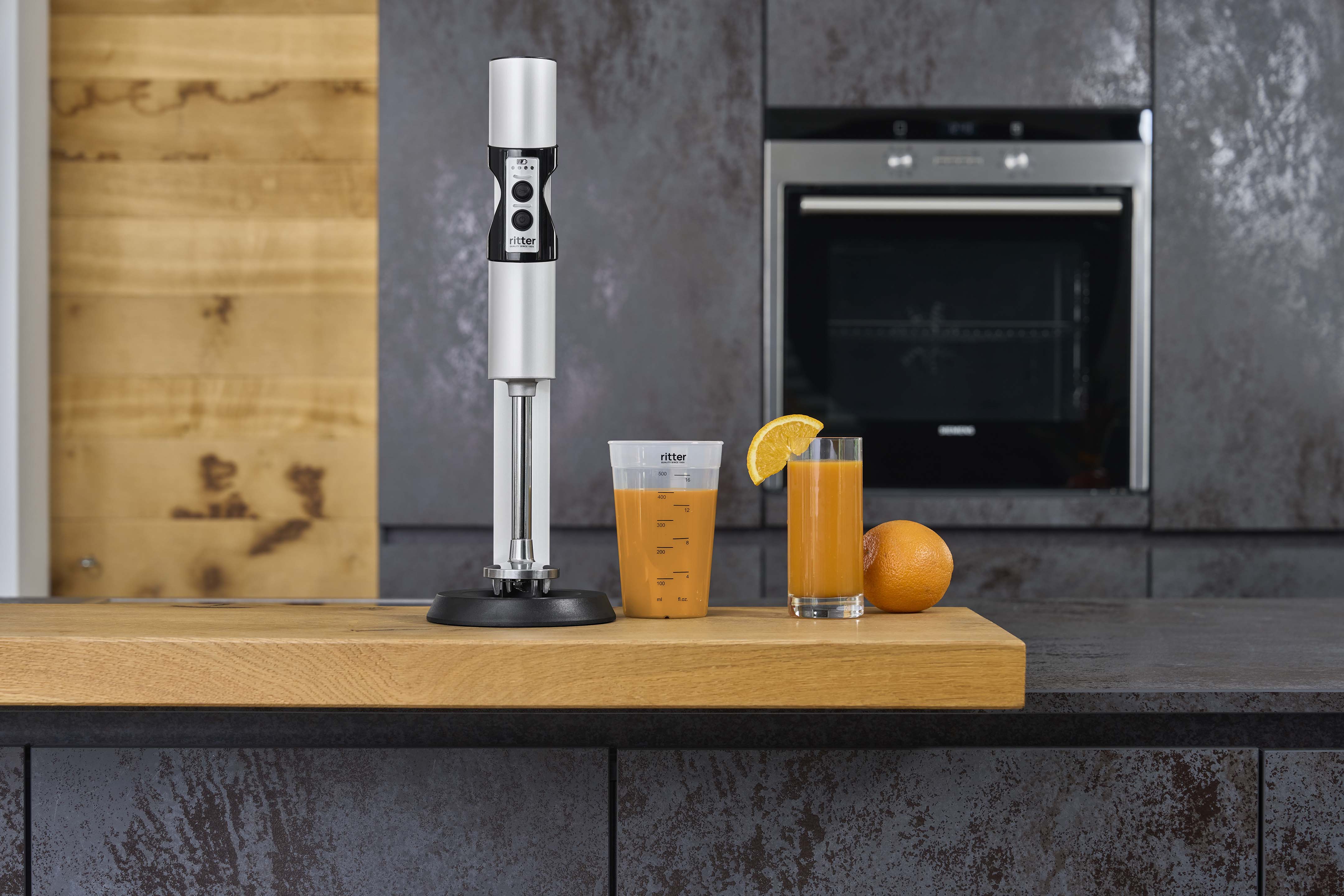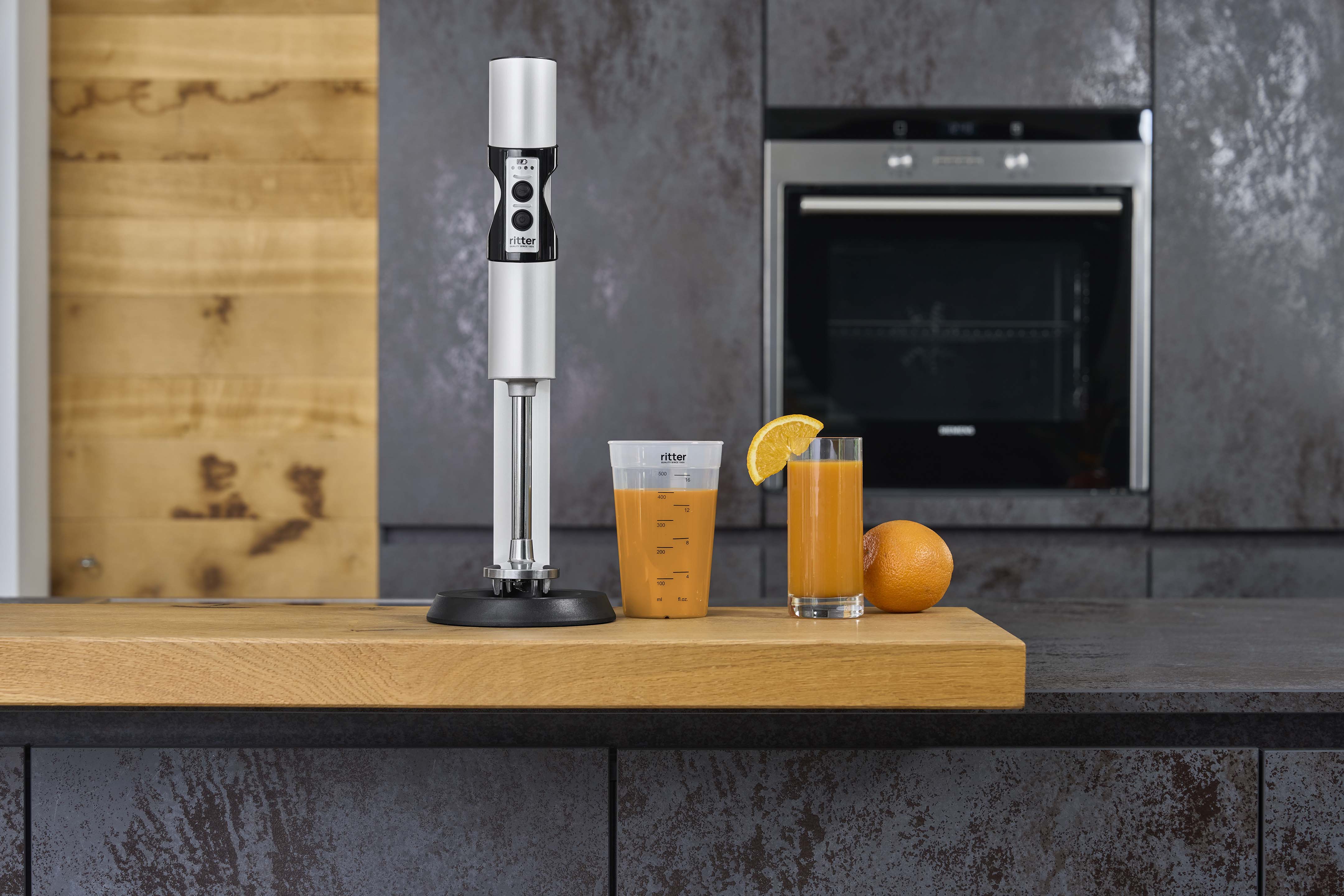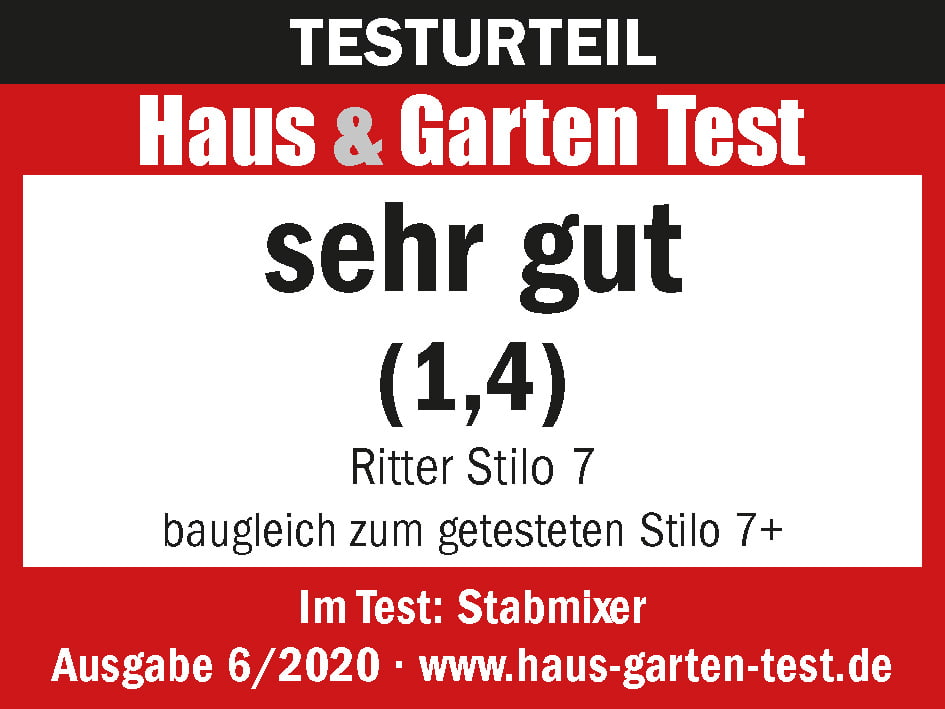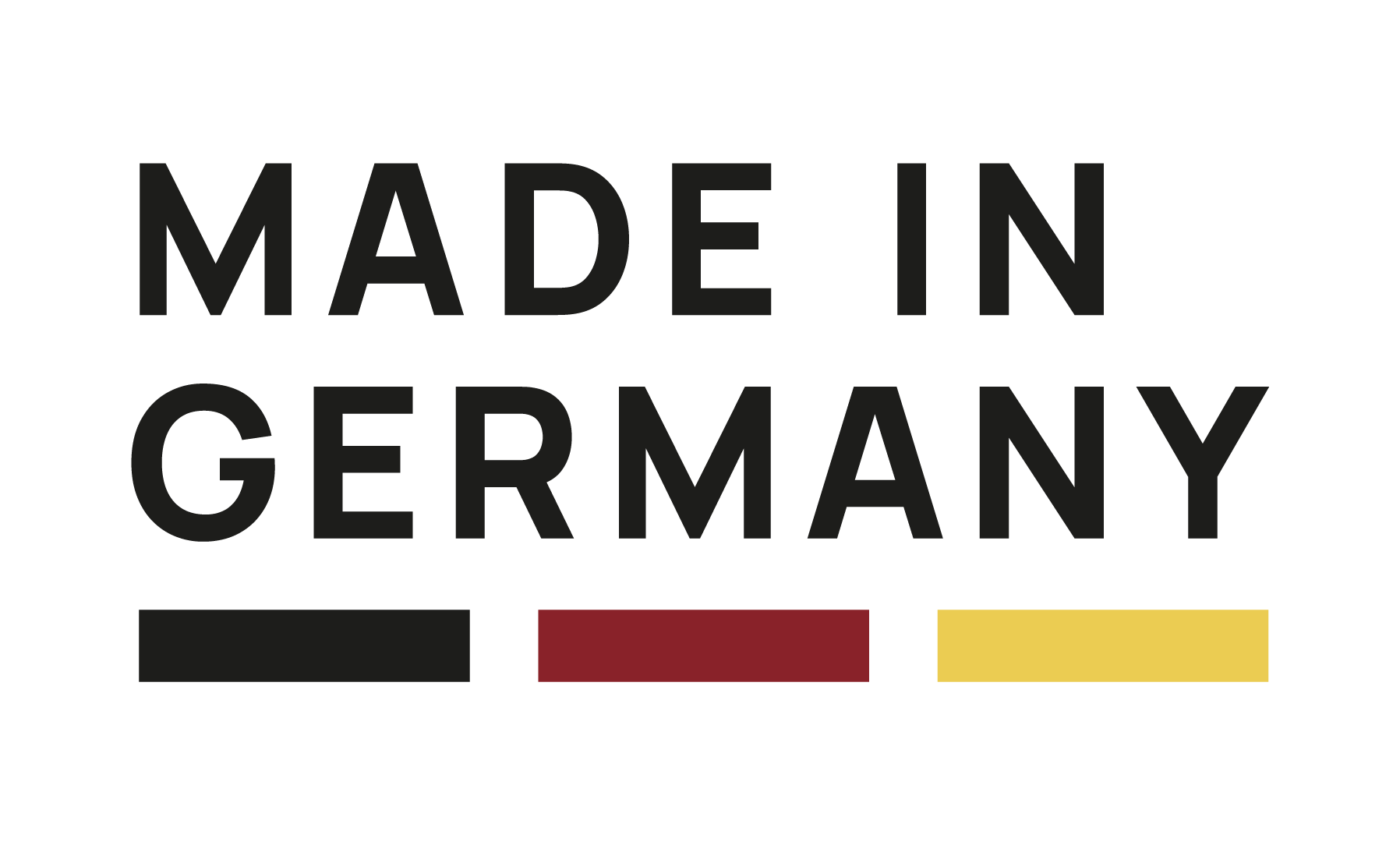 Our benefits
Cordless
Powerful battery
Differnt attachments
Three speed settings
Made in Germany
Product information "Hand blender stilo⁷"
Hand blender stilo7 - The one without cord
As with all ritter products, this appliance has a high quality of materials and mostly consists, of high-quality and stable metal, while the handle is made of plastic for comfortable ergonomics.
Thanks to its battery operation, the cordless hand blender guarantees absolute freedom when cooking. You can see the current charging status of the battery on a LED display. The lithium-ion battery can be carefully and slowly charged without overcharging it, thanks to intelligent charging technology. The charging process ends automatically as soon as the battery is loaded. This charging technology ensures a longer battery lifespan. And, on the subject of sustainable business strategy, new or replacement batteries can be ordered from ritterwerk customer service. It can be changed in just a few steps by the user.
Even safety is an important topic: It has a two-finger switch-on safety system. The unlock and on buttons must be pushed at the same time to prevent them from switching on accidentally. The hand mixer spins maximum speed. Thanks to the switching system, two lower speed levels can then be chosen. To protect from overloading, for example if the blade is blocked, or overheating, the appliance shuts itself off automatically.
In order to be able to cope with a very wide range of foods, there is the universal cutter as the standard attachment for chopping up and puréeing of most foods. Optimal processing is achieved in the blending cup made of plastic because it is ideally suitable with its tall, narrow shape.
cordless, battery-operated hand blender
full metal construction
LED battery level indicator
three speed settings
two-finger switch-on safety system
automatic safety shut-off in case of overloading or overheating
universal cutter made of stainless steel: used to blend most foods
blending cup made of plastic
Plug-in power supply unit for charging station:
input voltage 100-240 V
lithium-ion-battery: 7.2 V; 2.1 Ah
Power/wattage: 120 watts
TÜV-Rheinland/GS, CE
Hand blender incl. charging station:
dimensions: width 15.0 cm height 44.0 cm depth 15.5 cm
weight: 1.7 kg

Hand blender:
dimensions: width 6.0 cm height 42.0 cm depth 7.0 cm
weight: 1.0 kg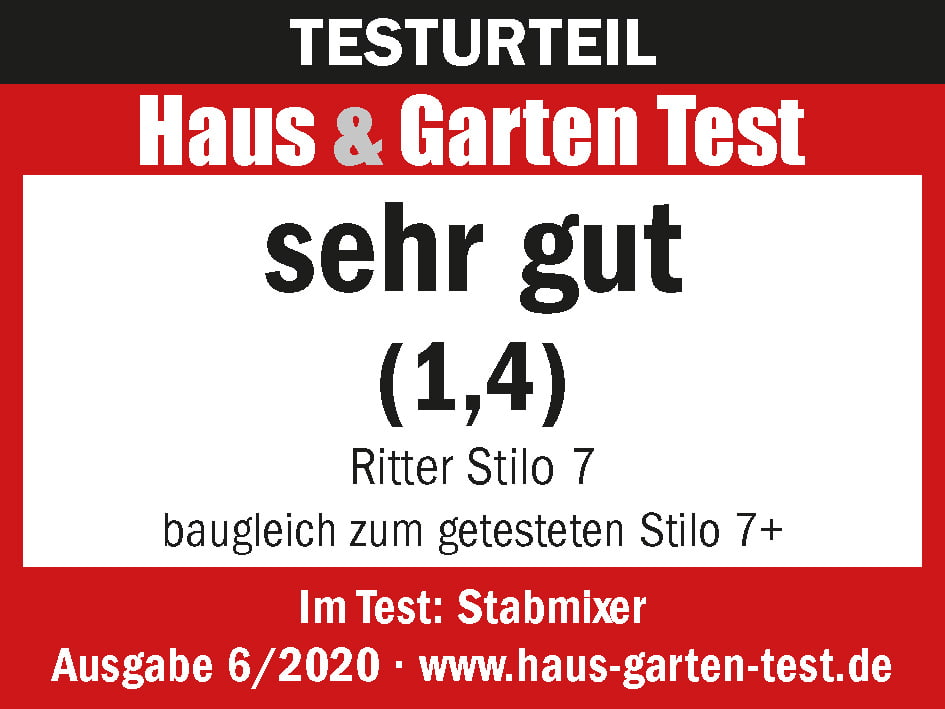 Our cordless hand blenders have been awarded the test rating "VERY GOOD" by the test magazine Haus & Garten Test (issue 06/2020) and received a grade of 1.4.
Criteria such as functionality, handling, processing, ecology and safety were taken into account and decidedly evaluated.
Conclusion of the ETM test magazine: "The hand blender from ritter crushes and purees reliably and also relatively quickly. Soup, cream and sauces can be made effortlessly. In addition to its performance, it convinces with its elegant and modern design".
Special features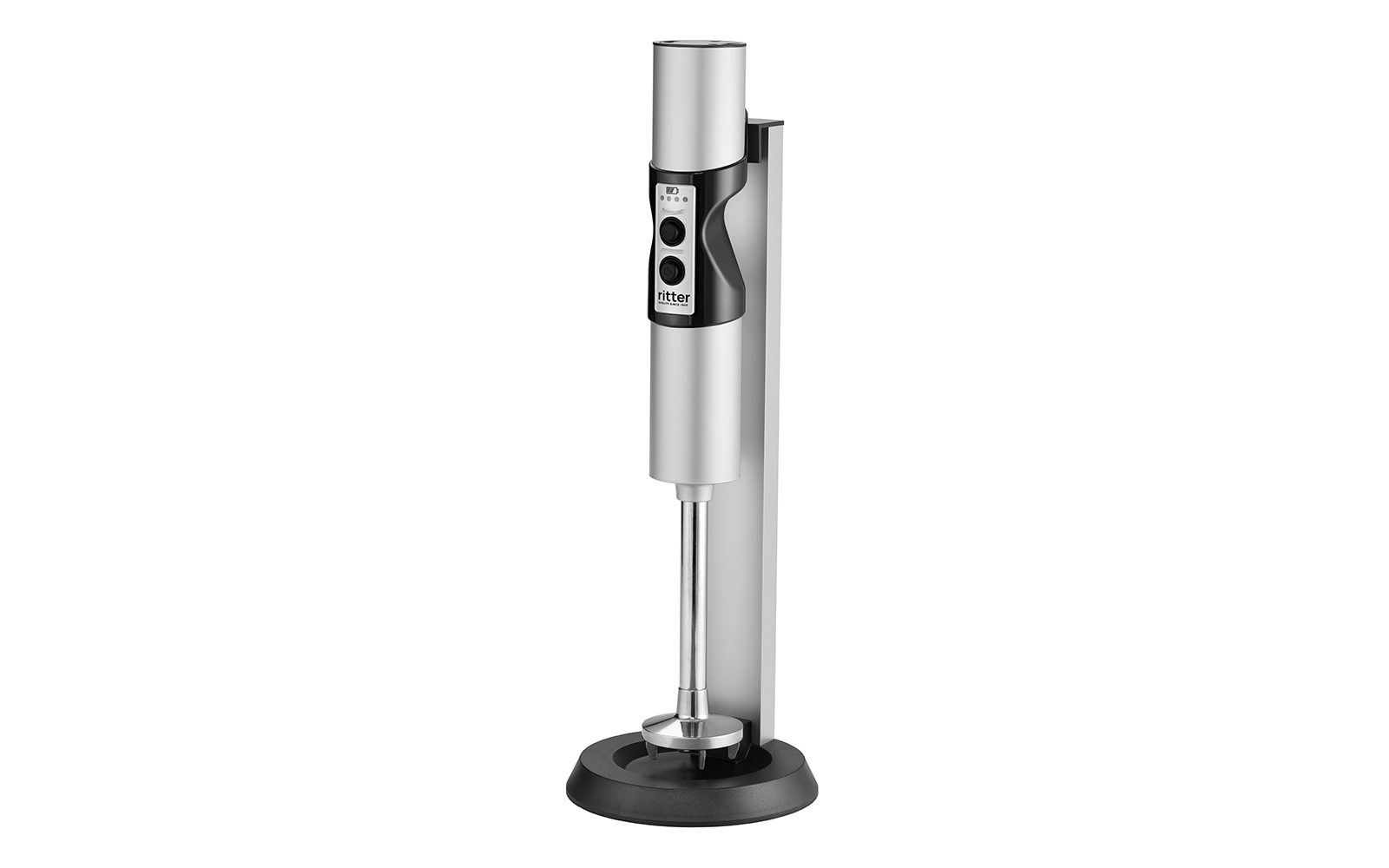 Full metal construction
As with all ritter products, the hand blener is made in Germany and provides great material quality. For the most part, it consists of high-quality and stable metal.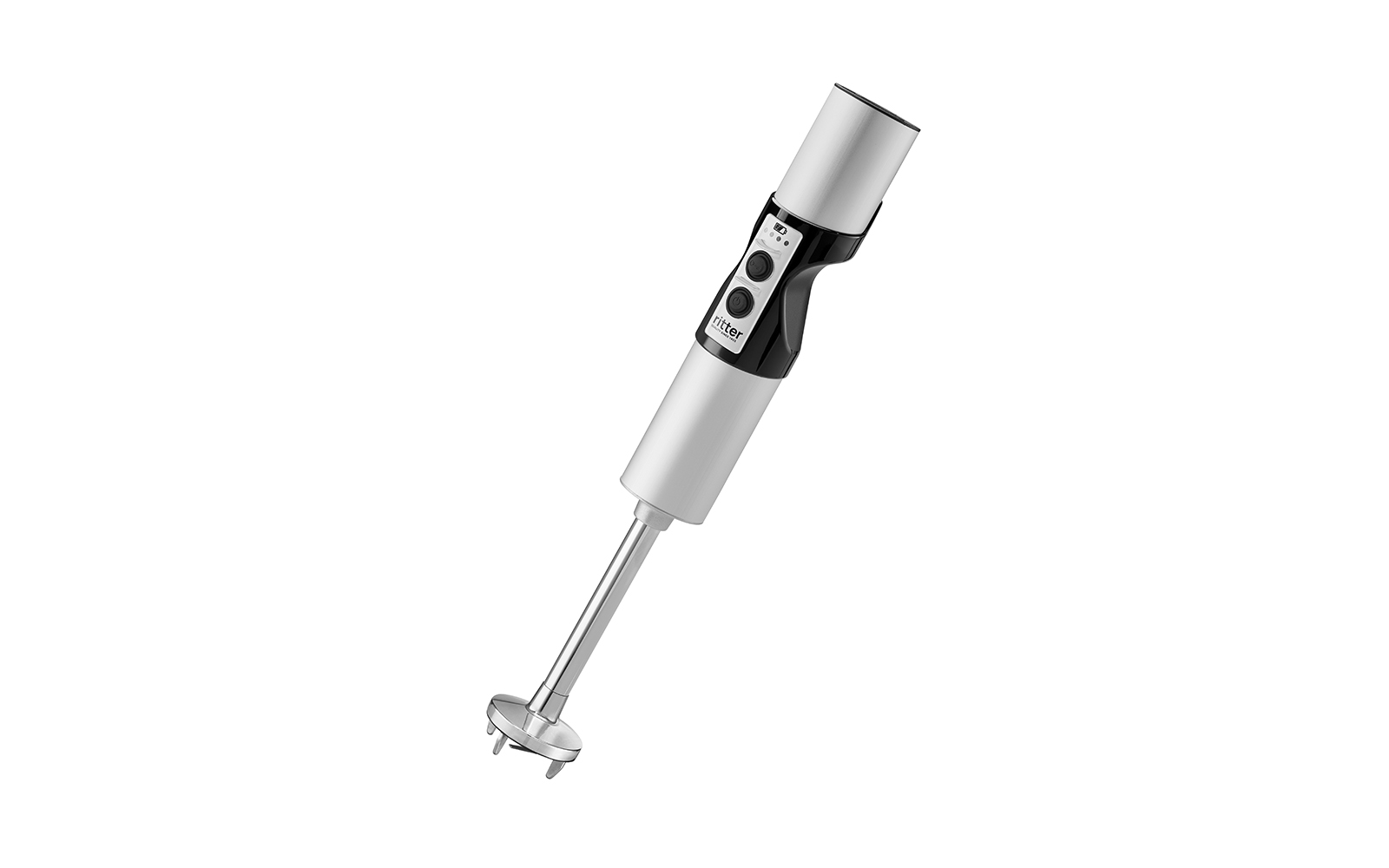 Cordless
The new hand blender guarantees absolute freedom in the kitchen with its cordless design. You are no longer bound to a power outlet and can guarantee free movement with the battery-operated hand blender.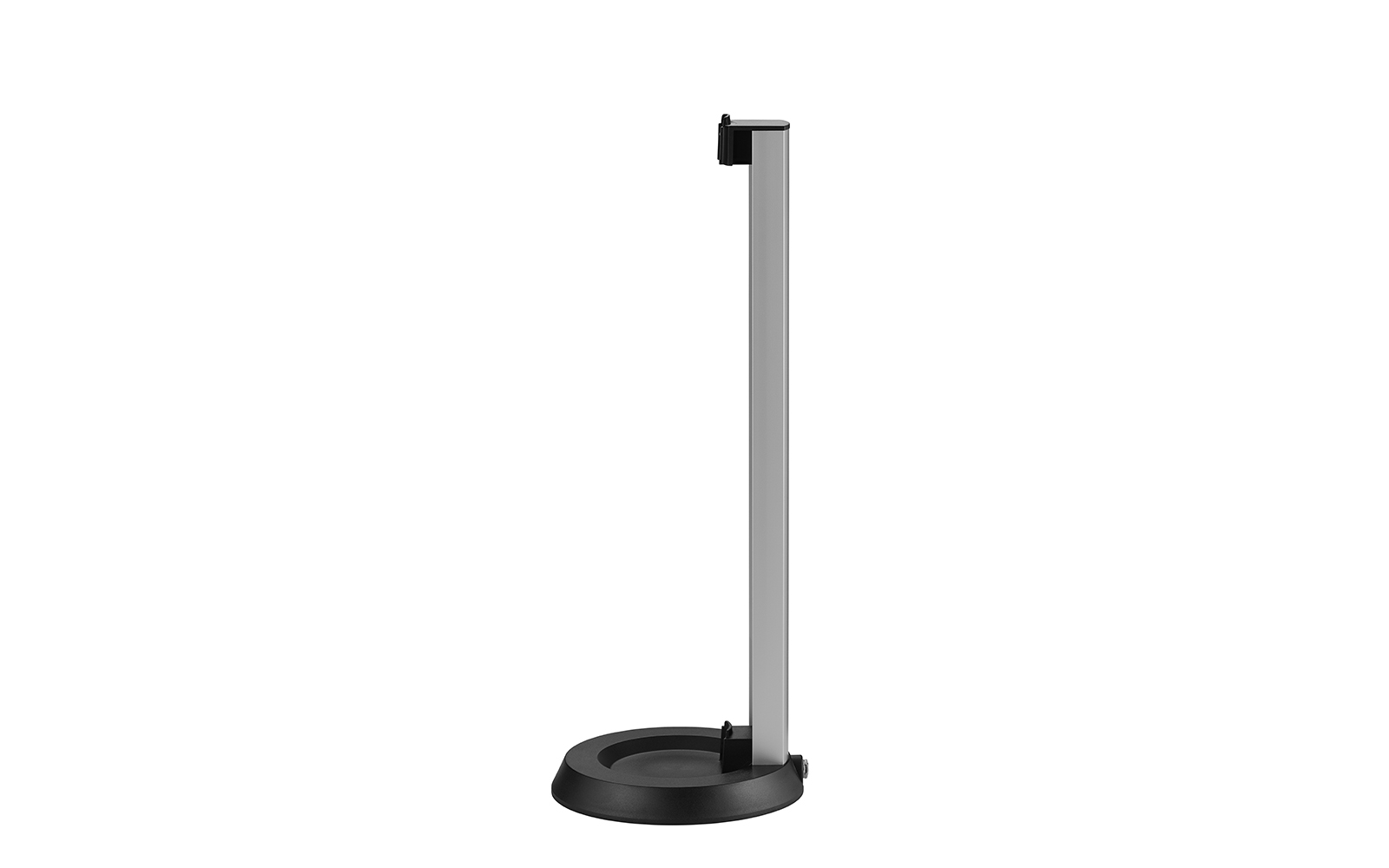 Charging station
The hand blender is kept in its own charging station – that way, it is always ready to hand and is recharged automatically after every use as soon as it is put away. Thanks to its intelligent charging technology the battery is gently and slowly charged without being overcharged. This charging technology ensures a longer battery life.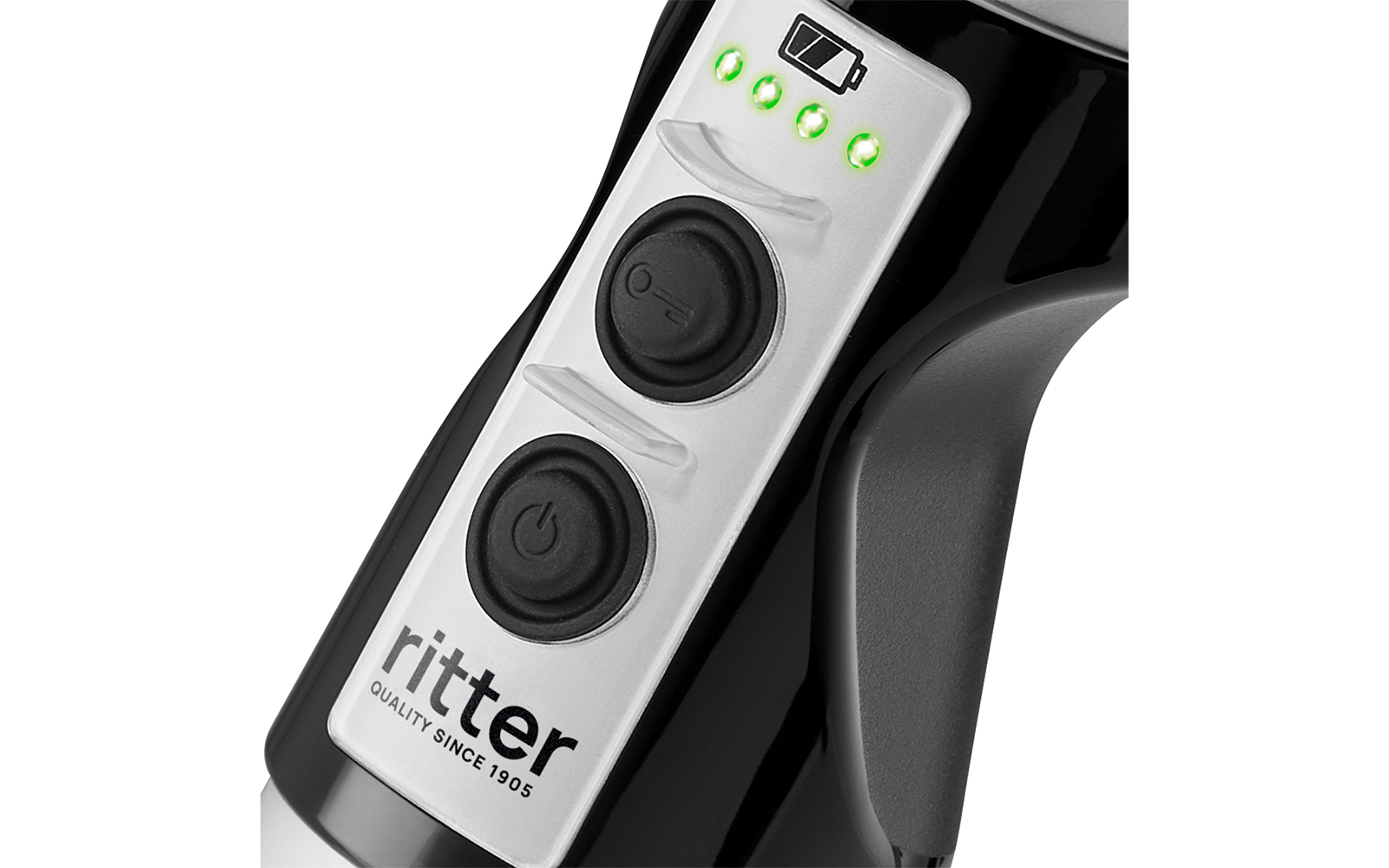 LED battery level indicator
When one of the two buttons is pressed and the hand blender is hung in or taken out of the charging station, the number of glowing LEDs on the LED display will show the hand blender's state of charge.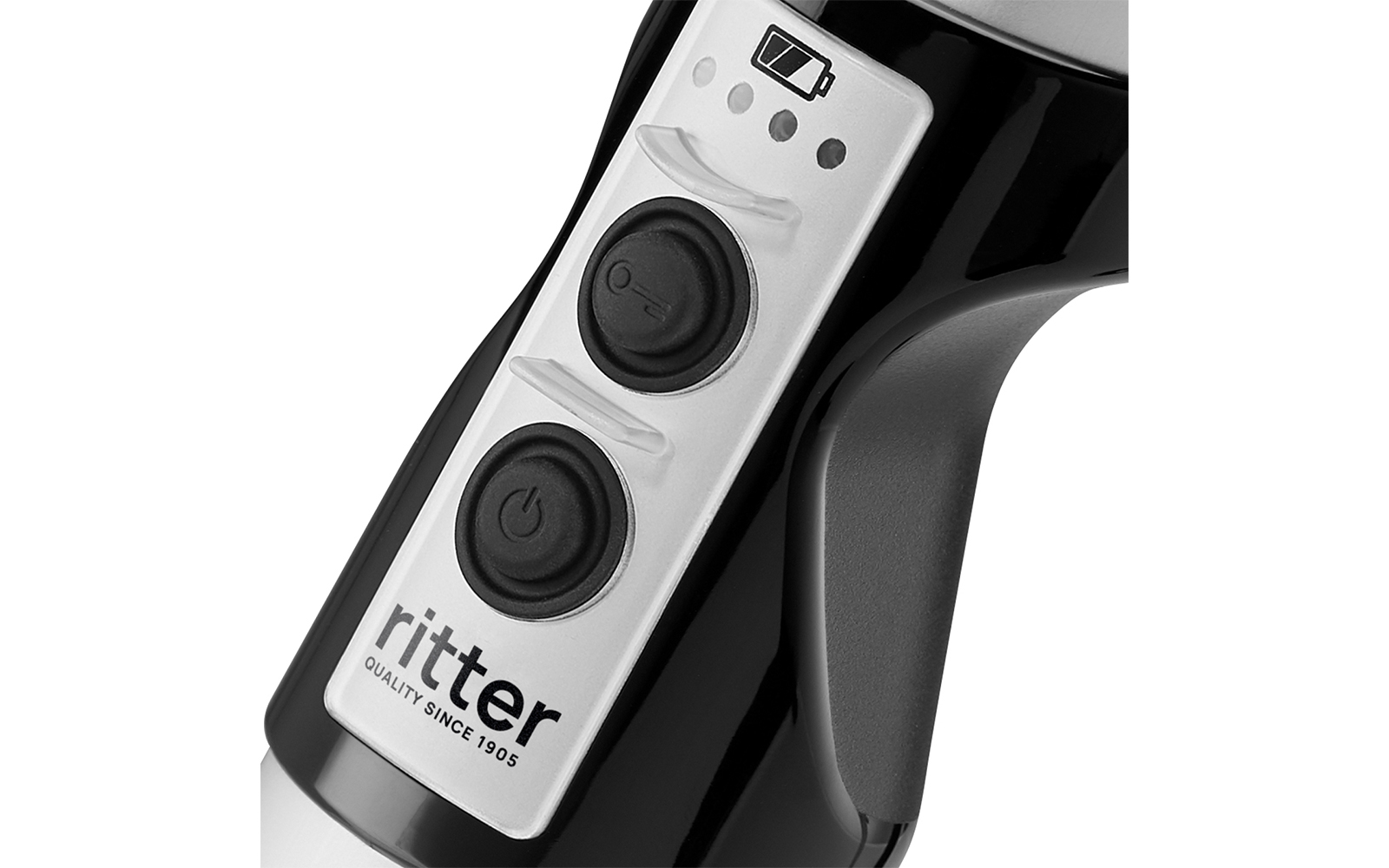 Two-finger switch-on safety system
The simple operation of the hand blender with the tried-and-tested two-finger safety switch-on technology prevents accidental switch-on. The hand blender can only be activated by pressing both buttons and becomes inactive if one of the buttons is released.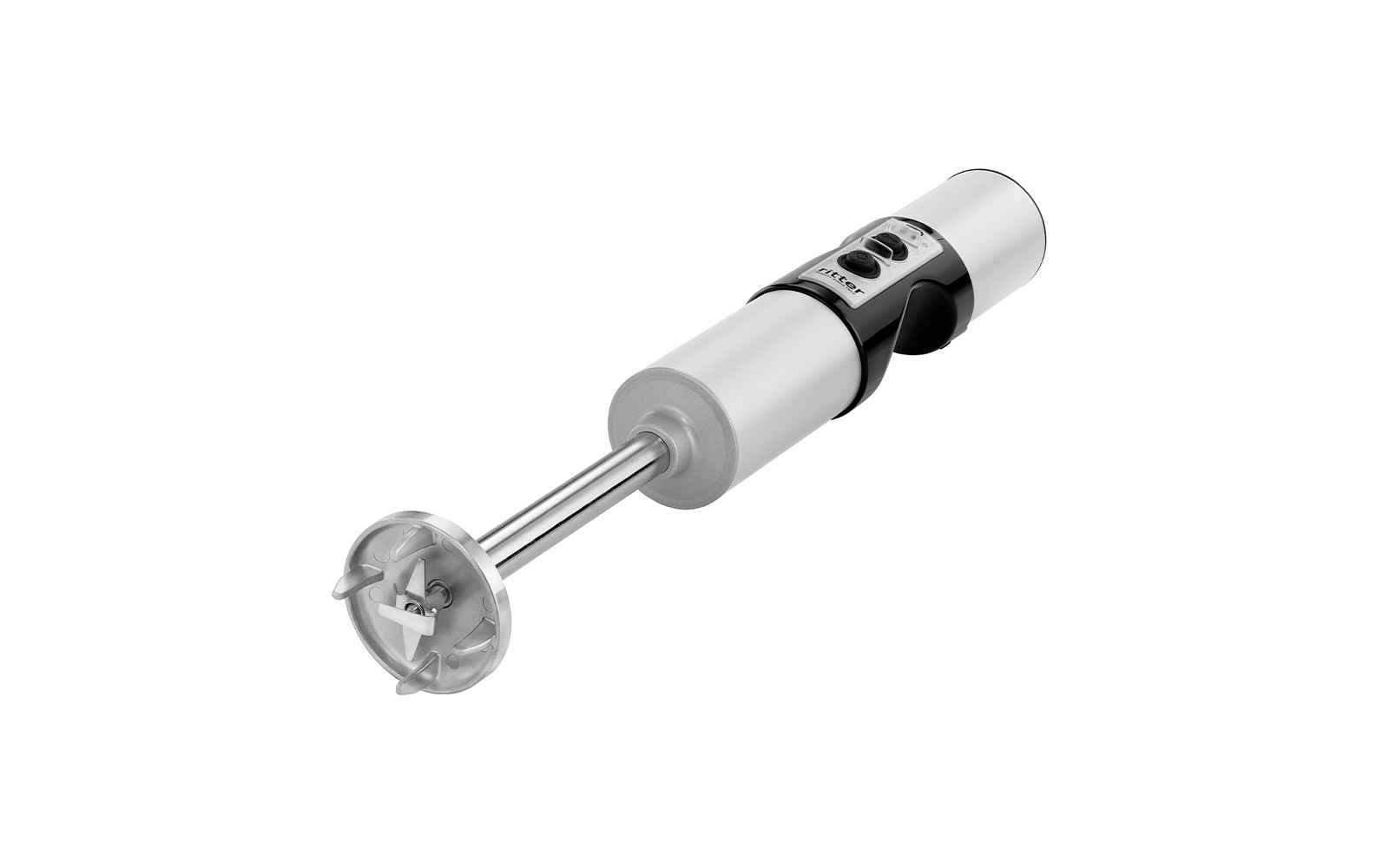 Three speed settings
The hand blender spins at a maximum speed of 12.000 rpm. Thanks to the switching system, two lower speed levels can then be chosen. The lowest level is best suited for carefully whipping cream or frothy milk, for example.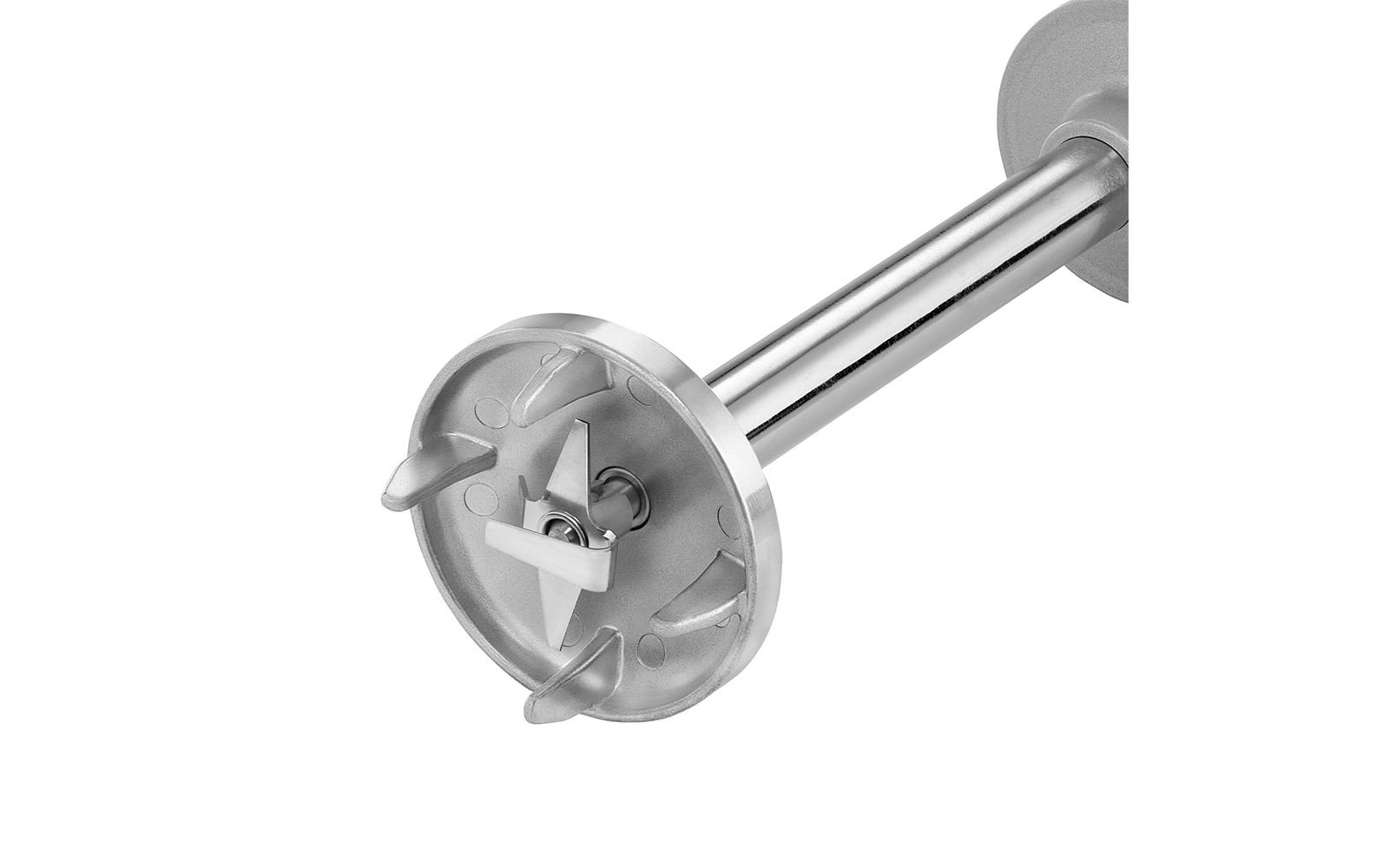 Mixer unit
The pins at the blender keep the food you want to chop in place in order to guarantee ideal results. The mixer unit has an open shape to prevent clogging when chopping hard foods.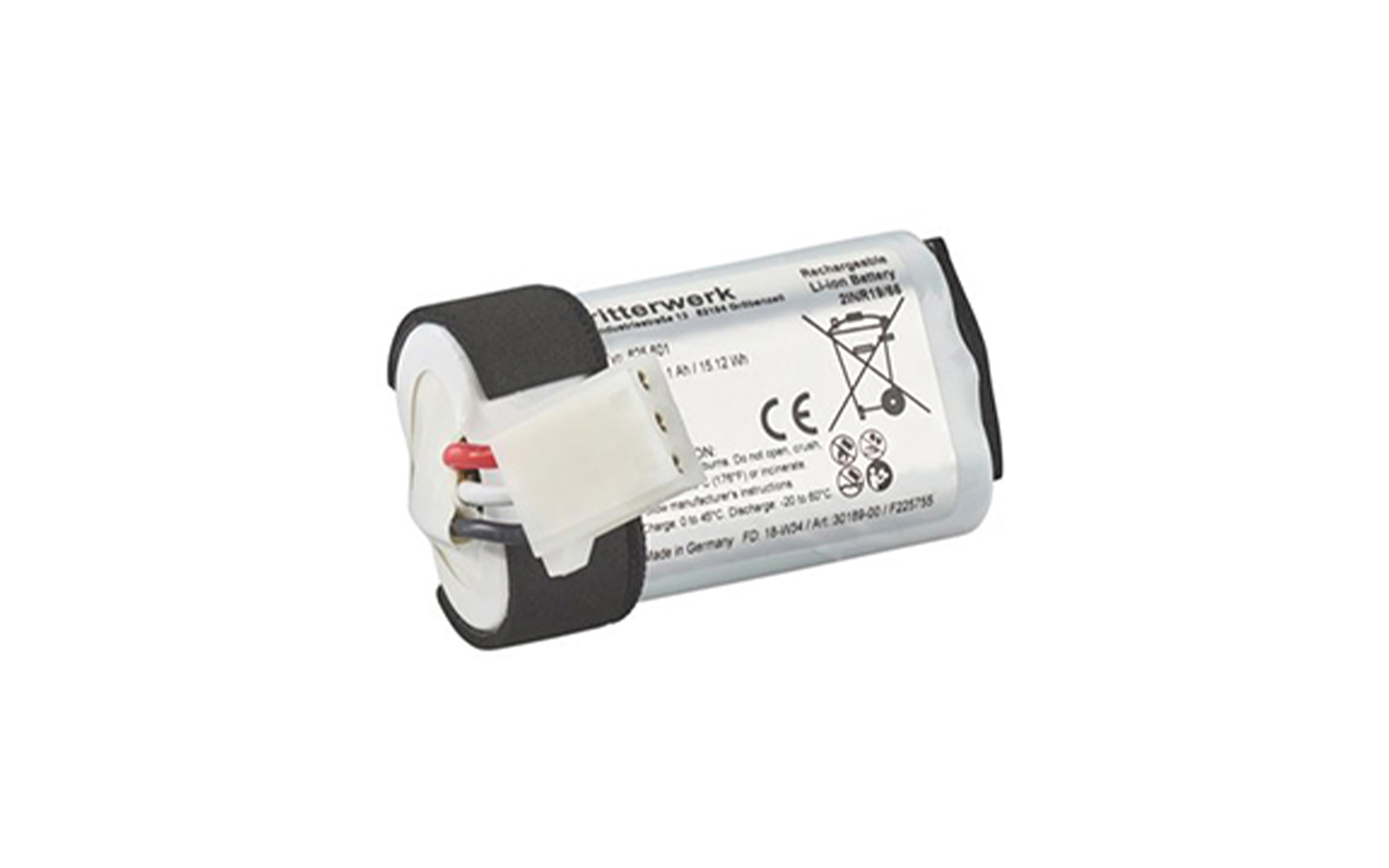 Replaceable battery
Should the battery ever become defective, it would not be necessary to throw away the entire blender. For the sake of sustainability, we have integrated a replaceable battery, so that customers can order a new battery and install it themselves.
You might also be interested in
Available accessories/spare parts
How may we support you?
Get in touch with us quickly and easily. One of our trained and experienced employees will be happy to assist you.